10 Best Places To Party In Ibiza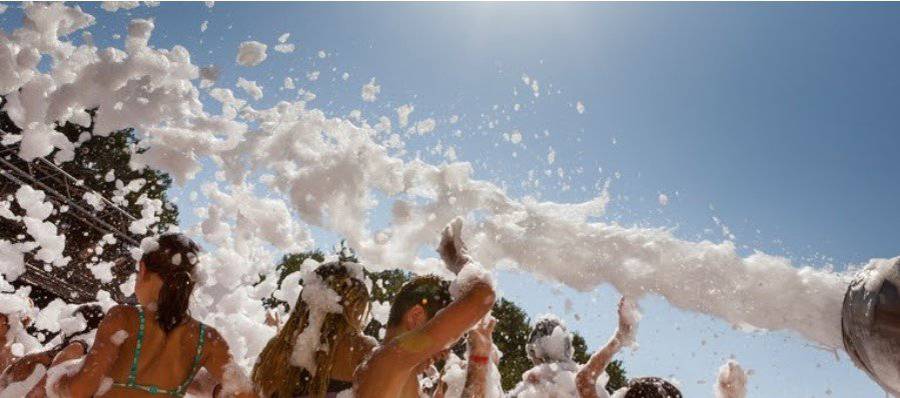 As we head into springtime and escape from the cold, bleak of winter, that can only mean one thing: the summer season in Ibiza is just around the corner! And that in turn brings a few other things, like opening parties, brand new DJ residencies and fantastic new places to party this summer. No big deal.

Summer is going to bring big things for Ibiza, with lots of excitement for the six million or more tourists who will visit Ibiza during the summer months to enjoy some downtime, experience the wild reputation of the island and spend time with their nearest and dearest. So, without further ado, here are our opinions on the ten best places to party in Ibiza this summer. It's going to be an exciting ride, that's for sure!

1. We're going to start you off with a classic, a veritable staple of the Ibiza club scene – Amnesia. Situated in the centre of the island near San Rafael, Amnesia has been at the heart of the Ibiza party scene since the 1970s. Rumours are already circulating on Ibiza's party circuit about possible sets and residencies up and coming for this summer, so watch this space. One thing is for certain: Amnesia opening party for this summer is going to be, as ever, one not to be missed. Four-time winner of best global club, you have to add Amnesia to your list so you can experience the magic of this fabulous music hall.

2. The Lovin' Ibiza Festival is an equally unforgettable experience, and is set to take place across two special days, the 1st and the 2nd of May in Amnesia and Bora-Bora beach club. It's one of the very first parties to take place on the island this year, and certainly the first festival, so make a date with history and come down! It's a showcase of Ibiza's best electronic music, and tickets can be booked now online.

3. DC10 is a club offering underground house techno music and circoloco, as they say on their website. It's a fusion of genres, people and DJs, which means you're in for an unforgettable night partying in Ibiza. Located in a converted warehouse/aircraft hanger right at the end of the runway at Ibiza airport, the infamous DC10 club opened its doors just before the Millennium and hasn't looked back since. A firm favourite on the Ibiza party scene, DC10 is one not to be missed.

4. The Ibiza Rocks official opening party for 2020 will take place on 15th May 2020, but this famous club/bar/pool combo will open its doors well before that to introduce revellers to the Ibiza party circuit more gently. Take a look at Ibiza party calendars for more detailed information and the latest news of what they have planned for the summer season, but if it's anything like last year, Ibiza Rocks will be the place to be seen. Chilling by the pool whilst listening to some mellow beats, then partying hard late into the night is what Ibiza Rocks made its name for!

5. Es Paradis will open its doors customarily early this year, beginning the summer on Saturday the 2nd of May. Tickets are already selling so be sure to get in there quickly to avoid disappointment. EsParadis is located right in the heart of San Antonio, so it's perfectly placed at the heart of Ibiza's club scene, and attracts a huge number of big names each year. But aside from the music, clubbers gather under the chandeliers of Es Paradis to appreciate the phenomenal light shows, acrobatic dancers and decadent interiors. Es Paradis is the original super club and epitomises Ibiza's glamorous and elegant party scene.

6. A slightly alternative venue to the norm in Ibiza, Benimussa Park is a fantastic way to see clubbing in Ibiza in a different light – daylight, to be precise! Benimussa park styles itself as the getaway playground, home of the Zoo Park, where you can party all day (and well into the night) in the outdoors, where face painting, dressing up and partying like animals is encouraged. The music fuses house and electro in typical Ibiza fashion and being just outside San Antonio it's perfectly located for all local facilities and amenities.

7. The International Music Summit Ibiza 2020 has been postponed and will now be held in May 2021. This 3-day event of speeches, interviews, demonstrations and master classes, led by some of the giants in the electro industry, is a platform to promote and educate, inspire and lead within the field of electronic music, so we can't wait for the next edition.

9.Our penultimate spot in the top ten places to party in Ibiza has to go to Pacha, a giant in the Ibiza music and party industry. As one of the biggest global club brands, Pacha Ibiza is conveniently situated right in the heart of Ibiza Town, the capital of the party island, and just one street back from Ibiza's beautiful marina. It's both a haven and destination of choice for thousands upon thousands of party-goers who descend on Pacha every year, and you'll have to try it to experience the sheer majesty of partying Pacha-style!

10. Finally, the last place in our top 10 places has to go to Hï Ibiza, arguably Ibiza's most famous brand new nightclub. In the heart of Playa d'en Bossa, right by the beach, Hï attracts the biggest names and the biggest crowds year on year. No holiday to Ibiza is complete without a pilgrimage to where the super-clubbing experience was reinvented.
Back
Book in the official website Invisa Hotels
And enjoy exclusive advantages as a My Invisa Client
Upgrade
room*
Free Wifi
in the room
Sea View
room *
Exclusive
Offers
* According to availability