17 Things To Do With Kids In Ibiza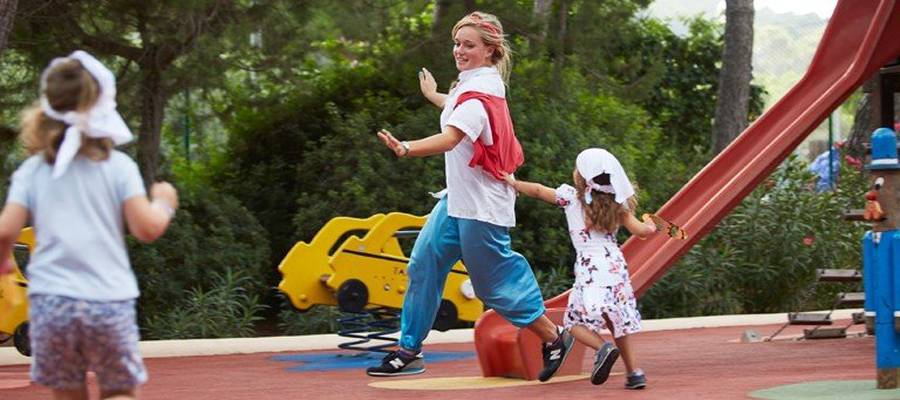 Our summer holidays are one of the things we look forward to the most in life, and we can't wait to welcome our hundreds of guests to Ibiza this summer. We know you all daydream of those long, hot summer days lounging by the pool, totally carefree, with only the drama playing out in a good book to raise your heart rate. But, let's face it; holidays with your kids in toe can require a great deal of planning, to say the least!

They say planning is key when holidaying with your children, to make sure there are no tantrums and to avoid the constant calls of "Mum! Dad! I'm bored! I'm bored!!"… So if you're worried about finding activities for kids in Ibiza this summer, to keep your little ones entertained, safe and happy, then worry no more, because we've got it covered.


We've put together 17 of the very best things to do in Ibiza with children so that your next holiday to our glorious White Isle can go off without a hitch. We can't promise there won't be a few tears along the way, we're not miracle workers, but if there's one thing we can promise, it's that you and your kids will never struggle to find the family-friendly Ibiza that we love!


Best things to do in Ibiza with children – our top 17


1. Sometimes there's nothing more you want to do in the summer than spend a long day at the beach, thankfully for you, Ibiza is home to some of the world's best beaches. Uninterrupted long stretches of golden sand as far as the eye can see, a peaceful breeze and calm, safe blue waters – that's what we think makes a good beach! Ibiza has many blue flag beaches, some with official lifeguards and safety flags so you can make sure your little ones are well catered for.

2. Another of the best things to do in Ibiza with children is to spend an afternoon at one of our great adventure parks. Many of the local resorts have their very own playgrounds and adventure parks where the littlest members of your family can work away all that holiday energy!

3. One of the best things about summer holidays are all those memories you take away, even from the little things, and there's nothing better when it comes to family things to do in Ibiza than spending lots of time in the pool. So as soon as you arrive on the island, get those swimming costumes on and head down to your very own hotel pool for hours of fun in the water.

4. For other great activities for kids in Ibiza, you can't beat a boat trip! Ibiza has hundreds of options in this respect, so have a wander around your local marina when you're here to see what's on offer. From the smallest speed boats to head out dolphin watching to the biggest sailboats and yachts to whisk you on a whistle-stop tour of our shores, you can't go wrong with a boat trip.

5. To experience family-friendly Ibiza in a more active way, a great day out for the whole family is to rent bikes and see where your adventures take you. Most resorts have a range of hire options available across a number of respectable rental outlets, so saddle up and get ready to see our breathtaking landscapes in all their glory. Just make sure to pack some sun cream and plenty of water!

6. Another great option if you're holidaying in Ibiza with kids is to take a trip to the hippie markets, a whirlwind of adventure where you can discover all of Ibiza's treasures. From fashion to food, antiques to art, there really is something for everyone. And if you're worried about keeping the kids entertained while you bargain hunt, some of the best hippie markets like Punta Arabí and Las Dalias have live music, performances and a whole range of food and drink options – so they'll never be bored!

7. A sure fire winner in the rankings of best things to do in Ibiza with children, year on year, is to take a boat trip to Formentera – families always have the time of their lives. There's nothing better than setting off on an early morning trip to an entirely new island, exploring the sights and sounds before returning to Ibiza as champions of adventure!

8. For all you adrenaline junkies out there, and if your kids are up for trying new things, why not try some watersports when you're next in Ibiza with kids? From snorkelling to scuba diving, windsurfing to parasailing, Ibiza is one of the watersports capitals of the world - so don't miss out.

9. If you're looking to sample family-friendly Ibiza that doesn't have to break the bank, a trip to the castle in old Ibiza Town can be a great option. There'll be plenty of great photo opportunities as you climb the ancient hill to conquer the fortress at the top, and the views once you're up there are just magical. Reward yourself with a big ice cream at the end of the day, and you'll have had a very successful and entertaining trip.

10. No trip to Ibiza would be complete without spending many hours splashing and swimming about in the water, so why not try a trip to the waterpark, too? All the slides and different pools are guaranteed to keep everyone (of all ages!) entertained for hours and hours, so treat yourself to a day of indulgence.

11. One of the tried and tested activities for kids in Ibiza that is still as popular as ever has to be a session or two of crazy golf. It's a holiday tradition! Grab a putter each and head out onto the greens for a few hours of fun in the sun. More or less every resort has their own course, so you won't be disappointed.

12. If you want to get out and about and see some of the sights, think about exploring San Antonio to the north west of the island, one of our most popular resorts. Famous for being home to some of our biggest clubs, it's also gained a reputation as one of the most family-friendly resorts there is. There's a huge amount of places to eat and drink, as well as some great beaches, so give it a try.

13. A trip into Ibiza Town is another sure fire winner to keep the young ones entertained, as the capital of our sunny island, there's always something going on! Whether shopping or dining, people watching or culture seeking, Ibiza town is a great day out for everyone.

14. For family things to do in Ibiza with a twist, why not try snorkelling? For the kids it's an exciting adventure where they get to learn new skills and have great fun at the same time. Spend hours in the water with certified instructors before heading off together, making memories, in your quest to find Nemo in the deep blue sea…

15.The ultimate symbol of family-friendly Ibiza has to be our amazing selection of tourist trains. Every resort has their own shiny steam engine, just waiting to whisk you and your kids around the resort in style. For them, it's an exciting adventure and their chance to blow the horn, and for you riding the tourist train is a good chance to explore your resort and see the sights – win win.

16.A more unusual option for enjoying Ibiza with kids would be to experience some beach yoga. No longer just the pastime of hippies and fitness fanatics, beach yoga classes are springing up all over the island, helping people connect to the magical island beneath them and their own minds and body too. It's relaxing, exhilarating and something new to try.

17. Finally, after hours spent gazing out onto the horizon and enjoying our awesome Mediterranean waters, why not throw yourself straight in and learn to surf? Instructors operate in most resorts and learning to surf as a family can not only be an athletic, exciting activity, it's also a hilarious way to spend your holiday when mummy or daddy inevitably fall off! For great family things to do in Ibiza, they don't come more fun than this.
Back
Book in the official website Invisa Hotels
And enjoy exclusive advantages as a My Invisa Client
Upgrade
room*
Free Wifi
in the room
Sea View
room *
Exclusive
Offers
* According to availability