4 days in Ibiza: this is the best itinerary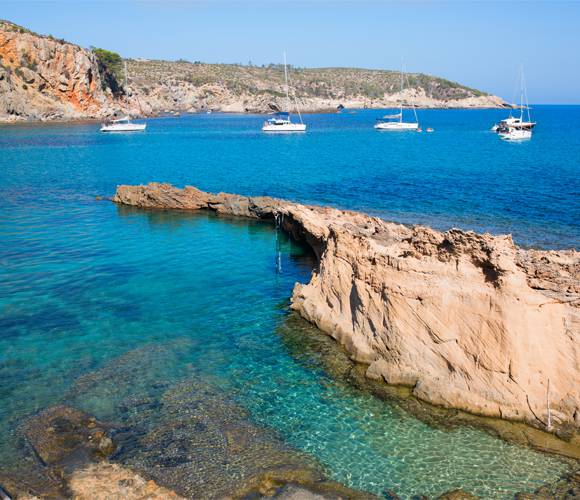 Planning to travel to Ibiza this year? Since a popular choice is to take a long weekend on this beautiful island, we've curated the ideal plan of what to do in Ibiza if you have 3 nights here.
As soon as you land in Ibiza you'll see the sun and blue skies. Step off the plane into their warm embrace and start to acclimatize to the good weather our island enjoys year-round. What should be first on your to-do list?
Day 1: Arrival in Ibiza and Dalt Vila
First off, head to your hotel, get your swimsuit on and take a dip! As soon as you arrive at an Invisa hotel you'll want to check out the pool, menu and buffet-style meals, and the activities you can do on-site. Want to check the kids into some fun entertainment, or pick a show you'd like to see as a couple? This is the day to make your plan while enjoying a cocktail in a sun lounger!
Once you've laid out the itinerary for your long weekend and unpacked your 4 outfits for 4 days in Ibiza, head to Dalt Vila, Ibiza's town centre. If you travel to Ibiza by boat, this will be the first stop on your trip! You'll be greeted by the Renaissance walled enclosure and beautiful streets that surround the port. At the characterful shops here, you can also buy some much-needed accessories like hats or shawls to perfect your holiday outfits, and pick up some momentos of one of the best places to visit in Ibiza.
The upper area of the walled city, called Dalt Vila, is home to the Cathedral of Santa María, and as you walk from here towards the lower section, you'll enjoy the most beautiful panoramic views of the city of Ibiza. The Marina neighbourhood, with its white houses along the seafront, is picturesque. Its streets are, of course, where you'll find some of the best high-class seafood restaurants in Ibiza, perfect for your first evening in paradise.
If you have time while in Ibiza's centre, it's definitely worth visiting Puig des Molins — the oldest necropolis in Ibiza — this cemetery belonged to the ancient Phoenician and Carthaginian city of Ebusus. Phoenician cities did not distance areas of life and death so the necropolis is walking distance from the walled city, and you'll see 350 or so visible tombs of an estimated 3,000 that have not been uncovered.
Day 2 in Ibiza: Sunbathe, then Explore
Wondering what to do in Ibiza on your second day? We always recommend heading to beaches before the sun is at its highest point because it's the safest time to catch some rays. Top up your tan or play in the sea until lunchtime at one of Ibiza's many beautiful coves.
Cala d'Hort is top of our list of beaches on the island. This secluded cove can be found on the southwest coast of Ibiza. Surrounded by huge cliffs, the beach can only be reached by a narrow path that slopes down to the sparkling Mediterranean Sea. It's likely you'll see boats anchored far from the shore. You'll also enjoy the view over the Es Vedrá islet as you walk down through the hills of Serra de Ses Roques Altes, which are dotted with idyllic houses.
While not a busy beach, Cala d'Hort is one of our favourites because it is not completely void of services: you can rent a lounge chair and umbrella as well as order food while here. Try your hand at bodysurfing in its calm waters (Cala d'Hort is one of the 15 blue flag beaches in Ibiza) or you can also snorkel with ease.
Once you've explored underwater, head to the town of San Antonio not far along the coast, for some more exploring on land. Variety is the name of the game here, so there's something for everyone, from chic cafés to bustling bars. You can also take a night-time trip out on a boat if you feel the need to get back in the sea!
Day 3: Culture and History Top-Up
If you saw the Phoenician remains at Puig des Molins on your first of 4 days in Ibiza, you'll be excited to see more. On day 3, one of the places to visit Ibiza has to be the Sa Caleta Phoenician settlement. This is on a rocky headland about 10 kilometres to the west of Ibiza Town. The Phoenicians established themselves in Ibiza around 650 BC and these remains mark out simple stone buildings and streets that once covered a surface area of 4 hectares, now designated a World Heritage Site.
The Puig des Molins settlement was chosen for its proximity to natural salt marshes, another site to visit if only for the wildlife attracted to the surrounding flats. Sa Caleta also has a beautiful beach, lined with rustic fishermen's sheds, surrounded by red cliffs and pine forests beyond them. There is a rustically-decorated restaurant here that comes highly recommended for traditional Ibizan food. If you've made it to day 3 without trying a Bullit de Peix, make sure you do so at Sa Caleta!
Alternatively, or perhaps on the same day, soak up some history in Santa Eulària des Riu. The town itself is lively and has beautiful white buildings all along the seafront. A little further inland you'll find Ibiza's only river. This is where the striking, now pedestrianized bridge, Pont Vell is located. Considered an important strategic Roman crossing, Pont Vel was once the only way into Santa Eulària and marks the gradual shift to the Roman period, during which the island enjoyed its economic golden age from 25 BC to AD 75.
Nearby, you can also visit the remains of the Roman stone aqueduct at s'Argamassa, and see the remains of a fish farm's holding area — another homage to the major economic growth and activity on the island generated by the Roman conquest.
For the evening, head back to the Santa Eulària coast for some lively nightlife, bars and restaurants with a sea view. In the summer, further inland, the shady park areas are lined with market stalls selling jewellery, accessories, and trinkets of all kinds.
Day 4: Coastal Walk then Home-Bound
Before the sun is too high, take a stroll along the coast. Ibiza has plenty of hiking opportunities and, depending on what time of year you travel to Ibiza, you might prefer to stroll through meadows of white almond flowers or with a refreshing sea breeze in your face along the cliffs.
We recommend hiking from Es Niu de s'Àguila, this is a cove that's largely undiscovered, mostly used by fishermen and a few locals looking to relax in the sun. The feature here is the 4 large rocks sitting not far from the shore, which are wonderful for sea-gazing photos because the contrast with the pale rock makes the turquoise waters in this cove look even more striking.
From one stunning rock formation to another, you can take a 2-hour-long walk to Cap Llentrisca, and tick off two near-virgin beaches from your itinerary. At this latter spot your view to the massive rock formation is best taken from the cliffs looking down on the pebble beaches.
Getting some physical activity in before your flight home will make you feel you've made the most of your trip, and also help you take a nap on the plane or boat home! There are so many places to explore before you return for your suitcase (and perhaps one last dip in the pool!) before heading toward Ibiza's well-serviced air conditioned airport lounges.
We're sure you won't want to go home but we also know you'll be back to visit before long! Bookmark our blog for more great ideas for short and long stays in Ibiza.
Back
Book in the official website Invisa Hotels
And enjoy exclusive advantages as a My Invisa Client
Upgrade
room*
Free Wifi
in the room
Sea View
room *
Exclusive
Offers
* According to availability