The 7 best plans in the north of Ibiza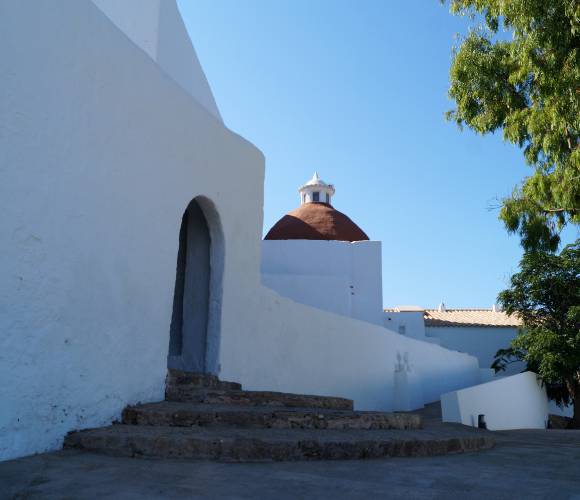 The north of Ibiza is a small kingdom of tranquillity. The island of Ibiza is already an ideal destination for disconnection, to clear your mind, but the north of the island is even more calming. If you are looking to recharge your batteries and not be disturbed, this is the perfect travel destination for you.
So here's what to see in the north of Ibiza. We have 7 unique plans for you that can be planned into a 7-day trip or even, with a good organisation, a long weekend in the north of Ibiza.
1. San Carlos, the first hippy destination in Ibiza
The municipality of San Carlos in the north of Ibiza began to welcome young people in the 1960s, searching for a place where they could live in peace, with good food and freedom. When you visit this Ibizan town today, you will find vestiges of the hippy trend that can in fact be felt throughout the island.
One of the places in San Carlos that perfectly reflects what that hippy movement meant is Bar Anita. It is full of curiosities, such as endless mailboxes along one wall that were once used to receive correspondence on behalf of all the houses in the area. Start with this hippy town on your first day exploring the north of Ibiza.
2. Las Dalias market, a classic
Barely a kilometre from San Carlos is the Las Dalias market, one of the most characteristic in all of Ibiza. Every Saturday from 10 am and on Sundays from 11 am, its gardens are filled with artisans in a festival of colours, smells and sensations that you'll never forget.
The market dates back to 1985 and has not stopped evolving and growing since it first opened. At present, the stall exceeds more than 300 sellers. To give you an idea of how popular it is, on a Saturday in August, Las Dalias can attract up to 20,000 visitors, according to data from the market itself.
In this swarm of stalls full of talent and fantasy, you'll find a multitude of objects and articles for yourself and to gift your loved ones at home. Decoration, costume jewellery, handicrafts, handmade clothes, books, paintings are all on sale, as well as hand and card readings for those who want to look into their future.
3. Smugglers' Den
As you continue to explore all that there is to see in the north of Ibiza, in Can Marçà you'll find an impressive cave that's over 100,000 years old, right inside a cliff in Sant Miquel harbour.
The history of the cave makes it even more special: it was discovered by smugglers who used it as a hideout for their stolen merchandise. Inside, you still see how they marked the area so as not to get lost on the way to their hiding place.
Since the 1980s, Can Marçà has turned into one of the most visited tourist attractions on the island of Ibiza. Are you going to miss out?
4. The best cove in the north of Ibiza
Cala de San Vicente is one of the most outstanding coves in the north of Ibiza and represents one of the many natural treasures that the island is home to.
It grabs attention thanks to its extensive sandy area and for its crystal clear waters, it feels like an authentic virgin cove. In fact it is one of the first coastal areas in the north of Ibiza to begin developing infrastructure for tourism, such as roads and small places for refreshments. Until the 1930s, the cove was totally isolated from the rest of the island. No roads connected it with the rest of the island's infrastructure, so it was mostly only reachable by boat.
Sitting on the sandy area of San Vicente's cove, we can make out the silhouette of the Tagomago islet. Paired with the pine forests that flank the cove, the view over Tagomago makes this cove a wonderful place to spend an afternoon.
5. Hiking in the north of Ibiza
Without a doubt, anywhere in Ibiza is apt for walking, but if you enjoy hiking you must make a day of it in the north of the island. Here are 5 options that we suggest you check out!
1. Cala d'en Serra
This cove perfectly defines what the north of Ibiza represents. Hiking in its surroundings is a real pleasure. Grab the opportunity to take a tour along this section of coastline
2. Balansat Tower
For one of the most characteristic routes of Ibiza, head to the Tower of Balansat. It dates back to the 18th century and sits in some spectacular landscapes.
3. The town of Balàfia
Walking through this beautiful town and its surroundings will transport your mind and body to a place of peace and tranquillity. Its traditional architecture deserves a walking tour so you can calmly discover its secrets, idyllic photography spots and the nature in which it is located.
4. Canal d'en Martí
Such an idyllic setting as Canal d'en Marti can be found right next to the Pou des Lleó beach. Along the way you will see fishermen's cabins set next to crystal clear waters. It really feels like a fairy tail.
5. The town of Santa Eulalia del Río
In the area surrounding Santa Eulalia del Río you will find a multitude of hiking routes to take you along Es Canar, Puig d'Atzaro, Cala Llonga and Siesta. Take your pick
6. The town of Sant Joan de Labritja
One town in the north of Ibiza is small and extremely cosy. Walking through San Joan de Labritja's streets feels like a Disney film because the traditional Ibizan architecture is so beautiful. One of its highlights is the 18th century church, which powerfully draws attention, since it bears no resemblance to Ibizan religious architecture. In fact it resembles the kind of constructions seen most on the Peninsular.
If your visit falls on a Sunday, you can enjoy walking through a pleasant and charming market with organic products and local crafts to delight the eyes. Lastly, make sure you don't leave Sant Joan de Labritja without trying the Ibizan herbs served in the legendary Can Vidal tobacconist.
7. The port of Ses Caletes
The fishing tradition of Ibiza means that there are still small corners that will take you back in time to simpler years when we subsisted more responsibly on the sea and land. A clear example is the port of Ses Caletes, one of the coves in the north of Ibiza.
It is a gravel and rock beach, about 60 metres long and 10 metres wide, which is 8 kilometres from the town of San Joan, making it a less-visited beach and perfect for those seeking privacy. This seafaring corner near Sa Cala de Sant Vicent is normally only visited by the families that have dry dock huts there. This is your opportunity to be in contact with nature in one of the most secluded and attractive places in the north of Ibiza.
From the whole team at Invisa Hotels we hope you make a set of plans for your stay that includes or focus on the north of Ibiza to achieve complete peace during your holidays. Which plan most grabbed your attention?
Back
Book in the official website Invisa Hotels
And enjoy exclusive advantages as a My Invisa Client
Upgrade
room*
Free Wifi
in the room
Sea View
room *
Exclusive
Offers
* According to availability