7 best sights and historical landmarks in Ibiza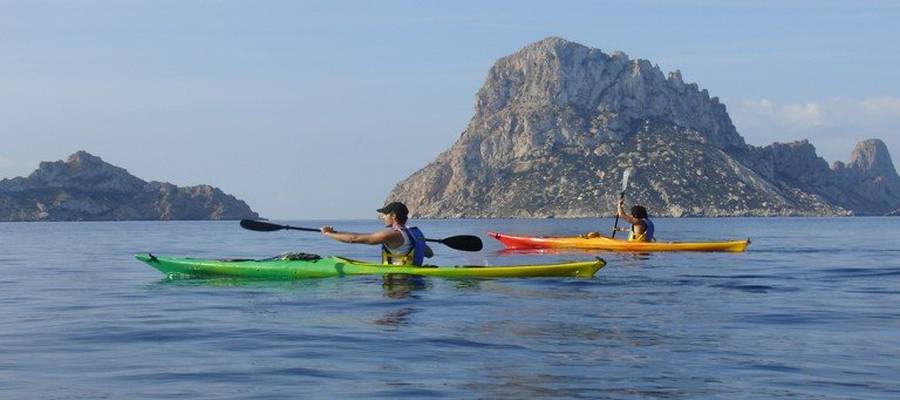 Are you in need of some relaxing holidays at the seaside? Do you want to enjoy the quieter side of Ibiza? Keep reading! In today's article we are going to present you the 7 best sights and historical landmarks in Ibiza.

1. Dunes of Las Salinas

As you stroll down the wooden walkways that preserve the dunes and vegetation of Ses Salines natural park, it will become clear why Las Salinas Ibiza is one of the best known and most beautiful beaches in Ibiza. In fact, the majority of celebrities who visit the island every year set up camp in Las Salinas, lounging in hammocks atop the Caribbean-esque white sand with a view of turquoise sea.

The view from Las Salinas over the sea separating Formentera from Ibiza's salt flats is breathtaking. Moreover, the knee-deep water at Las Salinas Ibiza provides a paddling pool measuring some 30 meters wide, meaning it's safe and relaxing, ideal for some family holidays in Ibiza.

2. Islet of Es Vedrà

A popular spot among both locals and tourists just off the coast of Ibiza is the islet of Es Vedrà. The rock formation of Es Vedrà Ibiza sits facing Cala d'Hort and is protected as part of a nature reserve consisting of the three islets Es Vedrà, Es Vedranell and the Es Illots de Ponent. The isolation that Es Vedrà Ibiza enjoys from the main island means it's also home to a host of birds and lizards and surrounded by breeding grounds to a significant number of marine species.

Unique and imposing in size, rising 382 meters above sea-level, Es Vedrà is visible from many points in Ibiza, Formentera and even from the Iberian Peninsula. Even in recent decades, myths and legends continue to emerge about this islet, which said to possess "magical energy properties." Es Vedrà is supposedly the third most magnetic spot on earth.

3. Mountainous cliffs Els Amunts

Els Amunts cliffs run along the northwest of Ibiza, starting at cape Nunó de Sant Antoni de Portmany and ending in Sant Joan de Labritja municipality. Els Amunts is a coastal landscape of rugged limestone, hiding several coves where wildlife is abundant. Phoenician junipers, rosemary, pines, fan palms and strawberry trees line cultivated areas of clay, the latter of which primarily grows almond and carob trees.

Along the cliffs you might glimpse falcons, shags, shearwaters and seagulls, as well as plenty of finches, colourful hoopoes and all kinds of owls further inland.

4. Marine Reserve Els Feus

Fans of diving should plan at least one visit to the Els Feus Marine Reserve, a protected area linking Ibiza to Formentera underwater. While exploring the 13,000 hectares of natural secrets along the reef, you'll spend much of your time marveling at the world's largest and oldest living creatures: a Posidonia seaweed plant covering 700 km2. Its age is estimated to be at least 100,000 years. This species is endemic to the Mediterranean and was declared a World Heritage site by UNESCO.

Moreover, sea turtles cross this stretch of coral reef in Spring, kicking off their long journey to the shores of Mexico. In clear and calm seas you can see up to 50 meters away, and even explore underwater caves and canyons.

5. Punta Arabí market

Every Wednesday in high season, this tourist attraction surrounded by pine forests draws more than 500 craftsmen and sellers to set up shop in the Punta Arabí market. Between the hours of 10am and 6pm this immense and historic hippie market in Ibiza converts Club Punta Arabí into a buzzing atmosphere of artisans. While the market started as a few local craftsmen selling from picnic blankets laid out on the streets, now you'll find world-renowned artists selling rafts, textiles, jewelry, natural cosmetics, antiques… even musical instruments and, of course, plenty of gastronomical temptations at this location for sightseeing in Ibiza.

There is also an area with workshops for children and craftsmen showing how products are made, and a concert tent so there's plenty to keep the whole family entertained.

6. Cove of Cala Tarida

Cala Tarida is a quarter-mile-long cove, one of the most popular in Ibiza. Located between Antonio bay and the city of Ibiza, Cala Tarida is easily accessible by car, bicycle or bus.

This cove is undeniably a location of great beauty and stands out for having both sandy areas and rocky platforms, islets and urbanisation. This sunbathing spot has all the creature comforts you could desire: sunbed and parasol hire; boat and jet ski rentals; lifeguards and disabled access for people with walking frames and amphibious chairs.

7. Fortified old town of Dalt Vita

Perched atop a hill overlooking the sea, the old town of Dalt Vila, "Upper Town" in English, has been transformed and enhanced by every occupying force that has taken control of Ibiza over the years, making it one of the most important coastal cities in the Med. During the Renaissance the most recent addition was built: the walls surrounding and protecting the town's history.

The stunning architecture provides endless photo opportunities. It's best explored on foot, and with care, since the cobbled streets have been conserved. You can either follow one of three official routes provided by the tourist office in Vara de Rey, or simply set off sightseeing in Ibiza, exploring freely and popping into the museums and restaurants as they take your fancy.

Ready for exploring the quieter side of Ibiza? Enjoy our early booking offers and plan your next holidays to Ibiza with Invisa Hoteles!
Back
Book in the official website Invisa Hotels
And enjoy exclusive advantages as a My Invisa Client
Upgrade
room*
Free Wifi
in the room
Sea View
room *
Exclusive
Offers
* According to availability