7 places in Ibiza to show off on Instagram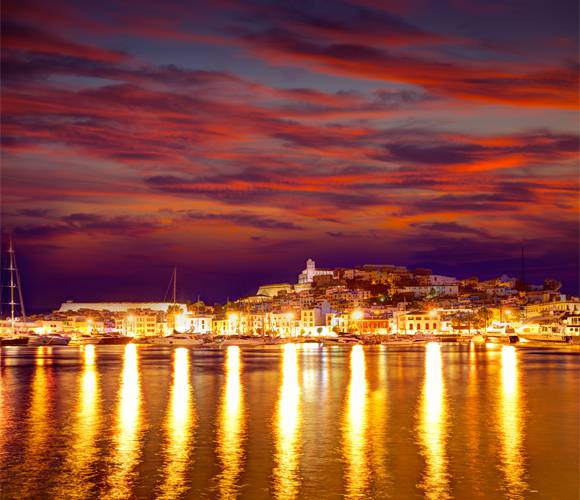 Among your circles, are you The Influencer in the friendship group? If you've set high expectations about your photography or modelling abilities, you're probably here planning what to do in Ibiza and where to take the best pictures to show off your trip on all social media accounts. We're here to help you snag the perfect travel profile photo!

Even if you're not an amateur influencer, you might still want to remember your holiday with a few choice momentos taken with your own camera. Plenty of us would love to decorate our homes with our own beautiful photography! Either way, these next few highly Instagrammable and best Ibiza spots need to be on your list.

Why Ibiza for the perfect photo?
Ibiza's natural beauty is breathtaking rain or shine. The traditional housing, dramatic cliffs, and lush greenery are the perfect backdrop to any social media post. The best of it is that so many gorgeous Ibiza Instagram spots and things to do in Ibiza also have a lot of history behind them. These places with a story to tell will provide you with inspirational content to accompany the stunning photographs documenting your account of things to do in Ibiza.

1. The abandoned Festival Club
Derelict and unused since 1974, but a major tourist club in its heyday, the Festival Club used to be a hub of activity, for shows, dinner and even mock bull fights for those visiting Ibiza. The hills near San Agustín tuck away this 1969 construction that was hit hard by the 1970s oil crisis. Over the decades, artists gradually covered the terraced restaurant, the amphitheater, and bar area in graffiti art, converting it into a wonderfully edgy Ibiza Instagram spot for unusual holiday pics.

If you want to hear the story behind this place, you can join a walk leaving from in front of the church in San Agustin many Friday afternoons at 5pm, which will take you through colourful flowers and countryside (another photo opp!) to this graffiti haven.

2. Rope swing at Cala Xarraca beach
To the north of the island you'll find more rugged scenes and less built-up areas in comparison to the south, which is a little more heavily populated. Cala Xarranca is one of the area's near-virgin coves and just to the right of the main beach, down a dirt track, is Xarranca's little sister cove. This small patch of rocky sand is home to a couple of rustic boat huts and slip ways, as well as a cliff that overhangs a portion of the turquoise waters. So many Instagrammable Ibiza spots!

Most importantly, the overhanging cliff that was destined to be used for cliff jumping, has been equipped with some thick ropes that would help you climb out the water to jump off the cliff again. One rope specifically is knotted in a big loop which you can perch or stand on like a grandiose ocean swing. You're sure to grab attention and likes with an Instagram posted anywhere on this natural cove.

3. Museo Puget
This is a medieval-age palace dating back to the arrival of the Catalan conquerors that commissioned this building. Such a beautiful structure, which also happens to house tons of pieces of art, is an Instagrammer's dream.

This historic and interesting-looking building is crying out to be the background of some floaty romantic images. Afterwards, you can gather more inspiration with the paintings of Narcís Puget, and use them to inform yourself on the traditional lifestyle the early 20th-century Ibizan Instagram would have seen!

4. Puertas Can Soleil
In between two beaches, Cala Codolar and Cala Llentia, two large wooden doorways face each other and stand as a now-unwalled square monument. Named after the property's owner Guy Laliberté, who founded Cirque du Soleil, the Puertas Can Soleil are surrounded by picturesque Ibizan countryside that will make you want to explore and, of course, pose!

The doorframes are engraved with Arabic designs including symbols such as jamsa, the hand of Fatima. Ibiza's age-old inhabitants, the Carthaginians, used this amulet from 820 BC on because it was associated with the Goddess of Ibiza, Tanit.

5. Hostal La Torre
No trip to the Mediterranean is complete without a shot of the sunset over the sea. This is where one of the best sunset views can be found. Bonus fact: the Hostal is open throughout the year and you can stroll down to the restaurant to get the perfect picture. Wait until the sun goes down or, even better, get up a little earlier than usual to get a people-free image of the sunrise.

6. "Ibiza Henge"
A piece of art, that's known as Ibiza Henge, is actually called "Time and Space" and was sculpted by Andrew Rogers. You can find it about 5 miles from Sant Josep de Sa Talaia, off the Cala Llentia beach.

At this monument, 12 columns surround one column placed higher than the others. It looks very modern so consider this Ibiza Instagram spot a chiselled-looking stonehenge for clean line lovers, and get yourself some pictures bathed in sunlight.

7. Dalt Vila Ramparts
Don't leave the island without walking the ramparts in Ibiza's old town. The 25-metre-high protective walls encircle Dalt Vila, and its seven bastions are each photogenic in themselves. Day or night, some Renaissance-building photos for your personal social media are sure to make your followers envious. But especially when floodlit at night, you can get striking shots by posing by these fortifications.

Start your trips with these suggestions and along the way you'll definitely discover even more picture-perfect views of blue oceans and clear skies that will keep you feeling creative.
Back
Book in the official website Invisa Hotels
And enjoy exclusive advantages as a My Invisa Client
Upgrade
room*
Free Wifi
in the room
Sea View
room *
Exclusive
Offers
* According to availability