Beyond the snorkel: The best aquatic activities in Ibiza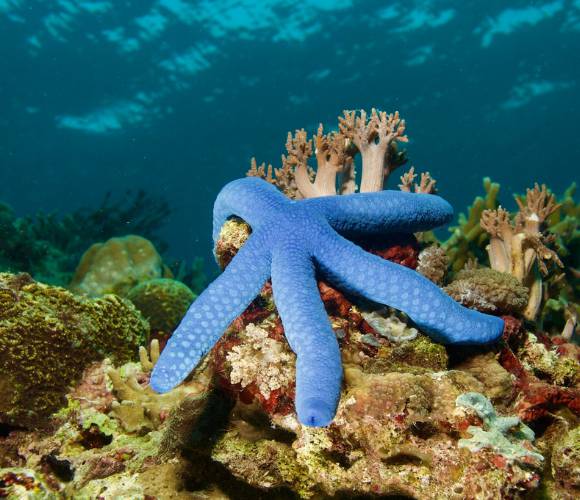 The charms of our island are known all over the world, especially Ibiza's biodiversity, the clubbing scene, and the wonderful weather. Its beaches, its landscapes, its magic all drive visitors from other countries to come and experience it for themselves, but many don't know that there are more treasures below sea level than we can imagine.
Aquatic activities in Ibiza could fill your entire trip, just to explore the seabed by snorkelling in Ibiza is magical, but renting a catamaran can be another water-based activity for the less mobile. Discover the colours below the turquoise surface, with these tips on aquatic activities in Ibiza for your holiday!
Posidonia: Ibiza's coat of arms
The seabed of the islands of Ibiza and Formentera are home to the largest living organism in the world: Posidonia oceanica is a marine plant that's endemic to the Mediterranean and not found in any other ocean in the world. This plant forms extensive meadows that stretch over eight kilometres and have been around for more than 100,000 years, providing a home to fauna and leading the islands to be declared a World Heritage site by UNESCO, to protect this Ibizan biodiversity.
Posidonia meadows help protect beaches from erosion by acting as a barrier to large waves, preventing the loss of sand and also providing a habitat for more than 400 species of marine plants and 1,000 species of animals. Many of these species are used in Balearic gastronomy, so much of the cuisine here is as fresh as it gets!
These underwater meadows extend specifically from Es Freus in Formentera to Ses Salines beach in Ibiza. It is responsible for the transparency and turquoise colour of the waters of Ibiza and Formentera, turning them into one of the best places in the Mediterranean for diving, snorkelling, and swimming.
Now that you know the main reason aquatic activities in Ibiza are so special, let's share how you can explore the underwater world!
Snorkelling in Ibiza! Unique coves for water activities
If you want to start small and snorkel before diving, or lack the time to learn the latter, the island of Ibiza has many areas for snorkelling. This family-friendly activity is rife in Ibiza because there are plenty of things to see, and also lots of outlets from whom to hire equipment.
In Ibiza, you can explore a multitude of coves and beaches on foot and see a surprising amount of animals, sea creatures, and shellfish. If you're feeling drawn to the water though, practising this aquatic activity in Ibiza is thrilling. Some of the places we recommend to start are Cala Molí, Cala Carbó, Cala Codolar, Cala Olivera, Porroig, Sa Caleta or Punta Galera.
Which would you choose? Do as your Invisa staff if you'd like personalised recommendations!
Diving under the surface
With two hundred kilometres of coastline and a dozen coves of great beauty, Ibiza deserves its spot as a popular tourist destination. Get to know it by diving to these wonderful underwater sights!
1. The shipwreck of Don Pedro
Your underwater sightseeing tour should start at the Don Pedro shipwreck. It sank in 2007 while going from Ibiza to Denia as it did regularly. Don Pedro is located a few minutes from the port of Ibiza.
To explore this 142 metre long vessel you have to dive to a depth of 46 metres, so it's an activity recommended for divers with experience to admire the wreck from the outside. Those who want to enter the sunken ship should be proven specialists to avoid putting any divers or Ibizan biodiversity at risk.
2. The Cave of Light
The cave of light is located under the cliffs of the Albarca bay, between the districts of San Juan Bautista (de Labritja in Catalan) and San Antonio. The dive begins just 20 metres into the cave entrance. A large arch opens at a depth of 4 metres and plunges to 16 metres, and this is the maximum depth to the bottom of the cave.
The cave of light is actually not well known as it is located to the north of Ibiza. It is a practically inaccessible place, both by land and by sea, but it is exciting.
3. Margarita Island
Going by the name of Ses Margalides, these two islets are located off the coast of Ses Balandres. They constitute a dive following a vertical wall and entering some easy caves, isolated in the middle of the sea such that diving here requires calm sea conditions. It is recommended you avoid this aquatic activity in Ibiza when a northerly wind is blowing, and the area certainly requires training and professional experience for a safe dive to take place.
4. The Platform in Formentera
Neighbouring Formentera is an ideal complement to a trip to Ibiza, whether you five here or not. First of all, the well-known Platform is an old fish farm that sank in 1997 and allows us to observe many species if we can dive down to it. Some people have even seen dolphins in this spot!
The Formentera Platform is a very calm place to dive, with depths of between 11 and 33 metres, though the deepest waters tend to be reserved for expert divers. To get here, take a boat from Ibiza or Formentera and enjoy this diving trip!
5. Small Dice
The "dices" diving area is the second diving spot in Formentera-proximity, less than a five minutes sail from the port of Ibiza and about 20 minutes from the port of Formentera. It is a unique opportunity to enjoy life underwater; whether your level of diving is advanced or just starting out, this is a great aquatic activity in Ibiza!
The seabed here is full of small fish such as julias, castanets, serranos, maidens and bogas. The shallowest rocks are usually completely covered by hydrozoa, yellow anemones, sea sponges and all kinds of algae. Together, this flora and fauna gives the area a special vibrant colouring.
Diving, snorkelling, admiring the marine flora and fauna. Uncover the secrets of the Mediterranean with these aquatic activities in Ibiza. Dare to explore the corners discussed here, and do tell us is your favourite of all!
Back
Book in the official website Invisa Hotels
And enjoy exclusive advantages as a My Invisa Client
Upgrade
room*
Free Wifi
in the room
Sea View
room *
Exclusive
Offers
* According to availability