Bike rides and cycling routes in Ibiza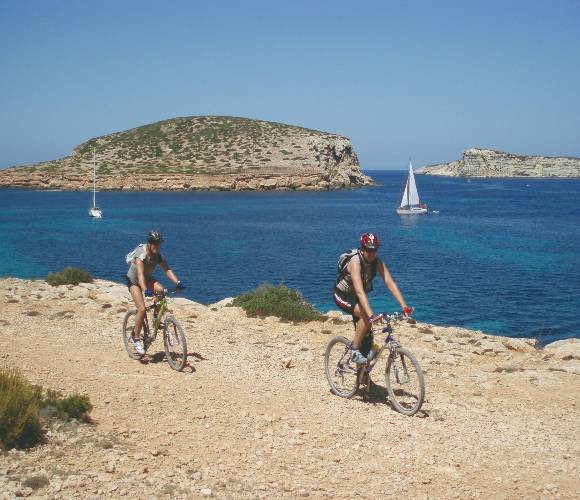 Getting to know a holiday destination while leisurely pedalling is a form of tourism that is becoming increasingly fashionable all around the world, not only because it's an easy way to access less populated places, but also because of the time and cost savings it entails.
Ibiza is one of few holiday destinations with extensive cycle routes along roads and paths that take you around the best scenes in the island. For this reason, as well as the gorgeous weather and stunning natural beauty to enjoy along the way, going to rent a bike in Ibiza or even taking your own over on the ferry is an idyllic way to spend your time away.
Inspired by the many athletes and casual cyclists that come for a bike tour in Ibiza, below is why and how we think every visitor should discover the island on two wheels, a selection of the most popular cycling routes in Ibiza, as well as recommendations to have an unforgettable experience touring Ibiza by bike.
Why is Ibiza so adept for cyclists?
The main advantage of grabbing your bike to explore Ibiza is that you can do so at any time of the year, thanks to the country's mild climate and warm temperatures. Whatever season you choose to visit Ibiza, you can take advantage of the various routes and discover the landscape from a much more exciting point of view than a rental car window.
Touring Ibiza by bike is also more convenient than moving around in a car if you visit in summer, since this is the season during which the greatest number of tourists come to the island. Higher volumes of visitors makes parking less straightforward if you plan on sticking to the most popular and well-known parts of Ibiza. It is much easier to skip ahead of traffic on a bike and the gentle sea breeze is ideal for outdoor exercise.
Another major advantage of covering the 40km (from north to south, from Las Salinas to Portinatx) of the island by bike is how well-geared toward the sport that the island is: there are more than 20 perfectly maintained and signposted bicycle routes, adding up to a total of over 700km of cycle routes in ibiza. These bike paths are both inland and coastal, offering spectacular views of forests, mountains and the sea.

Not planning on entering the Tour de France anytime soon? Don't worry — there are routes for beginners and others for experts. Owing to the fact that the island is not particularly hilly in general, it is easy to get around by bike, but there are also some more demanding sections for professionals or those who really enjoy a challenge while away from home. Thus, Ibiza is the ideal destination for cyclists of all levels of experience.
The best cycle routes in Ibiza
There are 5 outstanding routes on the island for all types of riders, whether you want to see the sea as you pedal along, are more intrepid, or hope to ride together as a family. We've gathered the best 5 cycling routes in Ibiza for you to plan your trip ahead of time.
1. Ses Salines: 4 hours total along the coast
This route is not difficult, and could be suited for kids or novices on a bike, as well as those who just want to enjoy the landscape peacefully. Of course, although the cycle path through Ses Salines is a simple route, it also makes for a full day out because it has 35.8km of cycle path, which takes 4 hours on average to cover.
The route begins in the city centre of Ibiza, passes several beaches such as Playa d'en Bossa and Es Cavallet, and continues through Cap d'Es Falcó to enter Dalt Vila, having looped you back to your starting point.
In addition to being able to contemplate impressive views from this route passing through Ses Salines, the path offers the opportunity to delve into Ibiza's history in the stretch that runs through the oldest urban area of Ibiza and its surroundings. If you like bike-back tourism, take this route which also goes through the streets of Ibiza's old town, Dalt Vila, and discover the museums and art galleries in the city centre, all memorials and reflections of Ibiza's colourful past.
2. Port des Torrent: The best cycle path for families
This is the best route to explore Ibiza by bike if you want to get a good overall view of the island without completely wearing yourself out. In addition to touring the astonishing landscape, you'll be able to finish your route with a little energy left over to explore — just one of the reasons why the Port des Torrent bike path is very popular with families.
This 12km circuit is divided into 5 main sections: the route starts in San Antonio, passes through Port des Torrent, San Agustin, Cala Tarida, and then Torre d'en Rovira before reaching Cala Bassa, one of the most popular destinations on the island. Along the route, you'll spot some of the island's popular attractions, such as the church of San Agustin, the cove of Cala Conta and the settlement Sa Punta d'es Molí.
3. Santa Gertrudis de Fruitera: For cycling aficionados
The route, which passes through Santa Gertrudis de Fruitera, takes you through one of the most beautiful villages in Ibiza. The 30km cycle route does imply some uphilling, which is why it is considered a medium difficulty bike path.
In addition to being the most recommended option for experienced cyclists, the cycle path through Santa Gertrudis de Fruitera is also one of the most stunning in Ibiza. Along the way you'll reach Es Broll, where there is a natural water source coming from a groundwater spring, surrounded by vegetation. This is a truly unique and peaceful place to catch your breath.
The Santa Gertrudis de Fruitera path begins in the Parish Church of Santa Gertrudis and weaves through the typical white Ibizan houses and the green fields, unless it's almond flower season during which the fields are clouds of white and pink. It continues towards Es Riu de Santa Eulària and Sa Font de Cotella, where you can find a farm and a horse riding center. After this, you'll come to a path that returns to the starting point.
4. Sa Serra Grossa: One of Ibiza's most famous ascents
You've read this far, so you're probably not looking for cycle routes for the faint hearted! If you are hoping for a little more intensity in your cycling routes in Ibiza, the mountainous area of Sa Serra Grossa is where to go for a proper workout. Here you'll find a path of medium to high difficulty, that weaves through the juniper and pine forests. While difficult, this is a more shady and fresher route through the foliage.
On departing San Rafael at the beginning of the route, you will see signs to "El Infierno". The reason this is named such and is one of the most famous ascents on the island is that it crosses the highest mountain in Ibiza, Pico de Sa Talaia, at 475 meters high. This is a hellish climb if you're not used to cycling! Of course, the views from the top are spectacular and well worth the effort.
5. Ibiza Extreme: For true athletes and fitness fanatics
This last cycling route is reserved for experts and fans of an adventure, since it is of high intensity: it is not as long as the Ses Salines route (some 32 kilometers), but most cyclists take 5 hours to complete it due to the inclination of some of the climbs and trails.
This Ibiza cycle path circles the entire seafront so you can enjoy some of the most stunning coastal landscapes in the Mediterranean. It is a looped route, starting and ending in Sant Josep de Sa Talaia, passing through Sa Capelleta, Cala Jondal and Es Cubells.
On the way out, there are some difficult access points, namely the entrance to Cala Llentrisca, which is why we only recommend expert riders take this route. You'll be pleased to know that once the route known as the 'Legbreaker' is completed, you're rewarded with the unique and captivating landscape of Ibiza with a much flatter descent.
Groups travelling Ibiza by bike
Touring Ibiza by bike and in a group is exciting thanks to the large number of events and activities that are organized on the island. Several cycle-themed events are held every year, including the Vuelta a Ibiza by BTT and the Vuelta Cicloturista a Ibiza. The latter is held every November 1st and is very inclusive, in that small competitions are held so that the audience, all ages and expertise levels, can participate. This event is the perfect place to discover the warm Ibizan ambience and enjoy a pleasant day out.
In addition to the annual events, the island's government organizes excursions for different skills levels throughout the year. Take advantage of these tours to discover special corners of Ibiza with a seasoned guide who tells the history of the island and all its charms.
Where to rent a bike to pedal your way around Ibiza
There are several possibilities for renting bikes in Ibiza, both for casual rides, as well as mountain bikes and road bike kits. The island has several stores that offer this service but you'll find most of these in the city centre, since this is the most popular spot for tourists.
Some hotels also offer the possibility of renting a bike in Ibiza for a longer period of time. If you are staying at Invisa Hotels, just by asking the reception hotel staff you will be able to find out which are the bicycle rental companies that are available at the time, so that you can choose the bike that you like the most for your cycling adventure in Ibiza.
Where to park your bike in Ibiza
Ibiza is fully equipped for this means of transport and to encourage its use, several bike parking stations have been placed strategically, at the most used spots for cyclists. In fact, the city council of Ibiza placed a map with all the points where it is possible to park your bike on the island: there are 474 parking points located only on the main cycle tourism routes, many more exist that are off the standard bike paths in Ibiza.
Touring Ibiza by bike is one of the best options to get to know the island in the fresh air and get the blood pumping in the meantime. Cycle tourism is one of the most popular alternatives to car rental thanks to the ease of getting around, the extensive choice of bike rental, the various services for cyclists and the stunning landscapes that entertain you along the way.
Don't wait any longer and book your stay now! Come and discover Ibiza on two wheels.
Back
Book in the official website Invisa Hotels
And enjoy exclusive advantages as a My Invisa Client
Upgrade
room*
Free Wifi
in the room
Sea View
room *
Exclusive
Offers
* According to availability