Blue flag beaches in Ibiza 2020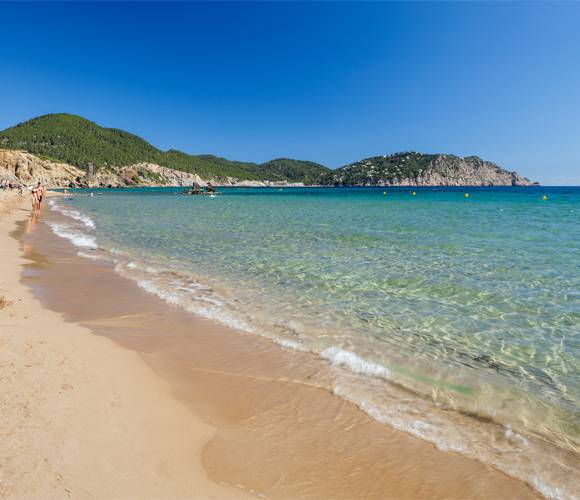 We're celebrating this summer because: the coasts of Ibiza are home to eight much sought-after Blue Flags!

Blue Flags are awarded to beaches, marinas and tourism boat operators to certify their high environmental and quality standards. Eight of these awards will fly along the sandy Ibizan beaches of Santa Eularia (Cala Llenya, Cala Llonga, Es Figueral, Santa Eulalia and Es Canar beach) and Sant Joan de Labritja (Arenal Gran Portinatx, Benirrás and Cala San Vicent), proudly announcing each location's sustainability.

This distinction is well-deserved by Ibiza's sun-trap sands. The excellent quality of environmental care is evident, and bathers get nothing but the best service on Blue Flag beaches in Ibiza. At this time of increased caution among tourists, sports enthusiasts and nature watchers alike who visit the Mediterranean island every year, we're proud to receive recognition of serious protocols so that all visitors can feel safe on the best beaches in Ibiza.

Strict audits and compliance must be passed and assured long-term across cleaning quality, services and amenities in order to achieve a 5-flag status, which could only happen with a team effort. For this reason, at the awards ceremony led by the Mayor of Santa Eulària, the councilor of Litoral y Playas, and the head of Economic Promotion in Ibiza, the beach concessionaires were recognised and all the work done by the municipal staff was appreciated. It clearly paid off!

Which of the Blue Flag beaches in Ibiza is perfect for you?

Santa Eularia

This beach edges Santa Eularia des Riu, a town on the south eastern coast of Ibiza. Many British actors have retired or own holiday homes in Santa Eularia des Riu so this star-studded section of Ibiza comes highly recommended by those in the know. This area is popular with families and those looking for a fun holiday. It's home to two hippy markets that are great if not all the touring party can spend an entire day sunbathing.

The sands reach long and wide so you can have plenty of space to yourself, and the waters are clean and shallow. Families with children should feel confident choosing this Blue Flag beach for their holiday in Ibiza, and they'll also find water sport facilities, boat trips and lifeboats on the neighbouring marina. Moreover, as it's entirely smoke-free and meticulously cared for, Santa Eularia's sands are pristine. All of these factors contributed to the beach's latest award.

We also recommend the area to anyone hoping for a great night's sleep. Low key entertainment is the name of the game here; there's plenty to do during the day along the promenade but bars with live music tend to wind down at midnight.

Es Figueral

Although Es Figueral isn't in a town like Santa Eularia's beach, all the creature comforts are available. You can rent sun loungers, parasols, pedalos, banana boats, kayaks, waterskis… There are too many activities to name! Showers are available for everyone's use as well as restaurants, shops and bars. Importantly, lifeguards are on duty and there is disabled access to this Blue Flag beach.

Es Figueral has a slimmer strip of sand and is surrounded by imposing rocky cliffs that make it feel very dramatic, and do provide some protection from the wind too! You'll find an exclusive resort-style atmosphere in Es Figueral because this is where many Spanish and Italian tourists vacation.
Again, the waters are shallow but here, they offer a view over the privately owned island Tagomago.
A lovely place to stay at in Es Figueral is Invisa Hotel Cala Verde, part of our Invisa Figueral Resort.
Es Canar

Soft sand, shallow clear waters and a beach bar, what more you could want? Luckily, there's plenty more around Es Canar and its beach: restaurants, bars with live acts, another small funfair, glass bottom boats, to name a few.

This is the place to be if you enjoy sunrises. San Antonio and the western side of the island are known for the sunset, but here you can have a unique experience enjoying the sun come up on your day by the ocean.

At the southern end of this Blue Flag beach, a small harbour is the launch point of a ferry over to Formentera, so you can visit another Balearic island while you're here. Just offshore, the islets of Sa Galera and Illa des Canar are also nature havens and beautiful decorations in the landscape of those sunrises you won't want to miss.


Cala Llenya

This much calmer Blue Flag beach is contoured with white sand and frequented by more locals than anything else, especially during low season. Surrounded by fragrant pine trees, your experience at Cala Llenya will be wildly different to that of Es Figueral or Santa Eularia's beaches. This is a picnic-bench sort of spot that you can bring your own lunch to or enjoy something fresh from the beach bar; only a handful of local businesses set up camp here.

Most popular on Cala Llenya beach are sports like volleyball and snorkeling. The expanse of turquoise water that's paddling-depth for many meters is perfect for these games.

If you just want to spend a day here, we recommend choosing Sunday. Cala Llenya's Sunday markets are a stroll aware from the sands so you can visit this other attraction while you're in Es Canar if you can make it at the weekend.

Cala Llonga

An extremely wide beach awaits you at Cala Llonga, as well as chic sunbeds and children's play areas. In the summer, a mini funfair sets up bumper cars and trampolines to keep children entertained. And they won't be short of activities; here you'll find a diving school and even outdoor fitness equipment on the promenade—where else!?

Another great spot for disabled access, in Cala Llonga you'll find access into the sea under lifeguard supervision, with amphibious wheelchairs and/or crutches adapted to aquatic use.

The bronzing factor in Cala Llonga is higher than on some beaches, it's known as a real sun trap. The sands can be reached by driving or busing along winding roads that provide breathtaking views along the way through pine forests that continue to surround the beach. When you arrive, you'll find a variety of cuisines at this Blue Flag beach, because it is lined with different places to eat among the pine trees.



Many people say that a weekend is not enough in Ibiza. They may be partying, relaxing, sight-seeing or exploring, but everyone finds so much more here than they expected, that they realise another trip will be in order. In one week you can visit all of Ibiza's Blue Flag beaches but you'll still want to discover many others! Why not start with the 8 best beaches in Ibiza on your next trip, then see where the wind takes you?
Back
Book in the official website Invisa Hotels
And enjoy exclusive advantages as a My Invisa Client
Upgrade
room*
Free Wifi
in the room
Sea View
room *
Exclusive
Offers
* According to availability