Blue Flag Beaches in Ibiza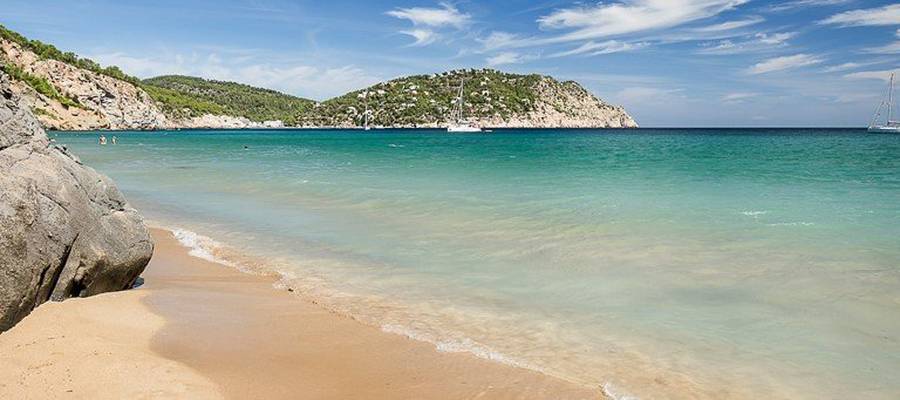 That iconic blue flag gently flapping in the calm, cooling wind is what every holiday maker wants to see when they're relaxing and living their best life on the beach on holiday. Lucky for you, blue flag beaches in Ibiza are as plentiful as they are stunning, with no less than 7 of them dotted along the island's magnificent coastline. But what does the blue flag even mean and where are the best beaches in Ibiza?

The best blue flag beaches in Ibiza

Blue Flag is the world's biggest and most recognised voluntary eco-certifications that can be awarded to beaches, marinas and sustainable tourism companies who operate on or near the water. Before a beach can achieve their certification and be listed amongst the very best beaches in Ibiza, they have to pass a series of stringent, environmental, educational, safety and accessibility criteria to satisfy the judging panel. If they're successful, you can rest assured that the beach you're visiting is one of the cleanest, safest and most beautiful beaches on the entire island, which is always good to know!

There are a number of fantastic secret beaches Ibiza in Ibiza that are great for getting off the beaten track and really getting back to nature on your own, but if you want to head to the official best blue flag beaches on the island, we've listed all 7 for you below – the perfect way to plan the perfect day at the beach!

All the blue flag beaches in Ibiza

Cala Llonga
An urban beach just outside the bustling town of Santa Eularia des Riu, this beach is a beautiful sandy stretch that is perfect for the entire family and right in the heart of this charming Ibiza beach resort, with a kiosk and lifeguards on duty, as well as comprehensive access for those with reduced mobility. The best of Cala Llonga beach can be explored during high season between July and September.

Es Canar
On Ibiza's magnificent and unspoiled northeast coast, you'll find the equally delightful Es Canar beaches, some of the most widely appreciated blue flag beaches in Ibiza. On this stunning sandy stretch of gorgeous coastline there are plenty of activities, things to see and do, amenities and conveniences for the entire family. With lifeguards patrolling the beach and free entrance to the public, this is everyone's dream of the perfect day out.

This particular Ibiza beach resort is also home to the wonderful 3-star Invisa Hotel Ereso, one of the best-located hotels of all, that's simply perfect for families, groups of friends or couples looking to escape from it all and enjoy a week or two under the Spanish sun.

Cala Llenya
Just a few minutes' north of the popular yet relaxing Es Canar, you'll find Cala Llenya, an urban beach with its own sports facilities, kiosk, good public transport links and a popular beach bar. This isn't one of the most secret beaches in Ibiza, being very popular with locals and tourists alike, but it is a great stretch of golden sands with one of the most magnificent views out to see you'll find.

Es Figueral
Es Figueral beach can be found on Ibiza's north eastern tip, just 10 kilometres from the busier blue flag beaches in Santa Eulalia and only around a 25-kilometre hop from Ibiza Town. If you're looking for exclusive rest and relaxation, where the only thing you have to worry about is whether to cool off with a dip in the pool or in the deep blue sea, you've come to the right resort!

The charming 3-star Invisa Hotel Cala Blanca resort is located in San Carlos and adjacent to the impressive Es Figueral beach, where you'll find all you could ever need for the dream holiday in paradise.

Cala San Vicent
With a backdrop of some stunning pine-clad hills and shallow blue waters gently lapping against the sand, it's not difficult to understand why Cala San Vicent is one of the best blue flag beaches in Ibiza. Long and sandy, the beach is fully accessible for all kinds of visitors and has its own lifeguards and local amenities. For some of the best views out to sea on the island, this is one Ibiza beach resort you have to visit for an afternoon or two.

Arenal Gran de Portinatx
In the far north of Ibiza, Arenal Gran de Portinatx is one of the quieter but no less spectacular stretches of coastline in the Balearics. Best enjoyed in high season between July and September, access is free and provides some shelter from the strongest midday sun, being north facing.

Cala Benirrás
The last of the blue flag beaches in Ibiza on our journey today can be found on the White Isle's northern coast, not far from Arenal Gran de Portinatx. A small cove-like beach that is rocky rather than sandy in places, this paradise spot can only be reached by car but is well worth the trip – if you want to feel like you're on your own tropical island, a world away from the hustle and bustle of the big holiday resorts, this is the place for you…

As you can see, Ibiza has a lot to offer in terms of beaches, ¡chose some of the most beautiful blue flag beaches in Ibiza and enjoy some amazing holidays in the White Isle!
Back
Book in the official website Invisa Hotels
And enjoy exclusive advantages as a My Invisa Client
Upgrade
room*
Free Wifi
in the room
Sea View
room *
Exclusive
Offers
* According to availability