Boat excursions in Ibiza: The best trips out on the water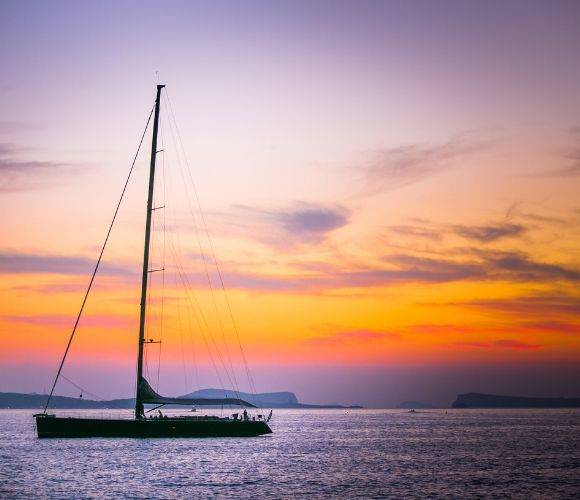 Ibiza boat trips are a favourite activity of visitors to the white island. An archipelago of Spain, Ibiza is set in the Mediterranean sea so the weather is ideal for sunbathing on a catamaran, feeling the breeze on your skin from a speed boat, or even tucking into a buffet on a luxury yacht. An Ibiza boat excursion is also the perfect way to explore the island and its surroundings from another perspective.
There are so many routes around Ibiza to discover by boat that we felt the need to narrow it down for any visitors trying to find the best ones! To set your trip up to enjoy it to the fullest, here are the best excursion routes out on the water.
The top Ibiza boat excursions circle and stop at Es Vedrá and Formentera
We're starting with the most popular excursion among tourists because everyone wants to try this route. Formentera is a very close, neighbouring island of Ibiza with even more flora and fauna due to the minimal human intervention on the island. Boat trips to Formentera pass by the magical islet of Es Vedrá, so you get much more than a glimpse of this wonderful rock formation, known for being mystical, as well as views of Ibiza's paradisiacal beaches and dreamlike landscapes from afar.
Once your 30 minute boat trip reaches the second island, you'll see that Formentera is 70% a protected environment. This makes it a destination where you can spend the day disconnecting, relaxing, admiring the surprising colours of its coves, and tasting some typical dishes in one of the local restaurants. Here's what you should do while in Formentera:
Soak in the marine energy along the Formentera coast
The marine ecosystem that surrounds Formentera is what gives both its beaches and those of Ibiza the turquoise blue color that's so characteristic of this part of the Mediterranean. This is due to the presence of oceanic posidonia, a plant that filters the waters surrounding it and that extends across a marine space of 700 square meters between the two islands. This marine reserve was declared a World Heritage Site by UNESCO, since it is the largest known specimen of posidonia, measuring 8 kilometers in length, and is more than 100,000 years old.
Another beach that you cannot miss on your Ibiza boat trip to Formentera is Cala Saona, known for its reddish earth which contrasts with the bright blue waters. It's the only sandy beach on the cliffy southwest coast of Formentera, but get there early to find a spot! It's only 140 meters long and popular among Ibiza locals and visitors.
Ibiza Ses Illetes boat trip


If you like diving, snorkeling, or even paddle boarding, the coast of Formentera is globally unique, so it is worth a visit by a boat that lets you slip off into the sea for a swim. The most common route is an Ibiza-Ses Illetes boat trip, which drops you off at possibly the most popular beach in Formentera, also ranked seventh best beach in the world. As if its exemplary beauty were not enough, the Ses Illetes drop off is located within the Ses Salines natural park, an environmentally protected site that means the landscape will be here for centuries to come.
The Mills in Formentera
An unmissable stop on your day trip to Formentera are the 18th century flour mills. They're very close to the lighthouse, Faro de la Mola. The mill called Molí Vell is, in particular, extremely well preserved, with all the original machinery. It can be visited from Tuesday to Saturday from 9:30 am to 1:00 pm, after which you may want to stroll over to the El Pilar de la Mola church, to take in its completely white facade in the purist style of the island.
The natural Port of Es Caló de San Agustín
If, on boat excursions from Ibiza, you are looking for charming corners, you can't miss the naturally formed harbour of Es Caló de San Agustín, located near the slopes that lead you to the Formentera lighthouse. This port is famous for its wooden boat houses where fishermen tether their vessels, to protect them from possible storms. The unique dry docks give Es Caló a charming landscape, embodying the authenticity of the islanders' way of life.
San Francesc Xavier, the capital of Formentera
The capital of Formentera has a historic center full of characteristic Mediterranean white houses. Definitely head over to this city centre if you're looking for something more than sun and beach, but don't expect the typical traffic jams and delivery vans you're used to seeing in capital cities! Take a pleasant walk through the calm streets of this destination over to the unusual Sant Francesc Xavier church, built with a single nave and white lime walls.
Circle Ibiza by boat on a guided tour
Sailing or speeding around Ibiza by boat is another classically popular activity among visitors because it's a way you can see tons of different things, and sometimes scope out beaches and coves you'd love to visit on another day. To do an all-around-Ibiza boat trip with an explanation of what you're seeing or someone to ask questions, rent a boat in the port of Portinatx, San Antonio, San Miguel or Punta Xinxò. These are the easiest places to find a boat tour all year round.
The trip around Ibiza usually begins near Cala Salada and Cala Saladeta's stunning waters. The reason many trips skirt these coves or even stop on them is that accessing them on foot is difficult, so strangely, visiting them from the sea is much more comfortable and easy.
Cala de Benirrás and Cala de Portinatx are other beaches that many boat trips include. Being located to the north of the island, these are some of the quietest coves so have spectacular marine biodiversity. Don't forget your snorkel and goggles to see this surprisingly diverse seabed.
After the calm, you will likely be taken to more lively locations in Ibiza: Santa Eulalia, the quieter of the towns, and Ibiza's town centre, Dalt Vila. Add a few historical monuments or cultural attractions to your itinerary if the boat trip stops here, such as the majestic city walls. Even if you can't do it on the same day as your boat trip, we recommend coming back to at least take a walk through its stone streets, as they are very charming.
Explore the caves of Ibiza on a coastal boat tour
There are some magical caves in Ibiza where you can see cave paintings and absorb the stories of many settlements, these are a true jewel of the Balearic Islands. Some are hard to access on foot or require a long walk to their entrance, and for this reason, visiting them from the sea is often the best way to discover the hidden treasures we'll describe next.
The Natural Reserve of Islet and the cave of Es Vedrá
Although it is not possible to physically access Es Vedrá, because of its nature of being a rock formation, from a boat, it is perfectly possible to see the hidden cave of Es Vedrá up close. The most special thing about this cave is that a Carmelite missionary named Francisco Palau spent time reflecting on his life and meditating here when he was exiled from Ibiza in the 19th century. In his diaries, it is possible to read the mystical visions and strange events that he lived through at the time, which created a large number of legends about this islet.
The quarry of Sa Pedrera de Cala D'Hort
An old sandstone quarry doesn't sound exciting but it is a must during your Ibiza boat trips. The city center of Dalt Vila was built with stone from this quarry, giving it historic importance. In addition, it was found and occupied by hippies who lived on the white island in the 1960s and soaked in the energy at this otherworldly scene. They named it 'Atlantis' in honor of the popular sunken city.
The Lobster Cave
Another of the caves that can be visited on an Ibiza boat trip is located near Cala Gració, on the coast of San Antonio. This corner is known as Cueva de la Langosta, or Lobster Cave, because it once housed a lobster farm. Today, it is an underground aquarium, making it the perfect stop to learn about the marine biodiversity of the island.
Admire an incredible sunset from a catamaran
If you've read this far you're a true fan of excursions on the water! And for you, we highly recommend combining two of the best things in Ibiza: boat trips and sunsets. Get on a catamaran and head to Cala Conta just as the sun goes down to see one of the most impressive scenes in Ibiza. Thanks to its location to the southwest of the island, watching the sunset from this cove allows you to contemplate it over the islet of Es Vedrá — truly unparalleled.
Taking Ibiza boat excursions is highly recommended at any time of year, simply take a jacket if it's off season. All around the island and the waters surrounding it, you'll see so many views and aspects of the island that you simply couldn't appreciate from land. So as soon as you're here, we'd love to help you organise a boat trip. Just ask us for where to rent or reserve Ibiza boat excursions and for tips on how to prepare for your exciting day out.
Back
Book in the official website Invisa Hotels
And enjoy exclusive advantages as a My Invisa Client
Upgrade
room*
Free Wifi
in the room
Sea View
room *
Exclusive
Offers
* According to availability