Christmas in Ibiza 2021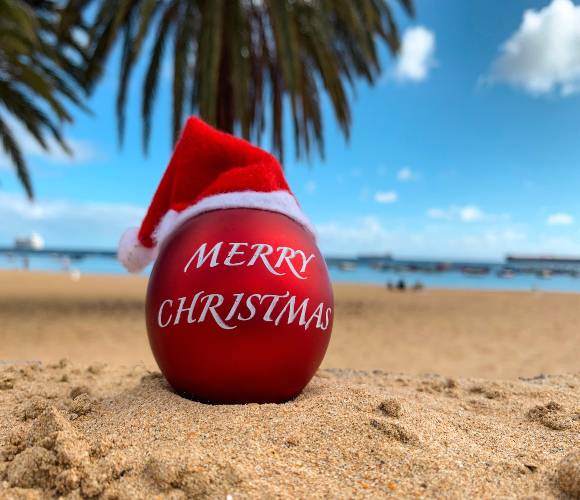 Visiting Ibiza at Christmas is nothing if not a pleasure for families, couples and friends alike. Contrary to popular belief, not everything here is about partying, but the fun atmosphere is definitely an all-year-long occurrence.
Ibiza's partying fame is due to the fact that, since the seventies, tourists have visited Ibiza to experience its beaches, sun and nightclubs. But, in recent years, many families began to visit the island. Seeing that it is safe, much of the activities to do here are in open air spaces with beautiful towns and many things to do for all ages, those same families repeated their visits. With this growing influx of international tourism, more activities were developed for different tastes and hobbies on the island.
Couples and elderly people will find in Ibiza — at Christmas especially — quiet spaces and stunning hotels with fewer people. This attracts those who want to enjoy a unique experience in a pleasant climate; an escape from the cold of their country in December, perhaps.
Are you wondering what to do at Christmas in Ibiza? If you are unsure how many activities you can really do in a low-season month, we have all the information about Ibiza in December. By the end of this article, you'll have been surprised by the sheer variety and, we're sure, excited for all the possible plans you could make during your trip.
What special activities happen at Christmas in Ibiza?


First of all, a festive program was presented at the Santa Eulalia Town Hall for Christmas and the end of the year 2021. For these plans, the little ones will be at the forefront of the fun, with a wide variety of activities and events.


Starting with the Christmas lights being turned on this December 2, a variable array of spectacles began. Theatre, dance, cinema and circus shows all kicked off in the town of Santa Eulalia del Río and will continue throughout the festive period. You can read more about each event on the town hall page.


Who doesn't love arts and crafts? Creating things with our own hands can be therapeutic and a great opportunity to connect with your fellow travellers, or make new friends. To enjoy this experience in Ibiza, visit the talented team at L'atelier nº74, who invite you to develop your artistic skills in a fun, Christmassy environment.


All the materials you will need for your creations are provided and you can take everything you make with you, be they: hand-moulded ceramics, clay table ceramics or macramé. Best of all, there are different activities for adults and children.
In addition to the crafts, L'atelier nº74 is a restaurant. So, you can order a canvas and paint to your table and enjoy a full day with family or friends.


Thirdly, come and see how the locals celebrate local customs and traditions at Christmas in Ibiza's

Santa Gertrudis

. Come to this town in the centre of the island to enjoy the Christmas lights and the Three Kings parade. This year's winter holidays will be packed with fun things to do in many towns like Santa Gertrudis.


Here, festive activities include easy-level guided routes so that people can participate, children's parties with a magician's show, workshops and face painting. There will also be a second hand market, soccer matches with local teams and much much more throughout the holiday season.
What to do in Ibiza in December outdoors
Any regular visitor to the island probably knows that they will find many restaurants, bars and swimming pools open all year round, which is why people come back time and time again. The weather is pleasant all year, so we want to help you know what to do in Ibiza in December, to take advantage of Ibiza's warm temperatures and blue skies even in winter.


We highly recommend starting with the

amusement park

, with rides and various attractions such as roundabouts, a giant wheel, a boat swing, a scooter and raffle booths. There are places to buy food and drink and the park is open every day of the year, from 5 pm to 11 pm.




If you like being outdoors and exercising,

Running Ibiza

organises circular routes all year round. This group of runners will help you discover new parts of Ibiza every two weeks, which is to be expected of this versatile hobby that can be enjoyed almost anywhere.


Each outing has a different theme, since the group hopes to teach some of the island's history to runners new and old. As a result, the pace is relaxed and all levels of fitness are welcome. The distances are usually between 6 and 9 km, leaving and returning to the same point. Participation is priced at € 10.


If you prefer eating over exercising, or need to refuel after a job, the perfect event for you is one organised in San José: Cañas 'n' Roll. During the weekends around Christmas, there is live music, beer, and tapas are served at special prices.


At night, temperatures hover around 10° to 12° Celsius in December in Ibiza, so we recommend wearing warm clothes to these outdoor events, especially after dark.
What markets can you visit in Ibiza at Christmas?
The hippy markets of Ibiza are especially festive at Christmas, and we all need to return from the holidays with a souvenir bought in our holiday destination to remind us of those good times. The markets of Ibiza are even more fun at this time of year, because of the various activities that you can do in December.
Those who visit the markets of Ibiza around Christmas will find trees, lights and decorations — even more than usual. Here are some of our favourites that are open throughout the year:


Las Dalias: This is the best known hippie market in Ibiza and the second largest on the island.

Las Dalias market

is known for selling unusual fashion and jewellery, handicrafts, such as paintings, and local crafts. There is usually live music and there are many food stalls, adding to a fun atmosphere.




San Antonio: Here you will find another of Ibiza's markets. The town of San Antonio is a party centre but, during the week the hippie vibe and activity is more noticeable. In this market, jewellery, clothes, souvenirs and a section called Art & mercat are open to all. This latter section of the

hippy markets in Ibiza

sells artisan and agro-ecological products on Fridays.




San Juan: The live music that makes this market stand out takes place from noon onwards. In this Ibiza market you'll find a variety of food and drinks, all produced in the local area, as well as clothes and souvenirs to take back as gifts.


What days and times do the hippie markets in Ibiza open through December?


Las Dalias: You can visit the Las Dalias market, in the town of San Carlos, every Saturday (from 10 am to 5 pm) and Sundays (from 11 am to 5 pm). The Christmas edition started earlier in December and lasts until January 2.


San Antonio: The San Antonio Christmas is open in Paseo de Ses Fonts from December 2 to January 8. From Monday to Thursday the hours are from 5 pm to 10 pm and from Friday to Sunday from 11 am to midnight.


San Juan: You can go to this market every Saturday of the year, from 9 am onwards.


This time of celebration is very special in Ibiza. All locals and travellers come together on these days to make them memorable, and to feel the magic of Christmas together.
Now you know everything you can do in Ibiza during the month of December, whether with family, friends, or even if you travel alone to meet new people. Needless to say, there is a lot to see, play and eat. We look forward to welcoming you during the festive period or in 2022, to discover this year-round beautiful island.
Back
Book in the official website Invisa Hotels
And enjoy exclusive advantages as a My Invisa Client
Upgrade
room*
Free Wifi
in the room
Sea View
room *
Exclusive
Offers
* According to availability