Dalt Vila - the Old Town of Ibiza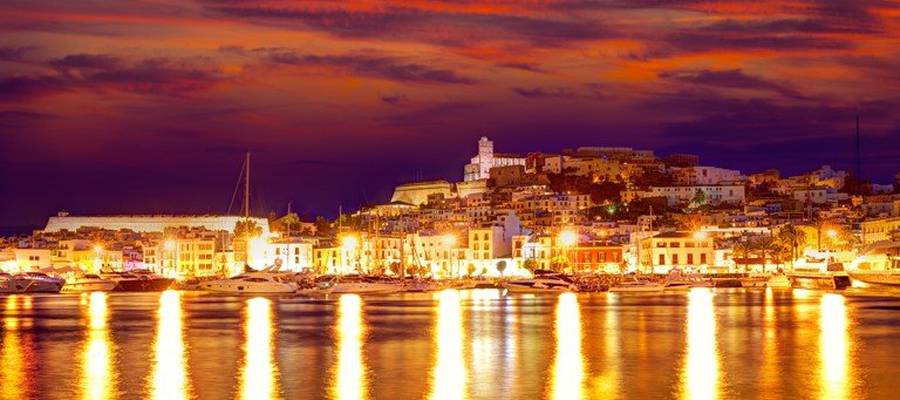 Whether you're a seasoned Ibizan explorer or a first-timer to the island, Ibiza Old Town is sure to be high on your list of things to see and do the next time you're here. If you want to explore the old-world character, relaxed way of life and hustle and bustle of a Mediterranean capital all in one place, then you have to pay a visit to Dalt Vila Ibiza the next time you stay with us. Ready for an adventure?

Visiting Dalt Vila Ibiza, Unesco World Heritage

Literally meaning "High Town", Dalt Vila Ibiza is a true symbol of the island. Located inside the city walls atop a hill that's visible from far and wide, right across the island, here you'll find the ancient key to Ibiza, the fortified castle and winding cobbled streets, the family-run restaurants and boutiques that have seen off wars and social changes to continue thriving, alongside a whole host of exciting things to see and do and people to meet in this bustling part of Ibiza.

A total rabbit-warren of intersecting cobbled streets, Ibiza Old Town is the perfect place to lose yourself in a few hours of uninterrupted adventure as you explore an all-too-often overlooked part of the White Isle. Regularly one of the places that draws in visitors from all over the world and has our guests coming back year after year, the charm and magic spirit of the Old Town is something you can't experience in the guidebooks and simply have to see for yourself. With stunning Mediterranean architecture and a vibrant and exciting history, Ibiza Old Town has been officially designed a UNESCO World Heritage site owing to its beauty and turbulent backstory, so you know you're in for a exciting day trip, whenever you visit.

Whatever part of Ibiza Old Town you're interested in exploring, there's plenty to see and do here to occupy your time. If you're a history buff, head to Plaza de España where you'll find a monument to Guillem de Montgri. He conquered Ibiza for King Jaime I in 1235, paving the way for this Spanish outpost to become a huge part of the country's heritage and a significant tool in their arsenal ver the centuries.

Dalt Vila - a sample of Ibiza's past

But if you're more interested in seeing a different side to Ibiza, a part of history that often goes unexplored, why not delve into Ibiza's past as part of the Arabic empire with a visit to the Madina Yabisa Museum, which you'll find on Calle Major.

If you want to see more historical sites in this UNESCO World Heritage site, head up the hill towards the castle and fort - you can't miss it. Here you'll also stumble upon Nuestra Señora de las Nieves, Ibiza Town's very own cathedral. There's also the 16th century Santo Domingo Church, which is a beautiful piece of ancient architecture and a real treat to get up close to. On your way up the hill, look out for the San Cristobal Convent, a working convent to this very day, which is open to the public to visit. Although not very advertised, look out for the barred windows that the nuns sit behind.

One thing Dalt Vila Ibiza is famous for more than anything, beyond the great architecture, cute little boutique shops and amazing food, is the views. Aside from being a beautiful scene in its own right, the phenomenal, breathtaking landscape views from the top of the hill are to die for. On a clear day, you'll see far across the island and all its magnificent scenery, as well as a crystal-clear view over to Formentera to the south. Make sure to get plenty of photos and something to drink after your walk. Maybe you could even try to spot your hotels in Ibiza from up there...?

What to see and do in Dalt Vila, Ibiza

After a morning of exploring and getting lost in the town's beauty, make sure to stop for lunch somewhere typically Ibizan. Built into the lower walls of the fortress are plenty of little nooks, often tapas bars, restaurants and independent shops, as well as lots of great gifts shops, so it's well worth heading off the beaten track. But back down in the busier part of Dalt Vila Ibiza, you're sure to find something for every taste, from ice cream parlours further down by the port, to fine dining restaurants. If you're on a budget, why not simply set up camp under a shady tree and create your very own picnic spot? There's plenty of green space in and around the town, perfect for a relaxed lunch al fresco or even a quick siesta.

Any time is a good time to visit this fabulous UNESCO World Heritage site but is particularly popular in the summer months and during the famous Medieval Festival hosted every year. Make sure to wear very comfortable shoes as this ancient city was not designed to be enormously accessible, and the cobbled streets aren't the friendliest to your feet. Fortunately, Dalt Vila Ibiza itself is incredibly friendly and a must if you're spending any time in Ibiza. Even better, there's no entrance fee to this marvel of history and beauty, so you can have an entire day our completely free of charge, if you like.

Take a look at our hotels in Ibiza for the best deals and offers to Ibiza and start planning your next trip. Make sure to add Dalt Vila to your itinerary to see a glimpse in the window of this ancient city that's now a modern-day wonder.
Back
Book in the official website Invisa Hotels
And enjoy exclusive advantages as a My Invisa Client
Upgrade
room*
Free Wifi
in the room
Sea View
room *
Exclusive
Offers
* According to availability