Ecotourism in Ibiza: beyond the beaches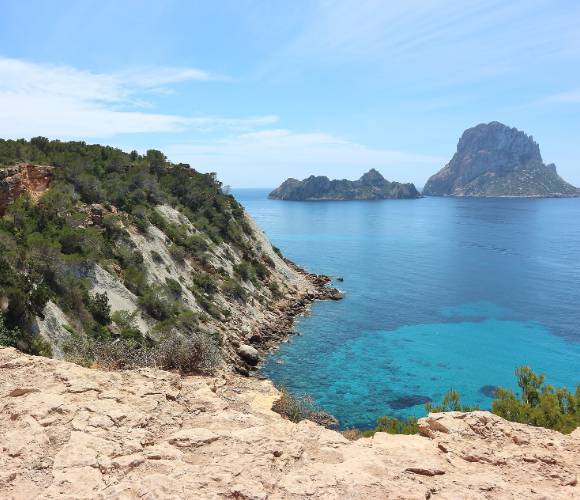 Travel and tourism have become needs rather than wants for most of us. We crave trips to the exotic and to discover new places at least once a year. Because of this, we should reflect on our impact on the world. Is it sustainable to travel so frequently? Are the places we visit equipped to handle increasing numbers of visitors?

Ecotourism isn't just a buzzword, it's something we should all have in mind regardless of where we holiday or for what reason we board a flight. We'll leave it to the environmental experts to explain why we need to protect the world from further damage caused by human activity, what we're experts in is how to be a good tourist while sunbathing, swimming, cycling and trekking in Ibiza, and even while participating in wine tourism in Ibiza.

Ecotourism in Ibiza is a growing category, and importantly so for an island that attracts millions every year to see its chic style, clubbing scene and undeniable natural beauty. You can choose an entire experience geared towards this goal, or adapt your existing plans to be as close to sustainable tourism as possible without losing reservations you've already made. Here are the first things you can do in your mission as an ecotourist in Ibiza.

Shop and eat local

To ease the strain of tourism on local communities you can actually benefit them by placing a little more strain on their businesses! Support Ibiza's inhabitants with your wallet.

Ibiza's resident population doesn't want an end to tourism, they're looking for sustainable management of the island's resources and mindful visitors. So when eating out, ask for a local wine and pick classic dishes that are more likely to be sourced from around the bay than shipped in from foreign seas. Tapas and fish dishes are generally made fresh with farm-to-fork ingredients. Grab a flatbread from the markets across the island as you go about your day, and ask the local butchers for a "sobrassada" spiced sausage to cook at home if your accommodation has the facilities.
There are also tons of budding fashionistas and experienced designers on the island who sell their own creations to tourists looking for something unique with a true Ibizan style.

By shopping and eating out in locations that buy and source locally, you will encourage these businesses to continue operating this way. As local Ibizan enterprises thrive, so will those that most care about the island. This cuts emissions from imports, promotes seasonal sourcing, and controls excessive production beyond existing demand.

Pick up after yourself

Take nothing but pictures, leave nothing but footprints. The well-known phrase should be taken literally wherever you are, and this means taking care not to produce extra waste and especially not leave it behind. Though cleaning up after yourself when you finish your beach-side picnic is the second-best thing to do, a better act is not to produce waste that will need to be disposed of. Even rubbish put in litter bins can blow out of the bin or off the rubbish van and contaminate wildlife, or essentially not be recyclable and end up in landfill.

Try to order drinks and food that don't come in extra packaging, and choose your fast food based on how the products are handed over to you: did the restauranteur choose to use cardboard packaging or wrap your food in plastic? Did your wine tourism Ibiza guide give you plastic or glass taster cups? Again, voting with your wallet will encourage business owners to choose the high-road because that's what will attract more tourists that are conscious of how their money impacts the environment.

Reserve an eco-conscious hotel

If you want to move around without a car, it's sensible to choose a hotel near the things you plan to enjoy while in Ibiza. So by simply planning ahead, whether you plan to try out the water sports, the club scene, the best restaurants, or whatever you're into, you can base your hotel selection on those that are walking distance from your preferred activities.

Invisa Hotel Cala Verde is a known eco-resort and is away from the crowds on a private beach, so perfect for any ecotourist looking to spend a relaxing time catching some rays. You'll enjoy the natural beauty of Ibiza here, you'll be moved to take even more ecotourism actions to protect it.

It can be hard to identify eco-friendly hotels online, so keep an eye out for those that have invested in alternative energy such as solar panels, promote recycling, or have established food waste policies. You can help even more, regardless of what hotel you choose, by asking for your towels and bed linens not to be changed every day, and requesting no plastic water bottles in your room. The kitchen staff will be happier to fill up your flask when requested than to hand over something that will likely end up polluting their beautiful beaches, like a piece of single-use plastic.
Don't clog the car parks

If you can physically avoid it, part of your ecotourism can be not renting a car. Aside from the fact that being driven around is a more relaxing experience, seasoned taxi drivers that know the sometimes hilly streets well so will use their fuel more efficiently. They also don't use up precious space on the streets for parking. Invisa hotels can offer transfer services to their resorts from the airport, and all the locals around the island will be happy to point you in the direction of a local taxi service or the bus routes.

If you do need to rent a vehicle, consider a scooter. Aside from being better for the environment, these will allow you to move around more easily, find parking faster and get you close to the many beauty spots that don't have car-sized access. Even better, cycling in Ibiza is very common and you can easily rent a bike for a day or just a few hours.

We bet you're raring to get planning your eco-adventure! Whether you're laying out a trip head-to-toe geared around ecotourism in Ibiza, or just hoping to adapt your existing plans as much as possible to care for the environment, we hope these tips help you plan out your perfect version of sustainable tourism that suit your trip to a summer climate!
Back
Book in the official website Invisa Hotels
And enjoy exclusive advantages as a My Invisa Client
Upgrade
room*
Free Wifi
in the room
Sea View
room *
Exclusive
Offers
* According to availability