Es Vedra, One of Ibiza's Greatest Attractions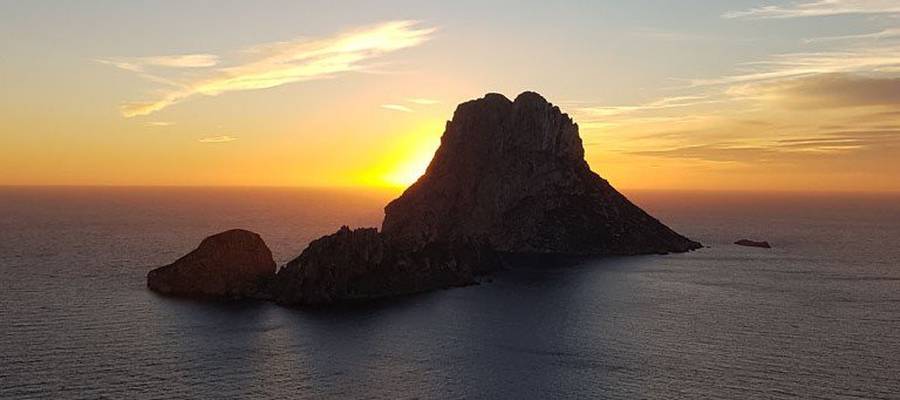 Heading to the gloriously sunny White Isle this summer but stuck for inspiration for what to see in Ibiza? Excitedly planning your time on the island that never sleeps but want to discover more Ibiza attractions? If this sounds like you, then why not consider a trip to Es Vedra Ibiza – one of the best things to do in Ibiza for all the family.

What to see in Ibiza – Es Vedra, the mystical island

If you haven't heard about Es Vedra Ibiza, you're probably not alone! This small yet hugely beautiful rocky island sits just off the southwestern coast of Ibiza, and is without doubt one of Spain's best kept secrets! The Es Vedra sunset is simply out of this world and a day trip to this secluded and untouched part of the Balearics is the stuff of dreams. So if you're looking for some Ibiza attractions that will let you see a much different side of Ibiza, then check out Es Vedra on your next holiday here with us.

To give you just a little background, the small, uninhabited island of Es Vedra Ibiza is an impressive sight to say the very least. Standing at 413 metres tall and just under 2 and a half kilometres from the coast of Cala d'Hort, the whole island and its rocky coastline forms part of the protected Cala d'Hort nature reserve.

Es Vedra Ibiza is thought to have stood for over 155 million years, when a seismic movement in the Mediterranean caused this beautiful island to rise from the sea and appear as we still see it today. Thanks to its position to the south west of the main island, the Es Vedra sunset is an uninterrupted and unparalleled sight. If you're lucky enough to pay a visit to Es Vedra Ibiza at dusk, you'll get one of the best, most romantic and awe-inspiring views of the sun melting into the far Mediterranean Sea and Atlantic Ocean beyond. You simply don't get views like this anywhere else on earth, or at any other Ibiza attractions for that matter. An Es Vedra tour is worth it simply for the sunset alone, in our humble opinion!

How to get to Es Vedra

As an uninhabited and protected island, it's not possible to set foot on Es Vedra, but you can easily arrange a fabulous Es Vedra tour by boat that will get you up close and personal to this magical island, showing off the majesty of the area with a great 360 degree view. Boats set off from Cala d'Hort several times a day in the high season. As a very popular one of the Ibiza attractions, you'll also find boat trips from the likes of Playa d'en Bossa, San Antonio and Ibiza Town in the busier summer months, so have a look around the marinas for up to date timings and prices.

Alternatively, for a personalised and exclusive Es Vedra tour, private boat companies offer a whole host of options to help you get as close as possible to Es Vedra. Whether you want to know how to get to Es Vedra by yourself, with a loved one to enjoy the most romantic Es Vedra sunset or with a group of family and friends, private boat charters from all the major marinas on the island will be able to cater to your needs on an individual basis. Speak to hotel staff or companies at the marinas for details.

Finally, not exactly how to get to Es Vedra, but certainly to get the best view of it, you could think about booking a table at the popular and charming Es Bodaldo restaurant, which overlooks Es Vedra Ibiza and boasts some of the best tables on the island for their magnificent views out to sea. A traditional fish restaurant serving up fresh and local dishes every day, this is one way to enjoy the best Es Vedra sunset without having to leave dry land!

The legends of Es Vedra Ibiza

Far from just being a place of great scenery and unrivalled beauty, Es Vedra tours are also hugely popular because of the history of this great place, which is shrouded in myths, legends and other local tales to shake even the most sceptical of visitors!

For centuries now, captains of ships sailing in the area have claimed their navigational equipment has gone haywire due to some strange and unexplained magnetic activity, much like the myth of the Bermuda triangle on the other side of the Atlantic… why, nobody knows!

In terms of the myths about Es Vedra Ibiza, ancient folklore on the island claims it was the home of the sea-nymphs who tried to lure Ulysses towards the island from his ship -but more famously for this what to see in Ibiza attraction, it is said this place is actually the tip of the sunken civilisation of Atlantis!

Aside from the ancient civilisations and legends that Es Vedra Ibiza may play a part in, to this day there are many on Ibiza who claim to have seen UFO activity and unexplained objects hovering over Es Vedra, further claim that all is not quite as it seems at this Ibiza attraction…

Whether you believe the claims of some locals that there is a secret UFO base under the sea around Es Vedra, or that this magnetic rocky island is in fact a portal to another dimension, there's no denying a certain draw to this part of the Balearics. Maybe it's the scenery, the sunsets or something else more other-worldly, but what is for sure is that if you're considering what to see in Ibiza, a trip to or around Es Vedra Ibiza is most definitely worth a few hours of your time!
Back
Book in the official website Invisa Hotels
And enjoy exclusive advantages as a My Invisa Client
Upgrade
room*
Free Wifi
in the room
Sea View
room *
Exclusive
Offers
* According to availability