Explore the more adventurous side of Ibiza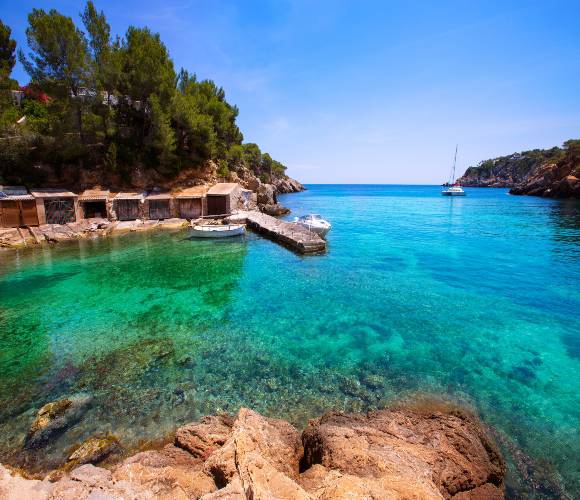 When the question of what to do in Ibiza is still hanging over your next holiday to the island, all the usual responses like heading to the beach, partying on golden sands and making the most of the legendary nightlife typically spring to mind... but, in reality, Ibiza has so much more to offer.
The island and its privileged natural setting offer an endless variety of activities with an adventurous edge that give visitors unique experiences full of unforgettable memories. Discover the most original and exciting plans in Ibiza!
Reign over Ibiza with a hot air balloon ride!
If there's one thing you can do in Ibiza that's sure to be fun and exhilarating, it's flying over the island in a hot air balloon. This is one experience that will remain etched in your memory and that you'll always remember fondly with a smile. There are a number of different companies offering this service in Ibiza with prices ranging from between €175 and €220 per person.
The whole adventure lasts between three and four hours, while typical flying time is around 50 minutes. Passengers also help assemble and disassemble the balloon. Hot air balloon packages include specialised instructors, breakfast, a cava toast and a certificate to mark your flight.
Excursions usually begin first thing in the morning when the temperatures are cooler and the winds more stable. Before the sun even rises, your pilot will fire up the burners and start inflating the balloon. Once the balloon is fully upright and packed with hot air, you'll climb into the basket below and begin your ascent as the balloon gently rises into the air. The adventure starts here!
Giddy up and enjoy nature... activities in Ibiza in the purest form!
Another thing to do in Ibiza is horse riding. There are lots of companies that offer tours of the island and usually cost between €30 and €45 per hour. The island has plenty of options for those accustomed to this wonderful pastime, as well as lots of routes and trails for total beginners and novices looking to try something new.
The vast majority of companies offer packages that allow you to enjoy some exciting excursions as you pass through the stunning Ibizan countryside. This is undoubtedly one of the best ways to discover the most unexplored side of the island. The other Ibiza... wild Ibiza.
In most cases, routes typically run through the mountains, but there are plenty of options that take in the island's beautiful beaches – and horse riding on the beach is without doubt one of the most exhilarating things most people will experience in life. Trails usually take in the most beautiful uncrowded beaches and coves, restrictions permitting. Some excursions go even further, giving you the chance to bathe in the sea with your horse, a unique opportunity to be at one with the natural world.
Another option is to head out at sunset so you can enjoy the world famous Ibiza sunset on horseback... a truly indescribable experience! And once the sun has set? You'll have the chance to experience something completely different and special, like a full moon horse ride, where you can connect with all the magnetism of this truly special island.
Each company has different types of horses that can be matched to you personally. Depending on your weight, height and level of experience, among other factors, you can choose the perfect fit. A holiday activity that's perfect for every visitor and is guaranteed to leave you speechless.
Ibiza plans! Buggy driving... speed and adrenaline rolled into one
There are countless ways to get around the island, to experience and feel Ibiza in a truly magical way. One of the best Ibiza plans has to be buggy driving! Some itineraries last up to two and a half hours, and most take place in and around San José, as well as the more popular areas like Cala Conta, Cala Bassa and Cala D'Hort. Routes also typically take you through the beautiful town of Santa Inés and the highest point on the island, Sa Talaia. And if you have anywhere else in mind you'd like to explore, all you have to do is ask.
The price of excursions depends on the number of participants, but rental typically costs around €220 per person, up to around €360 with a group of four. Prices include petrol, a professional guide, an induction, liability insurance and your all-important helmet. The only requirements are that drivers are at least 18 years old and hold a valid driver's licence (class B). The minimum age for passengers is 7 years old. You're encouraged to take sunglasses and sun cream along with you, alongside a pair of strong closed shoes, a change of clothes and a hat.
What to do in Ibiza? Rock climbing in the most amazing setting
Another surprise Ibiza has in store for visitors is the wide range of trails and mountains you can climb. Limestone is the most common type of rock found on the island, although conglomerate and sandstone can be found in certain areas. Depending on the rock type, you can try your hand at various types of rock climbing (classical, sports, bouldering, etc.). What's more, there are all kinds of different rock climbing excursions available, from slabs and vertical walls to crags and sea cliffs.
Rock climbing is one of the best activities in Ibiza. You'll also find a wide range of rock climbing walls on the island, including El Xarc in Santa Eulalia, El San Agustín and El Barco (San José), as well as the Es Viver Sports Centre and the Bfit Gym in Ibiza. The most outstanding climbing spots in Ibiza can be found in Penyal de s'Àguila, San Miguel, Es Vedrà, Cala/Punta Aubarca, Santa Inés, Ses Fontanelles and Sa Cova des Vi, near Cala Salada.
Discover Ibiza's most adventurous side! Unforgettable experiences that will round off your trip to the island perfectly. We're pleased to offer accommodation at Invisa Hotels so you can enjoy all the Ibiza experiences and adventures you need. Come to Ibiza!
Back
Book in the official website Invisa Hotels
And enjoy exclusive advantages as a My Invisa Client
Upgrade
room*
Free Wifi
in the room
Sea View
room *
Exclusive
Offers
* According to availability