Family Hotels in Ibiza: Where to Stay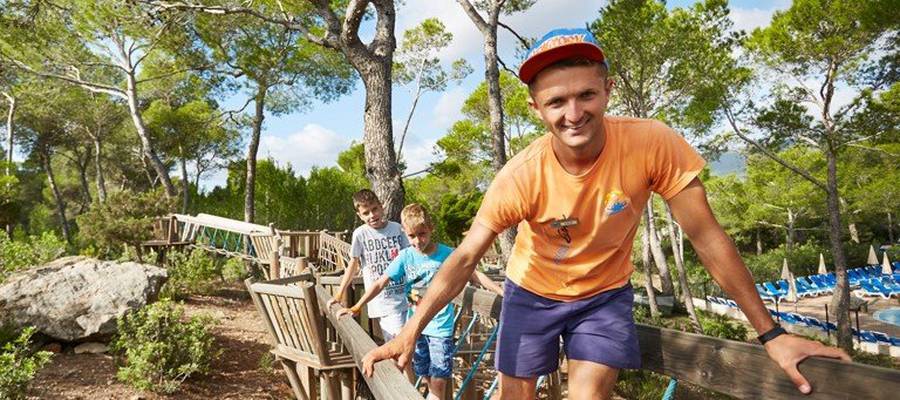 When it comes to finding the perfect family holiday destination, Ibiza is always the answer. Its pristine beaches, safe calm waters and outstanding range of things to see and do for the whole family draw thousands upon thousands of guests to the White Isle year after year.

With a mixture of adrenaline-fuelled activities to keep the teens happy, kids' clubs and play parks to keep the tweens fully entertained, and a wide range of facilities, amenities and babysitting services on offer to keep the tiniest tots content throughout your break, our family hotels in Ibiza have everything you could ever need to make the perfect family escape. So, what exactly makes the best family hotels in Ibiza, and where exactly should you stay…?

Family hotels in Ibiza – what are the key ingredients

Ask any parent, and there'll be a few things they've come to expect from a good family hotel – but there are sure to be a few extras they'd only expect from the best family hotels in Ibiza. Things like the dining options. We know children can be fussy when it comes to deciding what to eat, and there's nothing worse than arriving at a hotel only to find there's nothing even remotely appealing to the littlest guests, so a wide variety of menu choices is key. That's why we dedicate an entire section of our restaurants in our all-inclusive Ibiza family hotels to our most discerning little guests!

Another key consideration is the facilities – are they really child friendly? Here at Invisa Hotels, our family hotels in Ibiza are designed from the start with your little ones' needs firmly in mind. Whether that's the play parks in the grounds, safe and secure for our younger guests to run riot in, or our family-friendly swimming pools with shallow zones and plenty of space around them.

All-inclusive Ibiza family hotels and activities

It's no secret that kids love an afternoon playing in the sand, too, so the best family hotels in Ibiza should always be within a few moments' walk of a good stretch of safe, golden beach. All our all-inclusive Ibiza family hotels can be found next to an exemplary stretch of sand, perfect for kids and with a variety of activities, water sports and excursions on offer, helping make sure the parents and children alike can enjoy their holidays.

The best family hotels in Ibiza

If you're looking for a truly relaxing break where the entire family can switch off, spend some quality time together whilst having the opportunity for everyone to do their own thing when required, staying at any of our fantastic family hotels in Ibiza will give you everything you could ever ask for. Our all-inclusive deals mean you won't have to worry about where to go for dinner, what to do for entertainment or travelling here, there and everywhere – with our idyllic family hotels in Ibiza, everything is totally taken care of.

There are no shortage of options when it comes to finding the best places to stay, it all depends which part of the island you're most excited about seeing!

Where to stay in Ibiza

The Invisa Hotel Club Cala Blanca is a wonderful 3-star family hotel in San Carlos at the heart of Es Figueral Beach, a simply stunning part of the world. Perfect for families of all sizes, the views are to die for and there's plenty going on here for the more active little ones, from bike rides through the hills to splashing about in the amazing pool.

Just around the corner you'll find the delightful Invisa Hotel Club Cala Verde, another 3-star destination just 10km away from the bustling Santa Eulalia and around 26 km from Ibiza Town, the islands cultural and historic hub. With its own gym, volleyball courts, tennis courts and so much more, along with kids' clubs, daily activities and a full entertainment programme, boredom will be the last thing on your mind here.

Finally, consider the Invisa Hotel Ereso in Es Canar, a charming and picturesque village on Ibiza's breathtaking north east coast – certainly one of the best destinations for a family holiday we can think of! Here's where you will be able to enjoy long sunny days by the pool while the little ones play in our adventure park, enjoying the wide variety of sports and activities on offer. By night you can gaze out over the deep blue sea and some amazing scenery as you dine in our wonderful family-friendly restaurant. When it comes to family holidays to Ibiza, you're in safe hands with us.
Back
Book in the official website Invisa Hotels
And enjoy exclusive advantages as a My Invisa Client
Upgrade
room*
Free Wifi
in the room
Sea View
room *
Exclusive
Offers
* According to availability