Ibiza all inclusive: 21 reasons to book in 2021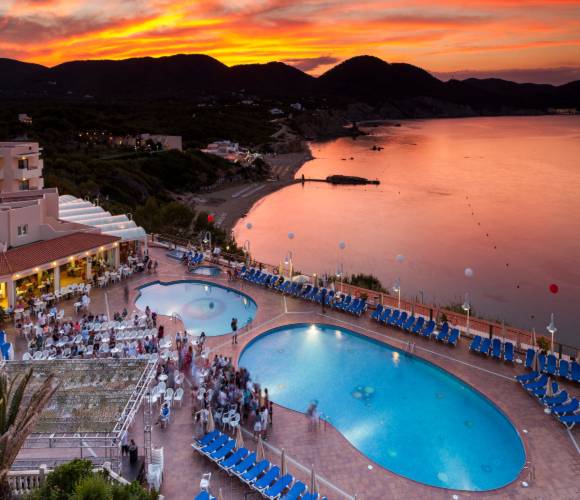 Ibiza all inclusive: 21 reasons to book in 2021
Traveling to Ibiza on an all-inclusive trip is one of the best options to escape the global pandemic in a controlled environment and spend time having fun in a safe space. These days we have to take care when traveling and assure our safety by choosing accommodation that offers all the necessities to make a trip abroad the best that it can be. Spend some time resting and indulging yourself at an all-inclusive resort this 2021.
We gathered 21 reasons why 2021 is the year to visit one of the Ibiza all-inclusive resorts, as well as tips to get the most out of your time away. Needless to say, it is vitally important all visitors comply with some safety regulations, and our staff at Invisa Hotels make this a breeze. We care deeply about hygiene and wellbeing, so we'll make your holidays in Ibiza completely unforgettable!
1. Ibiza all-inclusive hotels are now safer than ever
Invisa's all-inclusive hotels in Ibiza are designed to make your stay special and, even before the pandemic began, we made sure our resorts are safe for everyone. We know that, in order to enjoy a truly all-inclusive stay, our guests spend a lot of time inside the accommodation so, to guarantee everyone's safety, several prevention measures have been established.
In all our hotels we implemented a system that was curated and implemented specifically for our installations and visitors. These actions reduce risk to both guests and staff, so that you can feel safe and enjoy an unforgettable and safe vacation in Ibiza.
2. An all-inclusive gives you options
Traveling to Ibiza and staying in an all-inclusive resort is a sure-fire way to minimize contact with multiple external factors, and keep you protected from un-tested individuals. In this sort of hotel, you have two options: venture outside the hotel for determined trips, carefully advised and cared for by our staff who can point you in the best direction; or you can see the accommodation as a safe bubble, to protect your health and that of your family at all times.
3. Spend time in safe open spaces
If you decide to stay in Ibiza with everything included in your initial reservation, you can take advantage of the outdoor spaces within the hotel facilities and all the activities that we organise for you.
Hotels such as our Invisa Figueral resort (Invisa Hotel Cala Blanca and Invisa Hotel Cala Verde), as well as the Invisa Hotel Ereso on the beautiful Playa Es Canar have all great facilities, including swimming pools for adults and children, and children's areas that cater to different age groups.
With these uncrowded outdoor spaces, you can keep a safe distance and enjoy the fresh sea breeze and refreshing water or walk just a few meters to the beach. Isn't it enticing to sit by the beach or the pool, soak up some sun with a cocktail in hand and know that you're safe in the open air? There's no better way to escape the routine and enjoy the good weather of this Mediterranean island while staying safe.
4. Stress-free trip organization
Forget about your stress by opting for one of the all-inclusive hotels in Ibiza. Thanks to this way of holidaying, you can get everything under control well ahead of time. Forget about making reservations and multiple preparations or restaurant research. As restaurant capacities are controlled and limited, every meal out would need to be booked in advance.
Here at Invisa Hotels, we can advise you on how to do this on arrival and even recommend the absolute best spots for an open air, delicious meal. On the other hand, you can enjoy international cuisine in the restaurant of your all-inclusive hotel, all included in the up-front costs.
5. Openly enjoy eating out
An all-inclusive vacation in Ibiza will allow you and your travel buddies to enjoy yourselves without having to constantly think about the expense of eating out, eat until you're satisfied knowing that you've already received the best price for all these meals, plus you don't need to worry about surprise expenses in restaurants you hadn't previously vetted. Moreover, we make sure every guest receives the attention and comfort they deserve after coming out the other end of a stressful year spent quarantining.
6. Put your feet up
The all-inclusive package is an excellent option if you are looking to rest and forget the stress of work activity, since your hotel will offer you all the comforts in a relaxed and calm environment. Among some of the services you can enjoy without even leaving the premises are the spa, the sauna, and modern sports facilities.
7. Enjoy what you can't on the street
Due to sanitary restrictions, it is not currently possible to carry out all the leisure activities available in Ibiza such as eating as you stroll around the sites. For this reason, by choosing the all-inclusive option in your hotel of choice, you will be able to enjoy all the delicacies of the island in privacy and safety. Here, you can continue eating, dining or even drinking something at any time of the day without time restrictions.
8. Perfect for all age groups
We've already mentioned the children's pools and it's worth knowing that we prioritise accessibility for all kinds of guests. As a result, those of you who travel as a family and want to enjoy a holiday with children can look to Invisa to choose from several all-inclusive hotels in Ibiza, which are perfect for family stays. Our family beach hotels in Ibiza have different services designed especially for your troop. Invisa is a fabulous accommodation option to visit the island with the well-being and safety of each guest, regardless of their age.
9. A romantic destination in Ibiza's all-inclusive resorts
If what you are looking for is an intimate moment with your partner, an all-inclusive hotel in Ibiza is the best option. The island is known to be ideal for couples traveling this 2021, as it has more than 50 beaches and endless private corners near the sea. What's better than resting, connecting, and enjoying the services we offer in our hotels after a romantic afternoon or a private excursion.
10. Discover hotel extras
Another aspect to take into account when selecting all-inclusive hotels in Ibiza is to check what other entertainment and well being services they offer. At Invisa's Hotel Ereso guests can use a multi-sports space, with a recreational area for children and mini water park.
For adults, there are relaxation and or beauty treatments on demand. All you need to do is contact our professional collaborators, who are based at the hotel, and you can discover very affordable prices for massages, facials and so on, with prior reservation.
11. As for the on-site activity program
Maybe your plan is not to relax, but rather to get the most out of your time away with lots of fun activities, to learn something new or just have fun with your travel partner. If you choose an all-inclusive Ibiza package at Invisa, you will spend a large proportion of your vacation at the hotel, so don't forget to ask for the activities program upon arrival. Our forethought is key to our guests' entertainment and planned transparently, so that you can lay out your days and make the most of your time in Ibiza.
12. Anything you need, just ask
An important tip that we want all our guests to remember during a trip to Ibiza is that, by staying in a quality hotel, you can ask for anything you need and find a solution. Ibiza's hotel staff are always friendly and ready to help you at any time, be it to make your vacation easier or to help you discover more of the island's charm, so don't hesitate to ask them any of your questions.
13. Easy check-in and check-out
We want all our guests to enjoy every minute of their stay, including both their day of entry and their day of departure. These days are usually spent finding then arriving at the destination late in the day, then packing and getting ready to leave. The only thing Invisa Hotels' all-inclusive guests need to do is to check the arrival and departure time of the accommodation, and let us know of any variations so we can be as helpful as possible.
14. Moderation is key to a fun trip
By reserving an all-inclusive hotel, we don't necessarily feel tempted to eat and drink excessively. In fact, many people, when they are not concerned about where their next meal will come from, can truly relax and listen to their own body. Our bodies know what they need! And when we can trust that a meal and drink is only a polite request away, we might actually eat and drink in more moderation than is usually considered for all-inclusive resorts.
15. Wake up to a delicious breakfast
As we mentioned, moderation is key to feeling comfortable on your vacation, and part of moderation is feeling satisfied both in nutrients and emotionally. A varied, plentiful breakfast is the most important way to start the day and a true luxury to simply roll out of bed and enjoy. Roll out of your fresh clean sheets into your summer clothing, and start every day in Ibiza with a delicious buffet with something for everyone.
16. Cocktails galore
Taking into account how much holiday-goers enjoy a good cocktail, our all-inclusive hotels in Ibiza are more than prepared with a variety of options. Since an all-inclusive hotel has an open bar with strict safety measures, you can order any drink that you want exactly when you fancy it.
Lay down and sip on a delicious cocktail in the sun or savour a tasty drink in the moonlight after dinner.
17. Spend time right next to the sea
We all know that the safest way to travel is to stay inside the hotel, but nobody can travel to Ibiza and not go out to visit some of its most beautiful beaches! Many of our hotels are near or right on the beach, so this option reduces your need to take transport around the island to take a dip in the sea, unless you want to explore all of Ibiza's famous coves.
18. Easy suitcase packing
If you visit Ibiza and stay in an all-inclusive resort, bathing in the sea and in the pool will be your most frequent activity, so as long as you take essentials like your swimsuit, sun cream and a good book to read while you relax in your hammock, you need nothing more.
If you do want to explore a little more, the island has plentiful hiking and walking routes along cliffs and up to stunning view points. The only thing you need to pack for these activities are good shoes and comfortable clothes.
19. Leave your chores at home
Upon your arrival in Ibiza, we hope all our guests forget any worry they have and only focus on enjoying themselves. We know that this past year has been tough, so at Invisa we take a lot of pleasure in taking the chores like cleaning, cooking, and tidying up off the shoulders of our visitors.
20. Leave the car behind
One of the biggest advantages of staying in an all-inclusive is that, by spending most of your time at the hotel, you can forget about the stress of transportation. You might also forego the rental car and stick to walking in the open air. Who wouldn't jump at the chance to leave the traffic jams, car park trawling and long tiring drives behind?
21. The climate lends itself to poolside fun
Ibiza is one of the best-known islands in the world, thanks to its climate, landscapes, beaches and turquoise sea. You don't need to lay out millions of activities to do during your stay with such great weather, just swim, nap, read and catch a tan for your time away, unless you feel differently inclined. If you are thinking about booking an all-inclusive stay, rest assured that Ibiza is one of the best destinations for it.
In short, traveling to Ibiza on an all-inclusive trip is a great option to escape the current situation, enter into leisure activities, play with your family or relax with your partner, without putting your health at risk. If you want to completely avoid leaving the hotel, at Invisa Hotels we'll be thrilled to have you with us!
Back
Book in the official website Invisa Hotels
And enjoy exclusive advantages as a My Invisa Client
Upgrade
room*
Free Wifi
in the room
Sea View
room *
Exclusive
Offers
* According to availability