Ibiza Bridal Show: Everything you need to know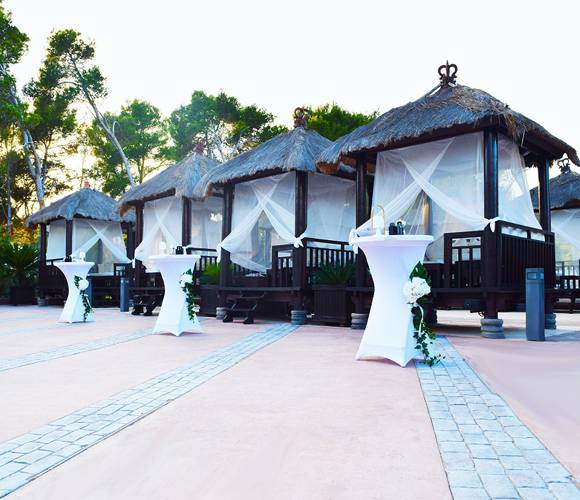 The Ibiza Congress Center is proudly home to Ibiza's Bridal Show because every year, brides and grooms come to this paradise to say their vows and spend a few days with their loved ones relaxing at the beach and poolside spas, partying in the bars and clubs, or filling up on culture and experiences at the island's many historic sites.
What will you be able to see at the wedding fair?
Whether you'll be at the fair in person ahead of your wedding in Ibiza, or plan to follow along via social media because you're still researching your dream wedding on the beach, this wedding fair is the perfect place to investigate Ibiza wedding packages, service providers and Ibiza wedding venues for your special day.
The Ibiza wedding or Bridal Show isn't solely for weddings, however. Here you'll find inspiration, products, services, and experience packages for any type of celebration. So even if you're planning to renew your vows, mark the occasion of an anniversary, pop the question to your special someone, or simply want to make an event of one particular day, put this event on your calendar. The show also isn't exclusively targeting brides. While there are inevitably more choices and emphasis on the white-dress-wearing person, there are also tuxedo and evening-wear specialists, as well as companies that consider every single invitee's experience right down to the hor d'oeuvres.
Join the event organisers, Ibiza Bridal team, who are facilitating companies to host intensive workshops in make-up, hair-styles and fashion. You'll also find stalls offering fun activities like balloon twisting and wedding dance workshops.
What is it about the island and its inhabitants that persuades couples to get married in Ibiza?
Aside from its charm and scenery, which is invariably dramatic but certainly varied across the island, Ibiza weddings are growing in popularity because of its amenities and ease of access. For years, Ibiza was considered party central, but today, the island has matured and taken on a reputation for being a wonderfully peaceful escape with cliffs, beaches, mountain hikes and historic architecture. These features attract loving couples for romantic escapes and often honeymoons every year.
Plus, why get on another plane from your wedding venue to your honeymoon destination when you can have both in the same place? The photos will be spectacular for both events! Moreover, you may be able to enjoy some quality time with family if they can join you before or after your wedding in Ibiza, something that frequent flights and ample luxurious hotels make very easy to persuade them to do.
Not sure of your wedding date?
Even if you're not set on Ibiza as a location or the date of your special day, you may simply want to get some more original input on your event at this bridal show, especially if you're planning a wedding on the beach. Even if you're still at the discovery phase of wedding planning, setting a trip to coincide with the next edition of the Ibiza Bridal Show will get the creative juices flowing, find unique products you can buy and take back with you, and you will also find several companies that work overseas or have branches elsewhere. Don't miss out on this opportunity to see so many tradesmen under one roof.
The next celebration of Ibiza Bridal Show, slated for November of 2021, was originally intended to be celebrated in 2020 on the 6, 7, and 8th of November. Sadly, the organisers had to postpone the event so as to comply with regulations surrounding the coronavirus and for the protection of staff and participants.
The new date will be announced soon and we hope to share this wonderful occasion with you and your family and friends. In the meantime, why not call us to ask about Invisa's wedding packages? We can provide guidance over the phone and would love to help you plan your honeymoon or wedding in Ibiza.
Back
Book in the official website Invisa Hotels
And enjoy exclusive advantages as a My Invisa Client
Upgrade
room*
Free Wifi
in the room
Sea View
room *
Exclusive
Offers
* According to availability