Ibiza on a budget: Cheap Ibiza holidays for fun with friends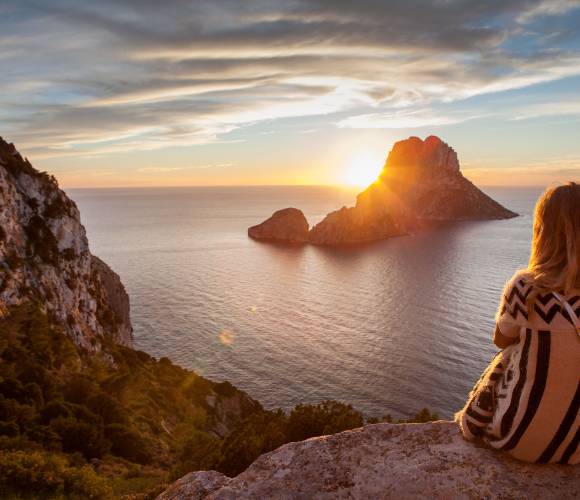 Some believe that Ibiza is an expensive destination and not suitable for all budgets, which is completely erroneous. There is a long list of plans in Ibiza that you can do on a budget, with friends or family, and enjoy the island without having to spend tons of money.
Read the advice below to simply make the most of a trip to Ibiza with friends, without the need to spend a lot of money. Get ready to save!
1. Planning is your first money saver
The first thing you should know is that you can start saving on a trip to Ibiza before even setting foot on the island. Through planning and paying for flights and hotels in advance you're likely to get deals on travel as well as the classy but cheap hotels Ibiza has to offer. These two concepts are key to containing the main expense on your trip.
Cheap hotels in Ibiza
Finding cheap hotels in Ibiza simply demands booking in advance. It is recommended you book at least 30 days before your holiday. If you try to last-minute it, not only will you see fewer cheap Ibiza holidays, availability will be more limited.
Affordable flights to Ibiza
Finding and buying your flight in advance also translates to savings. For short-distance journeys, such as a flight to Ibiza, the recommendation is to book seven weeks in advance. This can save you anything from 10 to 20% on the standard ticket price.
Flight prices to Ibiza fluctuate throughout the year considerably also depending on the time you fly. There are differences of up to 25% in the price if you fly in January (the cheapest month) versus in August (the most expensive month to visit).

2. When to travel to Ibiza? It also influences your savings
Depending on the time you visit Ibiza you can also save on your activities. When you organise a trip to Ibiza with friends, take a good look at your calendar. Prices on all the things you're likely to spend on in the mid and low season will be more affordable than in the summer.
The high season for holidays in Ibiza covers the months of June to September. This is also the hottest part of the year. You can find excellent temperatures off season and the days are just as pleasant to continue enjoying the island's idyllic beaches.
The low season to travel to Ibiza runs from November to February. In this stretch of the year, you can discover Ibiza from another perspective that does not focus only on the sun and the beach. The cultural and natural attraction of the island is more than enough reason to enjoy a unique trip and you can also find that prices ,in general, are more reasonable, such as sports equipment rental or boat trips.
3. Cheap plans in Ibiza
You have multiple options to enjoy a trip with friends here. Our list of cheap plans in Ibiza contains activities of all kinds so you can get the most out of the island and please everyone in the friend group.
1. Beaches and coves
Of course all the coastal parts of the island are the most outstanding tourist attractions, year-round.A day at the beach is an ideal trip to do with friends in Ibiza and can match any budget. As long as you take your rubbish with you, you can bring pack-ups and enjoy a day of sun, sea and sand without spending a lot of money.
Some of the most popular beaches in Ibiza are Cala Comte, Cala Bassa, Ses Salines and Playa d'en Bossa. You should also put Cala Vedella, Cala Codolar, and Es Canaret on your list!
2. Hiking in the sea air
Ibiza has numerous hiking trails, which allow you to explore the incredible landscapes all over the island. One of the most popular hiking paths leaves from Es Amunts, from which you'll see impressive views of the coastline and of green and flower-dotted mountains.
3. Local markets and shop browsing
There are many local markets and shops where you can find clothes, accessories, and souvenirs at affordable prices. The Las Dalias hippie market, the Sant Jordi market and the Punta Arabí de Es Canar market are some of the most popular.
4. Awesome views at no cost
Without having to pay anything, you can enjoy spectacular places and unique viewpoints in Ibiza. You will be able to visit and observe incredible sites such as the monument of Cala Llentia, the doors of Can Solei, Atlantis and the Es Culleram Cave. Discover them!
5. Beach parties
Beach parties are one of the most popular activities in Ibiza. You can enjoy live music, dancing and drinks at reasonable prices in bars and clubs. This is a fun plan for your trip with friends!
6. Bike or motorbike rental
An economical option to move around the island and explore the most interesting places is on two wheels. A bike ride through Ibiza is an easy to organise day-out that will lead you to discover impressive places as a group or even alone. In addition to being how to do Ibiza on a budget, it's great exercise along the island's gentle hills and cycle paths of varying difficulties. Enjoy the scenery at your own pace.
7. Get around by bus
Moving around the island on public buses is easy and cheap. There is an extensive network of routes between the points of interest in Ibiza. Particularly from the airport and the town centre, Dalt Vila there are lines to several of the most important towns in the Ibizan territory at very affordable prices.
After reading these ideas of how to do Ibiza on a budget, surely there are no more excuses not to make a trip over here with friends or family. Plan ahead, book your hotel and your flight, then choose your preferred plans.
Keep an eye on our offers to stay at a comfortable and fun resort. It can be an all inclusive stay too so you save a little more. We'll be here waiting for y
Back
Book in the official website Invisa Hotels
And enjoy exclusive advantages as a My Invisa Client
Upgrade
room*
Free Wifi
in the room
Sea View
room *
Exclusive
Offers
* According to availability