Ibiza, the impressive UNESCO world heritage site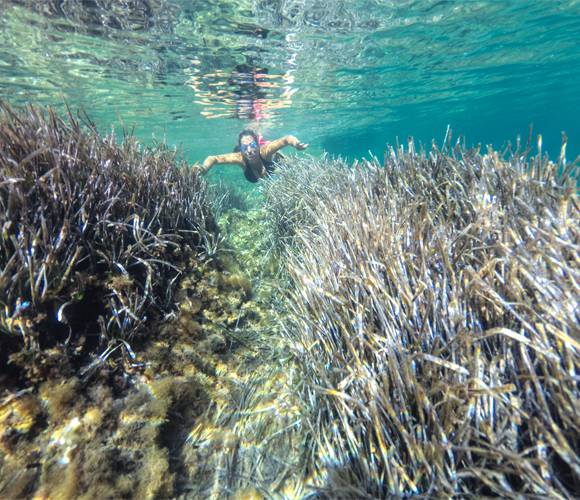 Forget the clichéd stereotype of Ibiza as solely a place of raves and tans, (not that we aren't great for both those things!) the island has so much more to offer by way of natural beauty, rural escapes, cultural enrichment, as well as athletic activities.

Focusing on the natural and cultural heritage today, Ibiza has two decades on its belt as an official UNESCO World Heritage Site, but for many centuries more it's been home to astounding culture, rich in colour, joy and resilience. As part of Spain, the country with the highest number of UNESCO World Heritage Site recognitions, in 1999 Ibiza's abundant value was officially recognised too.

Why is Ibiza a World Heritage Site?

In short, biodiversity and inhabitant diversity are the reasons for Ibiza's World Heritage Site status. The meeting of marine and coastal ecosystems is the vehicle for unique natural developments, while the many meetings of cultures by conquerors and explorers of the Mediterranean provide a remarkable patchwork of human history too.

Ibiza old town World Heritage Site

Let's start at the top. Dalt Vila is the most 'urban' area in Ibiza, in that it's the central business district, museum hub, and home to some of the most delicious eateries in Spain. The history here is palpable.

Monuments include the Dalt Vila wall, its bastions and ramparts, the Cathedral of Our Lady of the Snows, all of which either have brushstrokes of culture from the Phoenicians, Carthaginians, Romans, Arabs, and Catalans, all of whom inhabited the island at one time. UNESCO describes Dalt Vila as "the best-preserved fortress in the Mediterranean."

Within the recognition but outside the city walls, the Marina, Sa Penya and Es Soto neighbourhoods are also beautiful to stroll around browsing shops or taking the time to enjoy a cool drink.

First and oldest island settlements

The Phoenician settlement of Sa Caleta is another reason for the World Heritage Site award. Near Sant Josep de Sa Talaia, a southern Ibizan town about 6 miles west of Dalt Vila, you'll find stone remnants of streets and a small square. These were part of the first village on the island.

Stroll along the avenues traced out by the settlement's still visible constructions, and picture yourself as a Phoenician salt miner, one of the 7th century BC inhabitants of approximately four acres of Ibiza at this site. They would originally have been from the country known today as Lebanon. You can still see the one-room buildings' remains, or what is left of the stone materials now that the mud-brick and clay constructions have melted away.

After Roman times, the land was reallocated to agricultural purposes, to grow olive, carob, fig, and almond trees. Today, the cove around which the salt flats form and this village was built, is only used by a few fishing boat owners. Sa Caleta also has a secluded curved beach, backed by dramatic red cliffs and popular among locals.

Ancestral burial ground and necropolis

Puig des Molins means Windmill Hill, named after a more modern invention of which you can still find several disused examples in the area. Conversely, from 645 BC and for about a century after, Puig des Molins was a Phoenician-Punic necropolis and cemetery. This, of course, contributed to the UNESCO's decision.

Here, Ibizan inhabitants' bodies were buried in a cemetery dug out of the rock. About 340 are now visible from the exterior, a portion excavated of the 3,000 estimated graves in the area. This section is called Hypogea of the Mule, having been 'discovered' and unearthed in 1946 by a mule accidentally falling into one of them. This part of Puig des Molins houses sarcophagus across several interconnecting rooms with reproductions of the skeletons and offerings put inside by loved ones.

This, the world's largest and best-preserved necropolis, is close to the Phoenician settlement because the living and deceased, in their culture, stayed side-by-side forever.
Underwater meadows and forests
Under the turquoise waters of the Balearic islands, prairies of seagrass (specifically oceanic Posidonia) provide protection and nourishment to marine life, and are worthy of our protection too according to UNESCO. This habitat is endemic to the Mediterranean basin and stretches between Formentera, the adjacent island, and Ibiza's Ses Salines Natural Park. The latter is where the greatest marine biodiversity can be found, not in small part thanks to Posidonia.

These sea meadows keep the crystalline waters in their famous condition through sediment filtration and is an oxygen-producing sea lung, crucial to our survival and that of the wildlife living in and around it. Seagrass emits more oxygen than land-bound forests, and it also prevents erosion that would usually lead to parts of coasts disappearing into the sea, as is happening on many islands around the world.

Aside from its eco-friendly properties, the 55,795 hectares of seagrass between the islands is much-loved by divers and feeds the snorkelable waters of Ibiza's beaches. For ongoing respectful tourism, wildlife, and our longevity on earth, anyone interested in conserving this Ibiza World Heritage Site and its inhabitants, can look into and support the Save Posidonia Project here on the islands.

Have we convinced you of Ibiza's historic, cultural and ecological value? Surely you're itching to discover this for yourself! We'd love to offer orientation and guidance about safe travel to and around Ibiza from our on-site and online staff at Invisa Hotels.
Back
Book in the official website Invisa Hotels
And enjoy exclusive advantages as a My Invisa Client
Upgrade
room*
Free Wifi
in the room
Sea View
room *
Exclusive
Offers
* According to availability