Ibiza Outfit Ideas for Summer 2020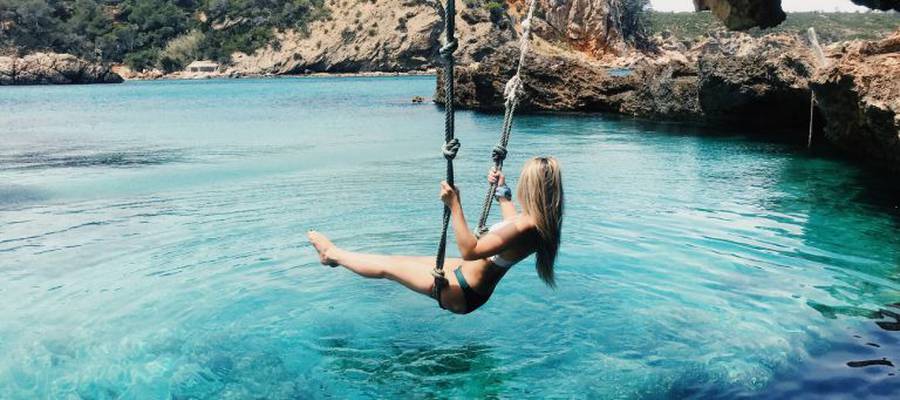 Sound the alarm! Summer is just around the corner and, before you know it, another season of out-of-this-world holidays in Ibiza will be upon us. You've bagged the best flights, googled all the best things to see and do on the island and (hopefully) taken advantage of some of our great early booking offers! You've even bought enough sun tan lotion to sink a small ship. So you're all set…

There's just one thing still sticking in your mind – what are you going to wear!? That famous Ibiza dress code is one of the most recognised styles on earth, where holidaymakers go from breakfast chic to beach glam to evening splendour at the drop of the hat. But how do people know what to wear and get all those great Ibiza outfit ideas from? How do they get the perfect balance between poolside casual and up-to-date trendsetter so right every time?

If you're looking for some Ibiza outfit ideas for this upcoming summer season, then look no further. You don't have to be an influencer to follow our few simple tips to look great and feel great this summer on the White Isle. Whether you're looking for the best Ibiza clubbing outfits or something versatile you can wear every day as you soak up the sun, we're here to help.

The Ibiza dress code – what's it all about

Ibiza is the ultimate place on earth for a carefree, anything goes attitude where people admire and respect one another. With modern Ibiza founded on a hippie colony, where happiness and togetherness are far more important than judging each other for something like what clothes they're wearing, it's not hard to see why Ibiza is such a warm, open and welcoming place still to this day. To put it simply, this is an island of exuberance, freedom and fun – if you're comfortable in it, wear it!

While Ibiza is known for its flamboyant nightlife and amazing music and dance scene, the range of outfits and styles on show is often even more impressive. Here, most visitors to the island feel comfortable and free enough to wear the Ibiza outfits that lets their own unique personalities shine through. If you want to dress up and express yourself through the most avant-garde, exciting and amazing Ibiza clubbing outfits then go for it, don't let anyone put a dampener on your shine. At the same time, if you're happy throwing on some casual clothing without even considering if they match – never mind if they're on trend – Ibiza will still show you a great time where you can live your best life in the sun.

Packing for your holidays in Ibiza

That being said, we know fashion is an important part of life, and for some people, a real highlight to their holidays. From the moment some of our guests grab those amazing early booking offers, they're already planning what to wear, what to accessorise with and mentally packing their suitcases before summer even rolls around. So, what do you need to bring?

Don't worry about bringing anything for bad weather. In Ibiza, the sun shines all summer season, and if you are unlucky enough to catch a few clouds or rain drops, they won't last long. With temperatures in the high twenties and low to mid-thirties all summer long, you'll want to bring fabrics that can breathe, with plenty of shorts, skirts, light tops or shirts and that all important open footwear.

If you plan on getting out and about while you're on the island, perhaps heading off for a hike, trying your hand at some cycling or even just a bit of sightseeing around the medieval Dalt Vila, our island's stunning capital, you'll want your Ibiza outfits to include some comfortable footwear and a hat and sunglasses to give you some much needed shade. And don't forget that high-factor sunscreen!

The best Ibiza outfit ideas for summer 2020

So, what's on trend this year? We're glad you asked! For the ladies amongst you, high-waisted denim shorts, crop tops and headbands are being splashed across all the summer collections this year, ideal for wearing by the pool or beach and while exploring the island. And to be club-ready in a matter of seconds, you can simply throw on a leather or denim jacket over the top to be ready to hit Ibiza's nightlife scene in style.

For the gents, its prints galore, with matching patterned shirts and shorts (and even hats!) that we're seeing a lot of already. Simple and breathable t-shirts with slightly more formal chino-style shorts always create a great daytime look, while you can easily convert that to an evening-friendly Ibiza outfit simply by swapping the shorts for jeans or trousers or perhaps swapping for a dressier shirt.

The secret to Ibiza fashion is always comfort, style and versatility. Take a look at our latest Ibiza hotel offers forthe best holidays in Ibiza right here, as well as our ultimate Ibiza outfit ideas guide to ensure you're always looking your best when you're partying in style.
Back
Book in the official website Invisa Hotels
And enjoy exclusive advantages as a My Invisa Client
Upgrade
room*
Free Wifi
in the room
Sea View
room *
Exclusive
Offers
* According to availability