Invisa Figueral Resort: advantages of staying with us in Ibiza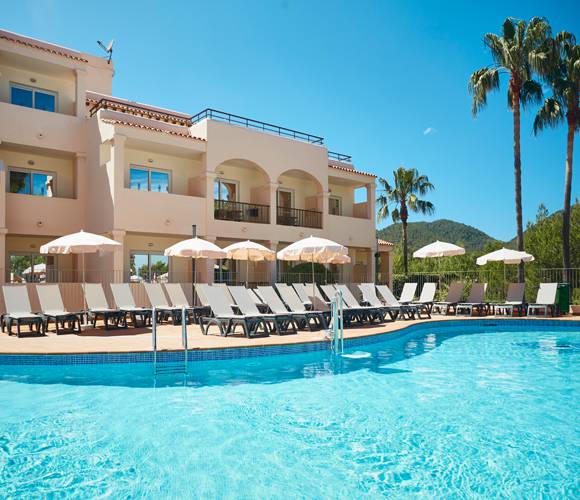 The Invisa Figueral Resort is a hotel complex situated in the sandy, sunny paradise that is Ibiza. To be specific, it can be found near the white houses of San Carlos just 6 miles from Santa Eulalia, right on Es Figueral beach. The resort is made up of two hotels, namely Invisa Hotel Cala Blanca, the larger of the two, and the more intimate Invisa Hotel Cala Verde.
If you are thinking of travelling to Ibiza with your family, one of the best options will be to stay in one of our hotels in Es Figueral. Both hotels enjoy an unbeatable location on the island and the on-site facilities are perfect, especially for the little ones. We always recommend this resort to those travelling with children or who want to enjoy a safe, fun vacation near the beach. We've collected the most important considerations to inform your decision to stay in either of these two Ibiza hotels.
Discover the fun and diverse Invisa Hotel Cala Blanca
Invisa's Hotel Club Cala Blanca is a 3-star hotel located on the beachfront, covering the largest area of the Invisa Figueral Resort. Its facilities are integrated to be ideal for parents who are travelling with children. The Cala Blanca hotel has countless family-friendly spots. To name just a few, there's a playground, an adapted-depth swimming pool, direct beach access and on-site entertainment.
While we adore receiving little guests, Invisa Hotels also takes care of over-18s! Our facilities and services are designed for both adults and children. In fact, it is one of the best hotels for the gastronomic options it offers. Guests can dig into a variety of dishes every day — cuisine from all over the world will leave you satisfied and stimulated, wanting a repeat experience.
Suites and rooms at Invisa Hotel Cala Blanca
Invisa Hotel Club Cala Blanca has 448 magnificent rooms, each with a terrace or balcony. They were designed for relaxation and to meet all the needs of our guests, whether traveling as a family, taking a solo trip or planning a romantic holiday with your partner. One type of suite that our resorts offer is the Grand Family Premium room, which accommodates up to 6 people.The rooms of the hotel include flat screen TV, full bathroom, a mini fridge, air conditioning, a safe for valuables and of course, access to Wi-Fi. In addition, you can request a room with a sea view to make your vacation unforgettable.
The hotel restaurants
In this hotel you can choose from room-only board, breakfast-only (with the option of late breakfast until 12 noon), half board, full board or all inclusive. If you choose to eat in our restaurant, which has its own outdoor terrace, you can taste typical dishes of international, Mediterranean and Ibizan cuisine, so you will have a great variety to choose from. Also, some of our events include themed dinners to make your stay even more exciting.
Sports facilities
No need to neglect your daily exercise during your stay at the Cala Blanca hotel. At this hotel in Es Figueral, Ibiza, you can enjoy plenty of physical activity on the multiple tennis courts, in the sports center or on the small soccer field. You can even play beach volleyball, try your hand at archery or practice yoga. Why not try a new activity when you're at your most relaxed? It could end up being a wonderful memory and a new skill, or a dinner party story at the very least!
Just for the little ones: Invilandia
Next to the sports area is Invilandia, an exclusive area especially created for the enjoyment of children. The space covers more than 5,000 square meters with entertainment adapted to different age groups: there is a miniclub, the pirate island, an adventure area, and a swimming pool, all of which are tended to by professional staff and close to where you can keep an eye on your family members. For kids, playing in this mini water park is an absolute hoot.
Chill Out Bar and adults-only pool
Inside the Invisa Figueral Resort there is a Chill Out Bar, where you can enjoy a refreshing cocktail while taking a dip in the adults only pool, located right next to the bar. This is a space reserved only for adults within the tourist complex, which welcomes families of all shapes and sizes. This means, whether you travel as a couple, with friends, or with kids, you can still find corners of privacy within the complex.
Hotel Invisa Cala Verde: Privacy in paradise
The Invisa Cala Verde hotel is the second accommodation within the resort, offering comfort to all of its clients. This accommodation is smaller than the Cala Blanca hotel, both in the number of rooms (257 in total) and in the area occupied. But guests — regardless of which hotel they are staying in — have access to all the facilities of the complete Invisa Figueral Resort. Therefore, if your family stays at the Hotel Cala Verde, you can still make use of Invilandia or the sports areas in the neighbouring complex.
This is easy to do because, between one hotel and the other, there's only a 200 meters stroll (flip-flop distance!), so it is very comfortable to move freely around the resort and make use of all the services.
Now, you're probably wondering: what's the difference between the two accommodations?
The rooms of Invisa Hotel Cala Verde
Like the Hotel Cala Blanca, this accommodation has fantastic rooms, most of which have sea views. The smaller resort is located a little higher above sea level though, on a hill that offers a spectacular landscape view of Es Figueral beach. Here, the maximum number of people allowed per room is 4, even in the Grand Panoramic Junior Suite with its large balcony and unbeatable vistas.
The Invisa Club Cala Verde restaurant
Just like Cala Blanca, this hotel has different types of board, from bed and breakfast to half board and full board. The late breakfast service, which runs until 12 noon, allows you to enjoy a varied buffet breakfast without having to get up early, because we know the most important thing while away is your rest. At this hotel, in the La Brasserie restaurant you will also find the best examples of local and international cuisine at dinner time, which you can savour with a view of the ocean.
The bar and pools
The Invisa Cala Verde hotel has an area with three swimming pools that have direct access to a bar, plus a terrace that has two bars, an indoor and outdoor bar so you can enjoy a cocktail in fresh air or in the air con if you prefer. What could be more exotic and refreshing than a glass of something delicious while dipping your feet in the pool?
The events area
We know that many people visit us to celebrate family landmarks, but we also host business events. This is made possible thanks to our stellar service.
Invisa Hotel Cala Verde is considered ideal for celebrating a beach wedding, because of its magnificent views and the extraordinary restaurant services, plus spacious rooms equipped with the latest technology, making it an unforgettable location. We also have a team of professionals who can design the event to your liking.
Es Figueral beach: a privilege when staying at the Invisa Figueral Resort
At the Invisa Figueral Resort, both the Hotel Cala Blanca and the Hotel Cala Verde have direct access to Es Figueral beach. This 400-meter-long piece of coastline, with turquoise waters and white sand, is blessed with a calm atmosphere, making the Figueral Resort the ideal destination for those looking for a vacation by the sea together with the rest that a full resort escape promises.
In short, the Invisa Figueral Resort is perfect for both families and couples. It has facilities and services that will delight guests, especially the sports spaces, its direct access to the beach, play areas and restaurants with outdoor terraces.
Without a doubt, this is the perfect place to have some fun and reconnect with yourself and your family. Don't wait any longer and book your next stay in Ibiza today.
Back
Book in the official website Invisa Hotels
And enjoy exclusive advantages as a My Invisa Client
Upgrade
room*
Free Wifi
in the room
Sea View
room *
Exclusive
Offers
* According to availability