Invisa Figueral Resort Ibiza: Come and Discover Paradise!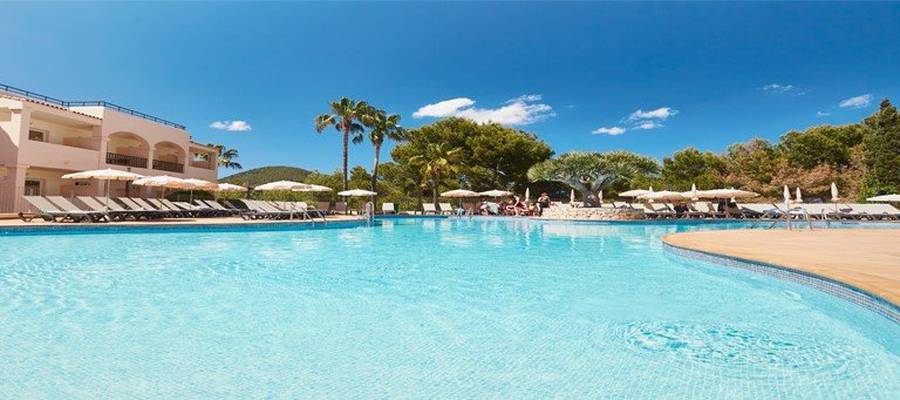 What are you looking for in the perfect beach holiday? A charming all-inclusive resort? A great beach within a few seconds' walk? Stunning landscapes? Amazing food? Entertainment for the whole family? If that sounds like what you're looking for in your next all-inclusive holidays in Ibiza, then you're in good hands with us!

The Invisa Figueral Ibiza resort is home to two of Ibiza's most charming and fantastic family hotels where there's something for everyone. If you're in the market for a great hotel with countless amenities and services, stunning views and a great beach-side location – and all at a great price for the best all-inclusive holidays in Ibiza – read on to discover how you could be in paradise sooner than you think…

Invisa Figueral Ibiza resort

The Es Figueral Ibiza resort is a favourite among holidaymakers visiting the White Isle for very good reason. A small and charming resort on Ibiza's north eastern coast, it's a world away from the bigger, busier resorts that are more popular for their nightlife and towering hotels, offering a more laid-back, typically Spanish escape for the whole family. With a stunning beach of golden sands and phenomenal landscapes surrounding the resort, offering amazing pine-clad hills, uninterrupted views and a relaxed way of life, it's not hard to see why so many families fall in love with Es Figueral year after year.

The Invisa Figueral Ibiza resort is made up of two great hotels offering everything you could ever need in a holiday destination. With two spacious properties just minutes from the great beach, the centre of the resort and a great little range of cafés, traditional restaurants, shops and bars, guests staying at either hotel have the luxury of using the facilities at both, meaning you can get two hotels for the price of one!

Besides all the facilities at these two great all-inclusive hotels in Ibiza, you also have the best of Ibiza right on your doorstep, with amazing quiet coastlines, hippy markets, traditional villages and the rural Ibizan hills just behind you, whilst in the resort and in your hotel you'll find a range of great activities, excursions and entertainment to keep everyone smiling from the moment you land to the moment you take off again!

Feel free to look at our all-inclusive hotels in Ibiza in more detail below, as we give you a snapshot of what you can expect from booking your next holiday right here in paradise…

Invisa Hotel Cala Blanca, one of the nicest all-inclusive hotels in Ibiza

The Invisa Hotel Cala Blanca can be found in the heart of Es Figueral, just a short drive up the coast from Santa Eulalia and 26km from Ibiza town. A 3-star resort that has a wide range of activities and entertainment on offer, there really is something for everyone.

The hotel offers everything from bed and breakfast, to half board, full board, all the way up to all-inclusive holidays in Ibiza, so you can tailor your stay to exactly what's right for you. With 448 comfortable guest rooms and spacious facilities, the hotel never feels crowded and just like your own little slice of paradise. The Marina Restaurant is where you can enjoy a late leisurely breakfast overlooking the gorgeously calm Mediterranean and the surrounding hills, whilst also serving lunch and dinner for our guests staying on an all-inclusive basis.

As for entertainment, children and adults alike find their dream holiday right here with us, with a wide and varied programme of daily entertainment, exclusive sports facilities, local water sports and pools, kids' clubs, dedicated children's swimming pools plus a pirate island and adventure playground for our younger, more adventurous guests!

Invisa Hotel Cala Verde, a great all-inclusive resort for the whole family

Just a few moments away, with breathtaking views of the sea and the beautiful hills that surround this charming resort, you'll find the Invisa Hotel Cala Verde, our sister hotel in Es Figueral that's also hugely popular with families, couples and groups of friends alike. Whether you plan on relaxing day and night on the Bohemian beach, gazing out to sea and watching the super yachts gently float past miles out to shore, or you're more interested in getting out and about and exploring everything Ibiza has to offer, this particular hotel will be a great base for your all-inclusive holidays in Ibiza.

Perfectly designed for your total rest and relaxation, the hotel offers 257 rooms all with full bathroom, complementary WiFi and whole host of other amenities to make sure your stay in paradise is magical from start to finish. Guests can enjoy dining in buffet restaurant serving up a wide range of great food and drink, from traditional local dishes to the most international and popular options. There's also a full programme of entertainment and sports for those of you who get restless on the sun lounger, including a gym, water aerobics and recreation areas for our younger guests, but equally there's plenty of room to lay back with a cocktail and enjoy making the most of your time in our heavenly paradise.

If you simply can't wait to get here, throw on your swimsuit and bask under the hot Spanish sun, take a look at our guide to everything you need to know about all-inclusive holidays in Ibiza! We can't wait to see you soon!
Back
Book in the official website Invisa Hotels
And enjoy exclusive advantages as a My Invisa Client
Upgrade
room*
Free Wifi
in the room
Sea View
room *
Exclusive
Offers
* According to availability