Music and art Ibiza festivals: Bloop Festival and the Ibiza Jazz Festival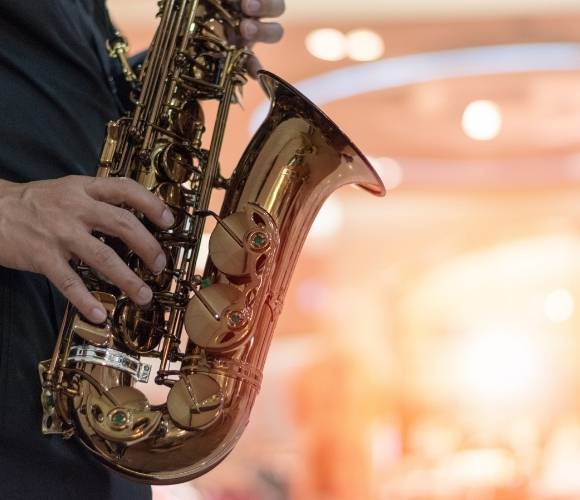 Never miss a festival in Ibiza, if you have the chance: the words "summer" and "Ibiza" are synonymous with fun in the sun! And the Bloop Festival plus Ibiza's Jazz Festival should be top of your list if you love these two things.
Hop over to the island known for parties and clubbing, for a different kind of musical event. The Bloop Festival Ibiza and Ibiza or Eivissa Jazz Festival are less raucous alternatives if you like to spend relaxing holidays in the Med.
Let's dive into what makes each of these two Ibiza festivals special.
Bloop Festival Ibiza: When and Where
This pioneering world-class event is dedicated to the art world. Every day from August 4th to the 24th, you can plan to stroll and get lost in the streets of San Antonio, Ibiza.
Mega mural on the beach
The Bloop Festival Ibiza is already being prepared! The Mexican artist SPAIK decorated the walls of a famous shopping centre in Playa d'en Bossa to kick off Bloop. All kinds of marine fauna such as whales, dolphins, turtles and jellyfish have been painted onto the building's ten façades. This initiative serves as the starting signal for the 12th edition of the arty Bloop Festival in Ibiza. We're appropriately excited already!
A lick of fresh paint on the walls
Eivissa's City Council and the Bloop Festival invited all citizens, administrators and owners of buildings in the municipality to participate in an urban art initiative this year. Together, they're offering their own walls for unique expositions, to be decorated by the greatest urban art artists and free of charge. All the participants submitted their applications and the Bloop Festival will choose which of the walls proposed will be the best for some urban artwork. Plus, the city will be inspiringly decorated long after this festival Ibiza organised, which is a wonderful upside.
An open-air museum
The Minister of Culture for the Eivissa City Council, Pep Tur, introduced the art festival as, "returning to offer an alternative way to enjoy the artistic experience in all our city's streets." Tur called on everyone to participate in an activity that will enrich the localities, turning Ibiza into a "great open-air museum." This summer, Bloop promises to be an even more attractive event for visitors, as much as for citizens who will continue to enjoy the fruits of this 2022 Ibiza festival.

Something for everyone at the Bloop Festival in Ibiza
From August 4-24, the streets of San Antonio, Ibiza will also be alive with electronic music events that will light up the town. Come to this municipality of Ibiza for stunning video projections, contemporary artwork, street graffiti and murals, photography exhibitions, sculptures, and unique performances. You can stay nearby in our Es Pla resort for easy access.
Not only will there be plenty to see for friends and families, there'll also be creative workshops for children and adults, music sessions at sunset, concerts throughout the day and more surprises (you'll just have to see for yourself!).
Eivissa Jazz Festival: When and where
The Ibiza Jazz Festival is organised by the Eivissa City Council, and will celebrate its 34th edition in 2022. Between August 30th and September the 3rd, Dalt Vila will host a programming of European jazz to feed the senses and please every taste.
Five days of excitement
This year, five days of programming will make up for the pause over the last two years due to the pandemic. "Our objective is to continue growing and position the Eivissa Jazz Festival as the festival of reference in the Balearic Islands and Spain," explained the spokesperson for the Eivissa City Council.
A scene to discover new artists
Santa Lucía, Ibiza hosts summer nights to dazzle all visitors with music from the Bulwark. This Ibiza festival is where local and emerging jazz talents come together, it will also unite all the corners of the world with bands from many countries, all with their own unique flavours of jazz. Join us to watch and listen to the most elevated bands as they play into the long Ibizan summer nights.
Both these events are true cultural references in Ibiza and Spain. Plus, after our summers avoiding the coronavirus pandemic with restrictions, all the artists and travellers alike are expected to arrive full of enthusiasm and with very high expectations.
Which sounds better to you? Choose your favourite Ibiza festival and enjoy unforgettable jazz sessions or urban art and see cultural trends emerge right before your eyes. We hope you'll choose us for your stay in Ibiza, too!
Back
Book in the official website Invisa Hotels
And enjoy exclusive advantages as a My Invisa Client
Upgrade
room*
Free Wifi
in the room
Sea View
room *
Exclusive
Offers
* According to availability