Scuba diving in Ibiza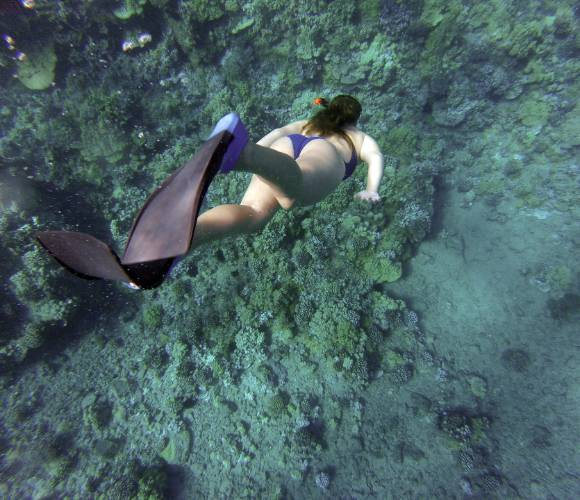 One of the most liberating experiences is to dive into the sea and explore a whole new world below the surface of the water. The simple promise of underwater meadows in the crystal clear Mediterranean should be enough to tempt most to try scuba diving in San Antonio Ibiza or other parts of the island, but here are some more details to have you grinning with excitement at what awaits you!

Ibiza and Formentera's 200 kilometres of coastline provide ample space to roam for scuba diving Ibiza, both more and less experienced among them. The sea's temperature is ideal. Even early in the year, the water's warm enough to convince you you're paddling in the Caribbean; approximately 17 degrees Celsius in winter and 27 degrees Celsius in summer.

This part of the world is a haven of islets, caves, underwater walls, shallow and fauna, you can expect to come across barracudas, groupers, moray eels, lobsters, octopuses, and cuttlefish, just to name a few to pique your interest. If you dive down to the bottom you'll find the endemic Posidonia, coral and sponge meadows, and can enjoy 30-40 metres of visibility in one of the clearest waters in the Mediterranean.

Best diving spots in Ibiza

In reality, there are infinite diving routes around the island as underwater wildlife is constantly evolving. But at this time, we're sharing the top diving sites in Ibiza according to scuba diving Ibiza experts.

1. The Mariana Platform, "La Mariana"

La Mariana was originally a floating platform, a farm where gilthead bream fish were bred. Erected between the islands of Ibiza and Formentera, the fish farm was abandoned and multiple storms over the years eventually caused the platform to sink in 1997.

Since the 90s, the platform has become a hub of activity for barracudas, groupers and salt-water moray eels. You can stay shallow at only 11 meters, or dive down to 33 meters to see even more. Either way, a flashlight is recommendable.

Coordinates: 38º 47-378 N / 001º 28.349 E

2. Don Pedro's shipwreck, Daus Petit

The sunken wreck of Don Pedro is unmissable. 2007 saw the 142 meter-long ship's end as it collided with the smaller of two islets, Es Daus, and sank to a depth of 46 meters. Now the Mediterranean's largest shipwreck, Don Pedro's boat is a blessing to divers of higher expertise who can visit a beautiful underwater ecosystem out in the open sea.

Glide past the ship's propellers and gaze on the enormous wheel house. And be ready for some thermoclines as you could do with a neoprene thicker than the usual 5 millimetres, which would generally be fine for scuba diving in Ibiza year-round.

Coordinates: 38º 53.080 N / 001º 27.169 E

3. The Cave of Light, Na Coloms

On the north coast, not far from San Antonio Ibiza, scuba divers that want a unique experience will be delighted to discover the Cave of Light. Locally known as Na Coloms or La Cueva de la Luz, this underwater cave is a protected swimming pool buried in the ground, which is surrounded by columns, lending to its name, and is an explorer's paradise.

Not for the faint-hearted, you'll need to hike and climb a little to get to Cala D'Albarca, where the underwater pool is, and with the help of no signage. Once you jump into the pool, you can weave in and out of the secreted spaces within this inland cave and spot shrimp and other small fish. The only way out is by swimming through underwater caves, however.

For all these reasons we highly recommend only travelling with an expert tour guide. We also recommend choosing a clear day for the trip to Cala D'Albarca, because rain limits visibility in this shallow diving spot.

Given this info, we bet you're off to plan your tour of some of the best diving sites in Ibiza. We recommend that less experienced divers seek out a tour guide in scuba diving around San Antonio Ibiza, from where many expeditions leave and you can go out with a real expert in diving with care, and respect for the environment.
Back
Book in the official website Invisa Hotels
And enjoy exclusive advantages as a My Invisa Client
Upgrade
room*
Free Wifi
in the room
Sea View
room *
Exclusive
Offers
* According to availability