Stag and hen party ideas: What happens in Ibiza...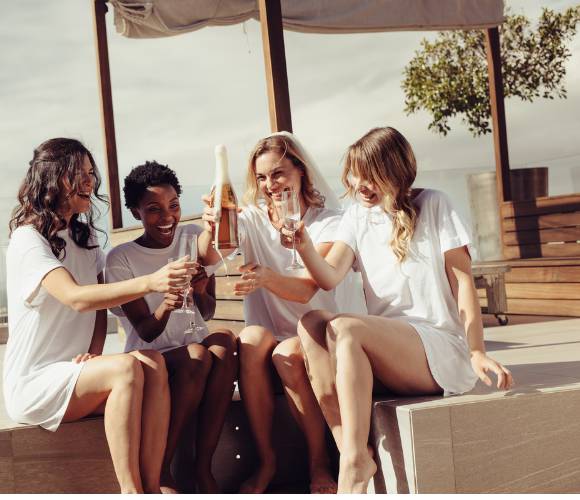 Stag and hen parties in Ibiza are unique but also perfectly linked to the wedding industry that takes place here. You might be planning a stag party in Ibiza or just looking for Ibiza hen party ideas but, whether the happy couple are tying the knot in Ibiza or not, we can tell you there are so many reasons to send them off with a trip to the white isle!
The farewell weekend must invariably include: fun, friends, lots of laughter, and living a unique leisurely experience in a magical place. You can have all this in Ibiza, plus easy planning.
Hen and stag parties are usually organised by the couple's friends so we'll set you up with everything you need to know, in just one blog, to start planning a mini break on this stunning island!
1. Beach parties galore
Ibiza is known for its famous beach parties, so you'll never have to worry about not having places to dance. There are numerous places on the island where you can either just rock up or organise hen parties with Ibizan DJs on the beach. A great way to enjoy the music and the relaxed atmosphere is by sipping on cocktails with the sand between your toes.
Some of the most famous beaches to enjoy a party atmosphere are Caló des Moro, on the seafront of San Antonio,Cala Benirràs, in the north of the island, Cala Jondal, Salinas and Es Cavallet, in San Jose.
You may choose to spend your first day touring the beaches to decide which looks like it'll put on the best show once the evening rolls around!
2. Boat Party, the ultimate sendoff
Party boats are a highly demanded request for the hen party hotels Ibiza holds. We're often connecting guests to the organisers so just ask at our front desk when you arrive! You can rent a boat with a group of friends or join another party to make new friends, and enjoy the music, the sun, and the views of the Ibiza coast.
Playa d'en Bossa and San Antonio are two of the most popular areas to celebrate boat parties. In addition to music, there are fun activities of all kinds on shore so you can warm up on the sand and continue when your boat moors again. The duration of boat parties is usually three hours but you might be able to organise a shorter or hen party on an Ibiza boat if you book a private party.
If you're less about the nightlife, why not go out for a boat ride in the day? Spend the day sailing along the Ibizan coasts and coves, topping up your tan, and enjoying the wildlife.
3. World-famous nightclubs
Surely we needn't tell you why so many hen and stag parties choose Ibiza for a good dance! If you like the nightlife, you must visit our world-famous nightclubs, some of which are among the best in the world and people travel from all over to spend a weekend or more partying the night away. If you want to experience Ibiza's nightlife, make sure you visit some of the most popular clubs: Pacha, Amnesia, Privilege and Ushuaia.
4. Water sports
If you like being active and even more so in the water, we strongly recommend trying out a water sport as a group during your hen or stag party. For more relaxed groups, have a go at paddleboarding, kayaking, or windsurfing. If you have a need for speed, try jetskiing, especially in pairs; this can be incredible fun and will also allow you to see the best beaches and crystal clear waters from a different perspective.
The best thing about a day of water sports during a trip with friends is that you can sometimes obtain a group discount. You can take a ride on jet skis, investigate the seabed with snorkelling equipment or practise your rowing on a paddle surf board. There are also sea bob or flyboard rides over the water. Dare to try it? A hen or stag party in Ibiza is the best time to experiment!
5. Luxury restaurants
This island, a treasure of the Mediterranean, also has a wide variety of restaurants. Who wouldn't enjoy a luxury dinner with friends in Ibiza? This is the kind of activity everyone loves, whether after a day of water sports or relaxing on the beach.
Some of the most outstanding restaurants are El Carmen, El Roto, El Amante, Sa Caleta, Sublimotion (the most expensive restaurant in the world, do note!), Varadero, Calma, El Bigotes, La Brasa de Ibiza and La Paloma, among others. Invisa's staff would be thrilled to help you with a reservation at any of these eateries to make sure you're set to enjoy a night out with wonderful food.
Of course, all of Invisa's hotels have excellent restaurants and buffet services so you can enjoy dinner and drinks without even leaving the resort!
6. A trip over to Formentera
Dedicating a day to visit Formentera from Ibiza is a spectacular plan for groups looking for one quiet escape. Formentera is a small island, a fraction of the size of Ibiza, that has all the visual pleasures you can imagine of flora and fauna and an uninterrupted coastline.
The distance as the crow flies between the islands of Ibiza and Formentera is under 2 miles, but the fact that the ports of both islands are in sheltered points means that the distance between them is 11 nautical miles, such that the journey takes approximately 30-50 minutes, depending on the weather and sea conditions. There are ferries back and forth all day, up till midnight, so don't worry about over-organising your trip, you can relax over in Formentera.
7. Spa and relaxation
If you need a moment of relaxation after the hustle and bustle of celebrating your friend leaving single life, you can choose to visit a spa or book a massage. Ibiza has several high-quality spas, some of which are located in luxury hotels that are also stag and hen party-friendly.
Naturally, you'll want to check out Invisa Hotel La Cala for Turkish baths and spa services in the beach location of Santa Eulalia.
On the other hand, if you want to be near the action, choose San Antonio for your home base in Ibiza. Our Invisa resort is closest to the night scene and adults only as a result. Choose your favourite to spend an unforgettable weekend with friends.
Keen to start planning? We'd love to receive you for a hen or stag party, Ibiza is ready!
Back
Book in the official website Invisa Hotels
And enjoy exclusive advantages as a My Invisa Client
Upgrade
room*
Free Wifi
in the room
Sea View
room *
Exclusive
Offers
* According to availability