Surf in Ibiza: yes, you can do it!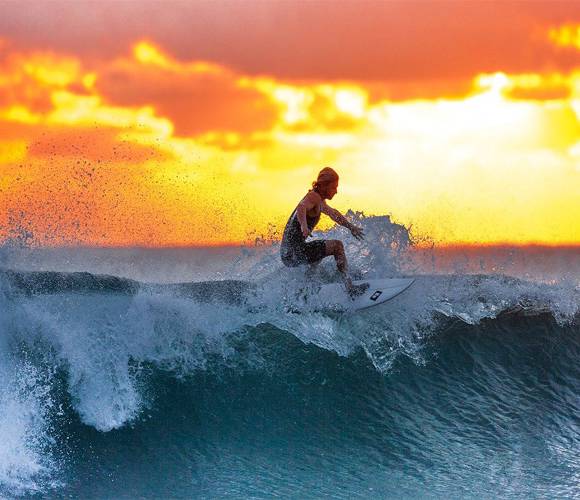 Surfing might not jump to mind when you think of Ibiza, but that needs to change! For those of you who've asked yourselves, "can you surf in Ibiza?" today, you'll discover the truth about the turquoise oceans, numerous beaches and coves, and most importantly, where to surf in Ibiza.
Ibiza's lack of fame for being a surfing paradise is, in fact, its strong point. Its unexploited surfing potential means you can surf Ibiza year-round and enjoy the calm and privacy of this lesser-known surf spot.
Let's take a tour around the island's extremes, to only the best places to ride the waves on this little piece of paradise.
Start north for the best surfing experience in Ibiza…
Head to the northern part of the island for beaches with great waves and winds. Especially off-season, there are fewer tourists on Ibiza's northern beaches on most days. Locals are more likely to visit this part of the coast on weekends, but you can effectively have the waves to yourself if you surf mid-week.
Cala Aigua Blanca in the North-East of Ibiza is thought by many to be the best surfing spot in Ibiza when the swell is northerly. Pro surfers have reported 8-foot waves and even during the summer (when waves are smaller) you can paddle and ride all the way to paradise!
If you don't like surprises, try out Cala Nova. Also on the North-East of Ibiza, this beach consistently has good waves year-round. Having said that, the biggest waves come in winter, at up to 6-feet high, and seasoned surfers believe the best time to visit Cala Nova is in Autumn and Spring.
Following the clock hands around the island, next we'll go east toward the cove of Cala Llenya. Similar to Cala Nova, Llenya has fairly reliable waves and as we get closer to the South, you'll find Ibiza's beaches and coves have plenty of parking and places to buy a snack or have a refreshing drink.
Surf in Ibiza on the South Coast
Time to hit the South Coast? Coming toward the party-end of the island, Playa Jondal is a long stretch of sand and easy to access. Since it's close to plenty of amenities it tends to have more visitors but in wintertime (which, by the way, is certainly not chilly in Ibiza) this isn't the case. If you've been wondering where to surf in Ibiza but don't love crowds, you can enjoy this beach on the far South of Ibiza with very few spectators in low-season.
Rounding the island, the South West is home to Es Cubells' beach. If you love discretion (especially for practising without an audience) we highly recommend this lesser-known, secluded spot where, as you walk to the left or right of the main beach, you'll find great waves and very few surfers to compete with. Bare in mind, seclusion comes at a price: it's a little harder to find this beach and it is rocky, so plan your route well and be patient with the road signs.
West of Es Cubells is Can Pujol, another gem of solitude most of the year and northerly swells. Again, the waves reach up to 6 feet and this beach is rarely busy, so you can park very close to the walk-down.
Now demount, you've circled Ibiza!
Were you thinking of a winter getaway to practice your favourite hobby? Even if you're not a pro, or a total noob, we hope these have provided a few ideas of where to surf in Ibiza so you can enjoy your holiday learning or practising a water sport on the beautiful island of Ibiza.
Another globally popular activity that you can also do here, is kitesurf, and Ibiza is also a wonderful place for this. The locations above are also suitable for this adrenaline boosting activity.
An alternative sport to boost your surfing skills
Looking to try something unusual and push your limits? Kitesurfing is a parallel sport that will train similar muscles and stability skills to those you use while surfing, but with greater emphasis on your upper body.
There are several beaches and coves where you can surf all over the island, as well as spend some time kitesurfing in Ibiza.
You can practice kitesurfing on the same beaches listed above, but we'd divide them by difficulty: Playa Arenal de San Antonio and Playa d'en Bossa are suitable for all levels, while Cala Conta, which is only for expert surfers due to its high waves, is actually perfect for kitesurfing in Ibiza and has a lower level of difficulty compared to surfing in Ibiza.
Have we convinced you Ibiza is a wonderful destination for both surfing and kitesurfing? Get your surf on and stay in one of our hotels in Ibiza to enjoy a wonderful time away.
Back
Book in the official website Invisa Hotels
And enjoy exclusive advantages as a My Invisa Client
Upgrade
room*
Free Wifi
in the room
Sea View
room *
Exclusive
Offers
* According to availability