The Best 20 Souvenirs From Ibiza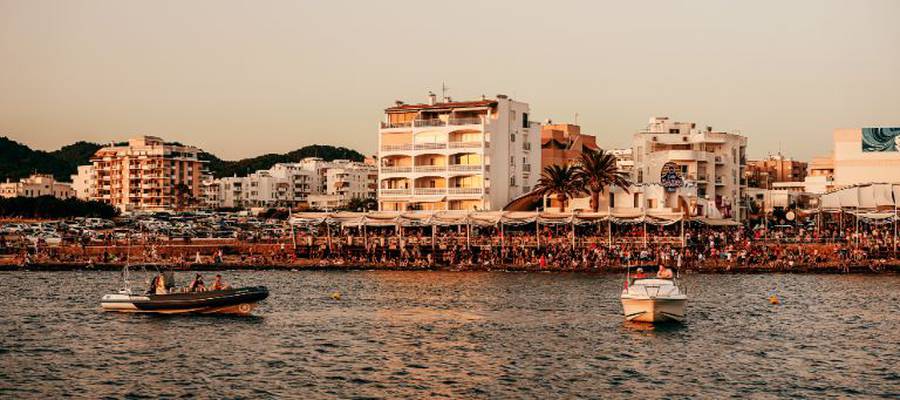 Every time we welcome lucky holidaymakers to our wonderful island of Ibiza, they take home with them a suitcase full of cherished memories, moments and stories that they'll hold in their hearts forever. But what else can you pick up as a keepsake of your time here? What are some of the other souvenirs from Ibiza you can take home with you, besides memories of Ibiza? We've been wracking our brains and shatting to our lovely guests asking them just what to buy in Ibiza, which has helped us to put together a list of the best souvenirs around. Have some of your own? Please feel free to share your own tips and add your own.

1. Sobrasada

Treat yourself to some typical products of Ibiza gastronomy. Start with Sobrasada, a raw, cured sausage local to the Balearics made from ground pork, paprika, salt and other local spices. Let the memories of Ibiza wash over you as you tuck into this delicious treat when you're back home after your holiday. Food souvenirs from Ibiza really are a great way to keep your holiday alive.

2. Butifarra

Another fantastic delicacy to pick up on your Ibiza shopping trip must be Butifarra - one of the signature ingredients of Catalan cuisine - it is a traditional sausage that is pink colour and a fabulous addition to any meal back home.

3. Licor de hierbas

Instead of food products, you could always think about picking up a bottle of Licor de hierbas to help keep those memories of Ibiza alive. Hierbas, a liqueur with its roots on Ibiza, was first discovered around the Middle Ages when monks living up in the hills would cultivate herbs for medicinal purpose, and has been produced in the same way ever since.

4. Cheeses

Back to food, and it wouldn't be an Ibiza shopping trip without picking up some magnificent cheeses! Santa Gertrudis is a beautiful village in Ibiza and produces some beautifully tasty cheese of the same name. Treat yourself and take home one of the best souvenirs from the island.

5. Ibiza Sea salt

One of the reasons meals out in Ibiza are so wonderfully fulfilling are the local ingredients used by the chefs. So, if you want to take home a real taste of Ibiza, pick up some local Ibiza sea salt when you head out for your Ibiza shopping.

6. Ensaimada

A scrumptious, warm and pasty-based delicacy, ensaimadas are a traditional product from the Balearic Islands and a great answer of what to buy in Ibiza. Slightly sweet and light, they're the perfect treat to enjoy, whether here or at home.

7. Local wine

Wash down all of these great souvenirs from Ibiza with a splash of local wine. Red, white or rosé, whatever your favourite, there are some great, locally grown grapes to suit your tastes.

8. Something to remind you the great clubbing experience you had

Are you planning on experiencing some of Ibiza's legendary nightlife when you're here? Well, now there's a popular choice for picking up souvenirs from Ibiza - some memorabilia from the Ibiza clubs and bars! Let your friends know you've partied in some of the world's greatest and most exciting venue with t-shirts, hats, and much, much more.

9. Keyrings and fridge magnets

Thinking along those same lines, some traditional, yet no less fun, souvenirs from Ibiza are things like keyrings and fridge magnets. Whether they are images of your favourite sights, towns or beaches on the island, or even a printed picture of your own, it's a great way to keep your memories of Ibiza alive forever.

10. Clothes

Or, perhaps you want to treat yourself to a more serious Ibiza shopping trip, where you can pick up any manner of great clothing, accessories and more. Ibiza is full of great boutiques and bigger shopping outlets, all over the island, so take part in a little shopping tourism to bag a bargain and maybe pick up a nice watch. Designer brands can often be found much cheaper on Ibiza than elsewhere, so save those pennies and go home with a great souvenir.


11. Sunglasses

If watches aren't for you, explore more fashion in Ibiza by grabbing yourself a pair of great sunglasses! Ibiza chic fashion comes in all shapes and sizes, but you can protect your eyes and look fabulous on the beach at the same time by picking up some shades.

12. Chic fashion piece

Maybe you're looking for a total wardrobe overhaul? Inspired by the chic and fashionable locals, delve into the world of fashion in Ibiza by hitting the shops in Ibiza town or elsewhere and really treat yourself. Prices are low but the quality is high, so take along your wallet to grab some fantastic Ibiza chic fashion bargains to take home with you.

13. An Ibizan emprendada

Perhaps you're looking for something more authentically Spanish to show off your friends and family back home? Why not think about an Ibizan emprendada, a traditional style of jewellery worn by women for processions, events and dances on the island, generally gold rings, necklaces and intricate embroidery.

14. Antique jewellery

For a real taste of Ibiza shopping, think about heading to the beachfront markets or hippie markets to pick up some antique jewellery. This is a great chance to take home some souvenirs from Ibiza that are full of history, elegance and taste. And if you're not afraid to haggle, you can pick up a huge bargain at the same time!


15. Manacor pearls

Ever thought of taking home a beautiful set of pearls to keep your memories of Ibiza fresh forever? Well, now you can! Manacor, on the nearby island of Majorca, are famous all over the world for their high-quality artificial pearls, and with plenty of opportunities to buy them on Ibiza, this will make a great souvenir or special gift for a loved one back home.

16. Hippie markets souvenirs

If you do get the chance to head down to the hippie markets, there are all kinds of great souvenirs from Ibiza you can look out for and get at a fabulously low price! The markets sell high-quality goods from knowledgeable market traders at great prices. Start by taking a look at the pottery, with a huge range of items that would look good in any home or garden!

17. Leather goods

Should pottery not be your thing, think about looking at some of the leather goods available at the markets. Bags, coats, furniture and much more, Ibiza is famous for its magnificent leather goods so well worth a look.

18. Glass

Glass is always a great find on Ibiza. Locally produced works of art, furniture, glass and cookware is all readily available across the hippie markets, so make sure you tap into this part of our shopping tourism.

19. Furniture

A final thing to be on the lookout for at the markets is furniture. From tables and chairs to picture frames, mirrors and ornaments, the markets are crammed full of traditional and beautiful furniture that is just begging for a closer look. And it's not half as expensive as it used to be to take home with you!

20. Airport stuff

If you're already at the airport and you forgot to buy something for your loved ones...don't worry too much! In the Ibiza airport you'll definitely find something you're going to like, from mugs and keyrings to delicious food and perfumes.

So, there you have 20 ideas of great souvenirs to take home, whether that's food, drink or fashion in Ibiza, you're certainly not short on choice! But our final and best idea for a souvenir to take home from your next holiday might just be... another holiday to Ibiza! Start looking through that catalogue and planning your next escape to paradise - that's certainly the best souvenir of all.
Back
Book in the official website Invisa Hotels
And enjoy exclusive advantages as a My Invisa Client
Upgrade
room*
Free Wifi
in the room
Sea View
room *
Exclusive
Offers
* According to availability