Top 10 Celebrities Spotted in Ibiza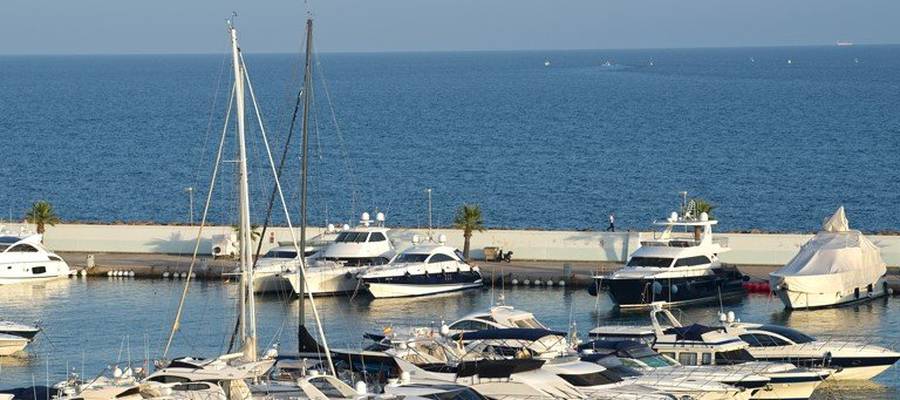 Each and every year, the White Isle attracts thousands upon thousands of happy holidaymakers from far and wide, all looking for sun, sea and some sensational holiday memories. But it's not just the likes of you and I who are tempted by those fabulous Ibiza beaches, the awesome sunsets and out-of-this-world clubbing in Ibiza you can enjoy while you're here – the A listers have found out too!

The White Isle is hugely popular with some of the world's biggest names, and plenty of the rich and famous will moor their yachts or spend a few weeks in their stunning holiday homes here this year. So, if you're curious which celebrities in Ibiza you might bump into at the airport or which Hollywood star you'll see sunning themselves down at Ses Salines beach, we have all the latest for you below in our top ten spots of celebrities in Ibiza this season.

Celebrities in Ibiza this year

1. Shakira and Gerard Piqué
This Latin power couple are regulars on some of our most beautiful Ibiza beaches, having bought a luxury apartment at the Marina Ibiza development way back in 2013. Singing superstar Shakira and her footballing legend husband Gerard have been spotted plenty of times in the years that followed, whether relaxing by the pool or splashing about in the Mediterranean with their two sons, Milan and Sasha.

2. Idris Elba
Idris Elba is a man of many talents. Actor, musician, producer... he has spent much of summer 2019 on the island. But unlike lots of other A-LISTERS who might spend their time lounging with a cocktail in hand or pondering what to see and do in Ibiza, Idris has been working hard as part of his residency at popular and exclusive club Hï Ibiza, where he will be for sure playing some amazing house music this summer too.

3. David Guetta
Mention the words celebrities in Ibiza to anyone and David Guetta is a name that will quickly spring to mind. A firm favourite on the clubbing scene for years now, Guetta returns to the island for summer 2020 with another year of his F*** ME I'M FAMOUS! party at HÏ IBIZA every Friday and Ushuaia on Mondays. If you want to try clubbing in Ibiza with a celebrity twist, make sure you check one of his nights out.

4. Cristiano Ronaldo
If you're wondering where do famous people go in Ibiza, you could do much worse than heading down to Ses Salines beach, the unspoilt tropical paradise on the islands far southern coast. Football superstar Cristiano Ronaldo has been papped here several times over the years, and is known to frequent the island every summer.

5. Amy Schumer
The American stand-up comedian and actress, best known for her no-nonsense put downs and cutting-edge sense of humour, was spotted last summer relaxing with her family on some of our glorious Ibiza beaches. Taking things up a notch, she was also seen enjoying an afternoon on a luxurious yacht with fellow comedian and legendary sitcom star, Jerry Seinfeld.

6. Calvin Harris
One of Scotland's finest exports, legendary musician and producer Calvin Harris is known to hold Ibiza very dear to his heart, given his residencies on the island were some of the major stepping stones to his successful international career. The former partner of Taylor Swift has brought plenty of other celebrities in Ibiza over the years, so if you're not sure where do famous people go in Ibiza, just ask where Calvin is...

7. Michael Fassbender and Alicia Vikander
Swedish actress Alicia, perhaps best known for playing Lara Croft in the recent reboot of Tomb Raider, married her partner Michael Fassbender, one of the biggest Hollywood actors around at the moment, in a luxurious yet intimate ceremony on the great island of Ibiza in 2017. Whilst there's no confirmed news that they'll be spotted clubbing in Ibiza this summer, we can think of worse ways to spend your wedding anniversary than a trip down memory lane on the White Isle, Michael Alicia, if you need any tips on what to see and do in Ibiza this year, just give us a call...!

8. Olly Murs
Spotted several times at Ocean Beach Club back in 2019, British singer Olly Murs is known to love heading down to Ibiza for a few days of fun in the sun. Just another idea of where to head if you're thinking about where do famous people go in Ibiza, we know one troublemaker you're sure to run into.

9. Craig David
Headlining Ibiza Rocks every Tuesday throughout the summer season for 2020, Craig David is a legend on the island and has people flocking to see him every time he appears. When he's not spinning the decks or meeting fans, he can often be seen relaxing in the late afternoon on Ibiza beaches.

10. Cheryl Cole
Cheryl Cole was also spotted several times enjoying some relaxation on a yacht on the Ibiza coast with friends.

Stopping on the beautiful Ibiza beaches to see a bit more of the island. who knows if we'll see this pop icon clubbing in Ibiza as we head into summer 2020. We'll keep you posted!
Back
Book in the official website Invisa Hotels
And enjoy exclusive advantages as a My Invisa Client
Upgrade
room*
Free Wifi
in the room
Sea View
room *
Exclusive
Offers
* According to availability