Top accessible beaches in Ibiza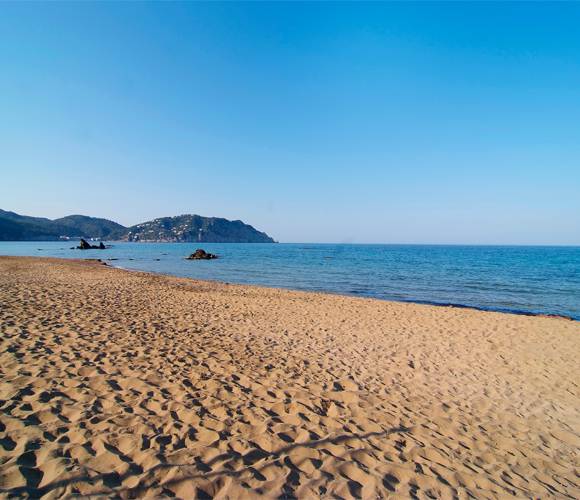 The Balearic islands of Ibiza and Formentera are a haven for retirees and families, not just party people! So with such a breadth of clientele, the tourist industry has set up the facilities to entertain and cater to people with as many different abilities as possible. Ibiza beaches really have something for everyone.
It's worth noting that, with such a rocky coastline in many areas, Ibiza is covered with hills that are perfect for hiking and picturesque cliffs. The offshoot is that some beaches are inaccessible only for people uninhibited trekkers. There are, however, beaches with access for people with disabilities, injuries, or limited mobility, with views over cliffs, coves and shallow waters. This is especially true for beaches near urbanised areas.
Best neighbourhood with accessible beaches of Ibiza
On the surface, the municipality with most adapted access is that of San Antonio, wherein 70% of the beaches have specific adaptations to allow visitors to access them easily. San Antonio is also simple to get to by car and has plenty of hotels not far from the beaches, such as Invisa Hotel Es Pla.
On the other side of the island however, Ses Salines beach and the secluded Cala Salada beach deserve shoutouts for parking spaces on the beach, making them much easier to access by vehicle.
The top accessible beach in Ibiza
The town-side beach at Santa Eulària des Riu is often said to be the best-adapted beach in Ibiza. Cala Llonga a little way along the same East coast is another excellent example and both Santa Eulalia and Cala Llonga beaches have lifeguard assisted service.
These top two accessible beaches are located in slightly less busy areas than San Antonio too, so if you're looking for spaces with lower tourist populations, we highly recommend Santa Eulària. Further from the nightclub bustle, but not far from the port and old town city walls, this area is particularly popular among families and zen couples.
On top of these two sandy areas, perfect for travellers with reduced mobility, there are other beautiful beaches in the same municipality of Santa Eulària des Riu called Cala Llenya, Es Figueral and Es Canar, which also have adapted facilities.
Locating bathing access for people with disabilities

In Ibiza, more than 25 beaches and coves have accessible bathing spaces for visitors with reduced mobility, including amphibious chairs, and more are being added on a consistent basis. As with any activity abroad, these can be reserved ahead of time.
Adapted toilet facilities are also being updated regularly so it can be worth a call to the individual municipalities to enquire to ask if any new facilities have been added and whether the amphibious chairs and/or plastic crutches are booked out.
Here are the numbers for each area on the island:
Sant Joan - 971 33 30 03
Santa Eulària - 971 33 28 00
Vila - 971 397 600
Sant Josep - 971 800 125
Sant Antoni - 971 34 01 11
These municipalities have beaches that are totally accessible for everyone, including travellers and residents in wheelchairs who want to spend time on the walkways with sunny and shaded areas.
If in doubt, do ask your hotel staff, at Invisa we're always happy to point you in the direction of easily accessible beaches, and we stay abreast of the renovations and updates to each bathing area on the island.
Preparing to travel to accessible beaches of Ibiza in 2020
In the interests of protecting everyone from all walks of life and all types of mobility, the use of masks has been mandatory for everyone over 6 years old, since July 2020. This includes outdoor areas except at the beach, pool or playing sports. So if you want to enjoy the sun and keep your safe distance to forego mask-wearing, head down to Ibiza's beaches and enjoy some Autumn sun!
Back
Book in the official website Invisa Hotels
And enjoy exclusive advantages as a My Invisa Client
Upgrade
room*
Free Wifi
in the room
Sea View
room *
Exclusive
Offers
* According to availability