Visit Ibiza in September: The best time to enjoy the island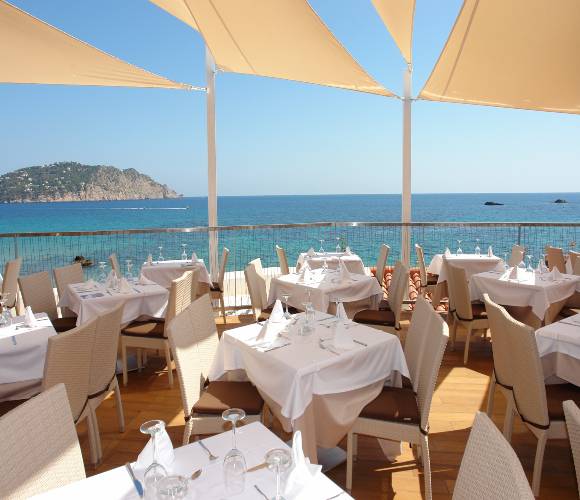 September is one of the nicest months in which to visit Ibiza, since there are fewer tourists visiting, and the heat drops off a little. You can still enjoy the sunsets with intense colour, but the tranquility of the island rolls in, and flight prices are also a little lower.
We think Ibiza is the ideal destination to put the finishing touch on your summer. So that you can make the most of Ibiza in September, we decided to collect some advice on how to enjoy the best time of year to visit Ibiza from seasoned islanders.
Is Ibiza hot in September?
If you are thinking of travelling to Ibiza in September, and researching what the weather is like in Ibiza in September, let us put your mind at ease: you can be sure that the temperatures will be very pleasant. The intense heat of the months of July and August softens such that the daily maximums reach, in the first weeks of the month, approximately 29 degrees celsius. In the latter weeks of September you'll see highs of 25 degrees.
As you no longer need to wonder "is Ibiza hot in September?" you might now be worried the temperatures will drop too much at night! But no﹘the temperature rarely drops below 19 degrees celsius, so walking at night is perfectly agreeable for most people.
What you can do in Ibiza in September
As the climate on the island during the month of September is excellent, you can do all kinds of activities without getting overly sweaty and, of course, completely avoiding heat stroke or any related symptoms that many people need to watch out for when it's very hot.
In September in Ibiza, you'll be surrounded by tranquility, nature, silence and peace. Many travellers come during this season to plan activities that, in summertime, can be more uncomfortable due to the amount of people who love Ibiza in Summer, and the heat. Especially second-time visitors love to come back outside the high-season, and here are just a few things they suggest you put on your September to-do list:
Enjoy the beaches and coves
One of the best plans in Ibiza is to get to know the various beaches of the island, famous for the turquoise blue of the surrounding waters and the fine white sand that characterize many. Others are nearly pebble beaches and the rocky coves are even quieter, all year round.
The calm tide of the Mediterranean is perfect for kids who want to paddle in the shallows and see marine life along the cliffs, as well as all kinds of water activities at any time of the year. That being said, September is great for renting equipment as many of the high-season businesses stick around for a month more, but there are much shorter wait times than in July.
Of all the beaches, we recommend a visit to Las Salinas beach most of all. As one of the most popular on the island, this strip can be full of people in the summer who come for its soft sand and crystal clear water. For the same reason, you may also want to check out Playa d'en Bossa to enjoy its spectacular beach bars without having to make a prior reservation - such a luxury!
Finally, we have to highlight Cala d'Hort for its magnificent views of the rock of Es Vedrá. This cove is rarely jam packed but its beauty does attract plenty of visitors, and your photos in September will be much more beautiful with fewer people. Cala d'Hort is one of the favourite spots for most visitors to go for a swim and do water activities such as kayaking, since the water temperature in Ibiza in September remains warm throughout the month and this cove is generally well protected from winds. Without a doubt, aim to stay here until the sun goes down, when you will enjoy the most impressive sunset in all of Ibiza.
Visit the top culture spots in Ibiza
Calm reigns in the streets of Dalt Vila in September so strolling through its narrow streets is very appealing as temperatures are beginning to drop in early Autumn. For this reason, September is the best time to discover Ibiza's cultural past, and there are some tourist attractions that cannot be missed on a visit to cultural Ibiza but must be part of a walking tour. For example, the Cathedral of Eivissa, located in the highest part of Dalt Vila; the very walls that give access to the old town, the Puget Museum, which contains an interesting pictorial collection, and the aristocratic houses that can be found within the city centre.
Taste the typical dishes in the island's restaurants
Restaurants that, throughout the high season would be rammed, are not so busy once schools restart, so, in some cases, it is possible to get a table at the most coveted eateries without prior reservation if you visit Ibiza in September. This is a big deal because the island has some of the best restaurants in the country, internationally recognised and sought out by all and sundry during the summer. In September, competition for a table is much lower.
Among the most typical restaurants is Ca n'Alfredo, located in Ibiza town. It opened its doors in 1934 and is one of the oldest restaurants on the island. Its cuisine focuses on traditional Ibizan food, making it a great option if you want to try real, quality Mediterranean dishes. Also in the capital, you'll find Sa Nansa, which is an ideal place to try fresh and local seafood, as well as vegetables from its own garden.
Outside of the city centre, there are dozens of great options, such as Es Ventall in San Antonio, a classic with more than 30 years in operation, whose chefs pour all their creativity into their dishes. You may want to try Es Rebost de Can Prats, a highly popular country house that bases its flavors on seasonal products, and is considered to manage the most traditional recipes on the island.
Where to stay in Ibiza in September
To fully enjoy your trips to Ibiza in September, you'll want to choose an accommodation that allows you to have all the creature comforts to hand without leaving the resort for those days you just want to enjoy the pool and a lie-in. In this sense, we recommend Invisa Hotels, where you can relax, have great food and know you're in a sanitised and safe environment.
First of all, if you are traveling as a family, the Invisa Ereso Hotel is the ideal place to enjoy your holidays: it's in a quiet area but has many on-site activities at your fingertips, including multiple water sports from neighbouring Es Canar Beach. Your kids will never get tired of all the fun they can have in Ereso!
If you're going with a mixed group but want to stay close, the Invisa Figueral Resort is perfect for you. Located on Es Figueral beach, the resort is made up of two hotels: The Invisa Hotel Club Cala Blanca and the Invisa Cala Verde Hotel. The first is a beachfront accommodation that has facilities prepared for families with children, but also adults-only spaces.
For the excitement-seekers, whose goal is to have fun and party on the island, we always recommend Invisa Hotel Es Pla, located in San Antonio. This neighbourhood is known for being party central, and you'll find plenty of clubs and bars stay open into the low season, as long as it's sunny and warm the businesses will stay here for you!
Finally, if you prefer to stay in an urban location that's central above all else, the best option is Invisa Hotel La Cala, located in Santa Eulalia. While the hotel is tranquil, the area is buzzing with activity so you needn't go far to find fun activities. This spot is ideal for those who like to be next to the class and movement of the marina.
In short, if you travel to Ibiza in September, you will discover that it is a charming island with pleasant weather, and less pressure to plan ahead with reservations and table bookings. What are you waiting for? Call us and we'll get you set up with the perfect space and plan for September, the best time of year to visit Ibiza.
Back
Book in the official website Invisa Hotels
And enjoy exclusive advantages as a My Invisa Client
Upgrade
room*
Free Wifi
in the room
Sea View
room *
Exclusive
Offers
* According to availability