Weddings in Ibiza: everything you need to know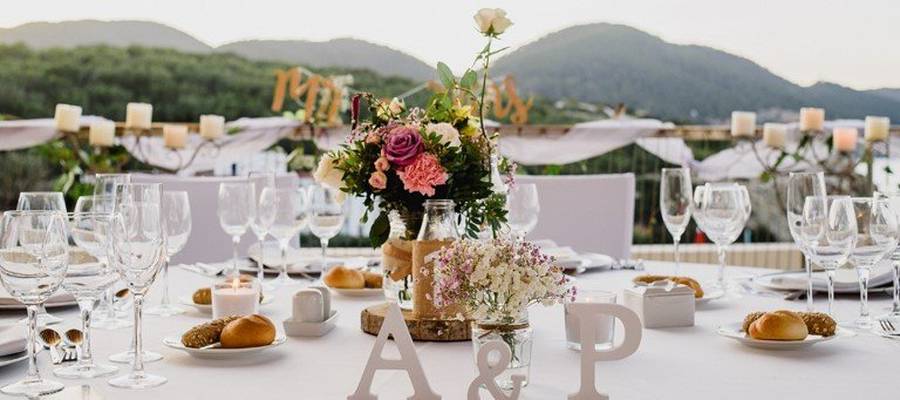 Close your eyes for a moment and try to picture your dream wedding. Does it involve an idyllic setting? Wonderful weather? Your nearest and dearest friends and family all looking fabulous on a stunning Mediterranean island? Well, if you're in the market for a dream wedding in paradise, we can certainly help you there!

With a wide range of outstanding Ibiza wedding venues available to suit all tastes, requirements and budgets, you can trust us to deliver all you've ever dreamed of from the biggest day of your life. Great food and drink, unbeatable locations and that famously low Ibiza wedding cost… if you're intrigued about what it would be like to hold your wedding in Ibiza, then come on a journey with us to the most special day of your life.

Organising a romantic wedding abroad

Having a romantic wedding abroad is a dream for many couples, perhaps nowadays more than ever, with the enormous variety of cheap flights and affordable hotel options available, getting married in paradise has never felt more within reach. But what about the actual organisation, and how does it all work?

First off, you can relax. You won't need to become fluent in Spanish and you don't need to research each and every florist, caterer and registrar on the island – we're here to help. Invisa Hotels can offer a variety of great Ibiza wedding packages that will make all your dreams come true. From providing the very best Ibiza wedding venues to making sure you look beautiful on all the wedding photos, we can take all the stress away from planning your big day.

The best Ibiza wedding venues

In a quiet little corner of the White Isle to the north east of the island, you'll find the charming and stunning resort of Playa Es Figueral Ibiza, the perfect place in the Mediterranean to say 'I do'. With magnificent views out to sea, the beautiful beach before you and some of the best accommodation and amenities for miles around, both the Invisa Hotel Club Cala Blanca and Invisa Hotel Cala Verde can provide the perfect setting for your big day.

With spacious outdoor areas for holding your ceremony, as well as swimming pools, Jacuzzis, massage services and chill out zones, both you and your guests are guaranteed a great time in Playa Es Figueral Ibiza. Throw in the amazing dining experiences, attentive staff and unbeatable views, and what more could you want from a wedding venue in paradise?

Ibiza wedding costs – everything you need to know

The typical Ibiza wedding cost varies greatly depending on what you're looking for in your big day. Naturally, the bigger the event, the more money you'll have to spend – just like anywhere. However, with Ibiza's comparatively low cost of living compared to other European destinations, as well as the great deals you can get on Ibiza wedding packages, low cost flights and cheap transport across the island, most guests will find that holding a wedding in Ibiza can in fact be a much more affordable option than lots of other places.

If you want an insider's tip on how to keep your Ibiza wedding costs low, the trick is to book as far in advance as possible. Organising your romantic wedding abroad might seem like a distant dream, but if you book months, even years in advance, you're guaranteed the best rates and most competitive prices on the island – so why wait!

Booking your Ibiza wedding packages

Ibiza wedding packages are the ultimate way of combining the joy of a wedding with the stress-free, relaxed and indulgent elegance of a honeymoon all in one trip. You can extend the happiest day of your life into a long weekend, a week, a fortnight or even beyond, all in the beautiful haven that is Ibiza.

With our fantastic Ibiza wedding venues, Invisa Hotels can offer all you happy couples the day of your dreams and a honeymoon full of memories that will last a lifetime. Nothing will impress your guests more than holding the biggest party of your life in the party capital of the world, where you have the stunning natural beauty of a Mediterranean island in perfect harmony with great holiday resorts, fantastic nightlife and a warm, welcoming atmosphere. If you're in the market for a romantic wedding abroad, we can't think of a better place than the ultimate romantic destination, Ibiza.
Back
Book in the official website Invisa Hotels
And enjoy exclusive advantages as a My Invisa Client
Upgrade
room*
Free Wifi
in the room
Sea View
room *
Exclusive
Offers
* According to availability