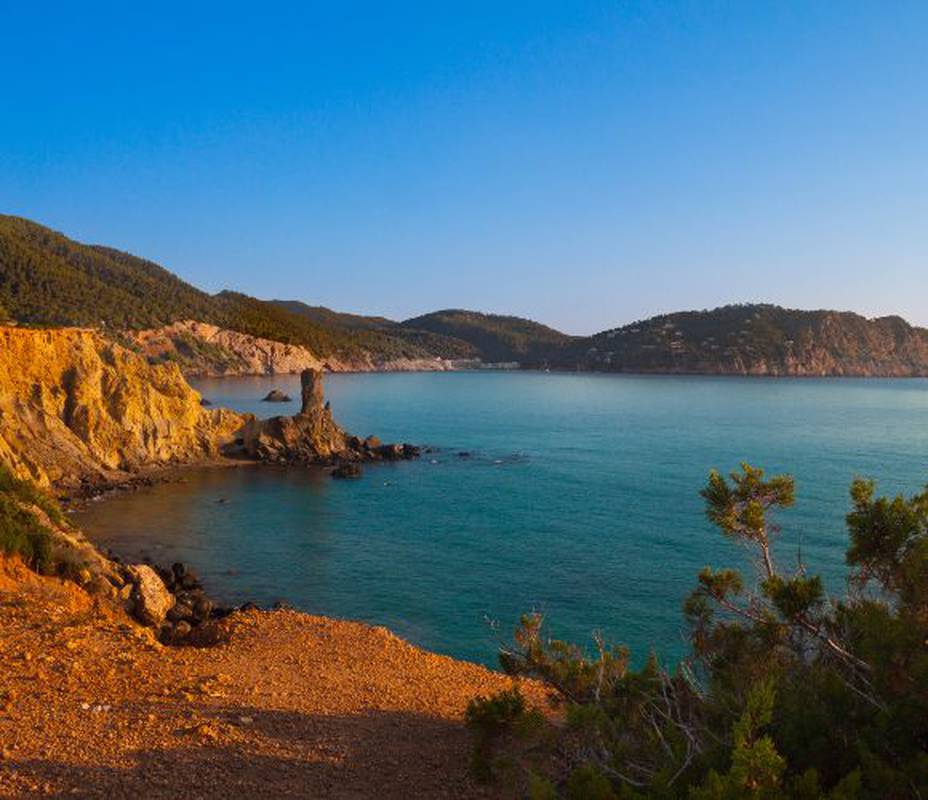 2022's best Blue Flag bea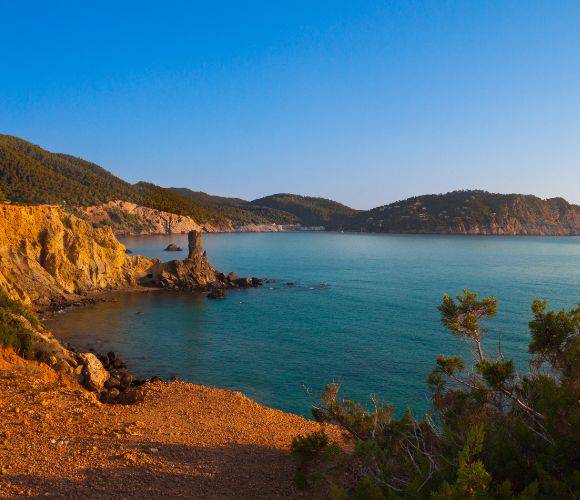 One of the best things that can be said about a beach is that it has the Blue Flag accreditation. Why is this? What is a Blue Flag beach?
It is a seal of quality on the water quality, environmental management, safety and services in the area. "The Blue Flag is an internationally recognized environmental award trusted by millions of people around the world." The Blue Flag's mission is to promote sustainability in the tourism sector through environmental education, environmental protection and other practices that promote sustainable development.
In 2022, Ibiza can boast four Blue Flag beaches: in Sant Joan de Labritja, Cala Sant Vicent; in Santa Eulalia del Río, Cala Llenya, Es Canar beach, and Es Figueral beach. So, what makes each special, and how can you get to each of the best beaches Ibiza has to offer?
1. Es Canar Beach
Located in the municipality of Santa Eulària des Riu, Es Canar beach is about 350 metres long and 30 wide. It stretches from Cala Nova beach to Punta Arabí, where a well-known hippy market is held every Wednesday.
Without a doubt, it is one of the best beaches in Ibiza: in addition to offering its visitors endless options for enjoyment, it boasts a large number of services, which is one of the basic requirements to have a Blue Flag flying in its vicinity.
Es Canar beach offers hammock rental and parasols, water sports with coaches and equipment rental only, a boat service to Santa Eulària, restaurants and beach bars. Also, when the sun goes down, the area is very lively, full of bars and pretty terraces to find something to eat.
The best route to Es Canar beach
Es Canar beach is easily accessible by car. From the town of Santa Eulalia , take the road towards Es Canar. Once there, continue along Calle de Sant Jaume until you reach the sand.
If you want to enjoy this paradise every day, and bathe in the waters of the Mediterranean morning or night, you can stay in the calm and luxurious hotel in the area. Invisa Hotel Ereso is in an ideal location to enjoy sea views, a 3-minute stroll from the coast and one of the best beaches Ibiza has to offer.
2. Es Figueral Beach
Also in the Santa Eularia des Riu municipality, but this time in the Sant Carles area, you'll find Es Figueral beach: a sandy cove measuring 400 metres in length and 50 metres wide. The water is shallow, making it ideal for those with limited mobility, fear of the sea, and children.
The name of this magical corner of the island, Es Figueral, means land of fig trees. Needless to say this stunning Ibiza beach is surrounded by fields of fruit trees.
Undoubtedly among the best beaches in Ibiza, Es Figueral beach also offers hammock and parasol rental, lifeguards of course, and easy access for people with reduced mobility.
The best route to Es Figueral beach
If you travel by car, leave the town of Sant Carles on the PM-810 road towards Cala Sant Vicent. After 600 metres, you will see a turn to Cala San Vicente on the left, but continue straight ahead. Follow the signs for Platja d'es Figueral until you reach the large free parking area.
You can even get to this beach by bus, and what is a blue flag beach? It's a location that's well serviced and accessible! That said, departures are not very frequent.
Save yourself the wait for the bus and stay in the vicinity of Es Figueral. You can choose between two of the most outstanding resorts in Ibiza: the Invisa Hotel Club Cala Blanca and the Invisa Hotel Club Cala Verde.
3. Cala Llenya
Without leaving the municipality of Santa Eulalia del Río, you'll find the third Blue Flag beach in Ibiza, Cala Llenya: a small cove of 200 metres of fine sand, 60 metres wide. One of the favoured characteristics of Cala Llenya is that you have to walk a long way out for the water to cover your knees, something that characterises many Ibizan beaches and one of the reasons the island is not only for party-goers. Families love to visit on holiday.
Spending a day at the beach in a pleasant family atmosphere is even better with two beach bars! The shallow water is safe for practising water sports though it's best to do this mid-week on Cala Llenya. The weekends can be busier, with Saturday being the busiest day, and this coincides with the market in Las Dalias so we'd recommend heading to buy some souvenirs instead on the weekend!
The best route to Cala Llenya
Also leaving Sant Carles along Venda de Peralta street, you simply continue along the main road for less than a couple of miles and you've arrived at one of the best Blue Flag beaches.
4. Cala Sant Vicent
In the municipality of Sant Joan de Labritja, within the Sant Vicent area, you'll find the fourth beach with the Blue Flag badge. This Ibiza beach is 320 metres in length and 40 in width and has been transformed, as a result, from one of the most isolated areas of Ibiza, into the outstanding leisure area it is today.
Not only is it well catered, Cala San Vicente offers visitors crystal clear water surrounded by cliffs and rock formations, which makes for the most relaxing and attractive landscape. The coastal zone is also perfect to enjoy the practice of diving, especially if you rent a boat and tour guide to take you out to the best spots.
The best route to Cala Sant Vicent
To reach one of the best beaches in Ibiza, you can leave either from Sant Joan or from Sant Carles. There is a direct road from Sant Joan that leads to the beach, as from Sant Carles, though the latter is a little shorter.
The Blue Flag is synonymous with excellence, so it should be of no surprise that Ibiza has four beaches in this select group. We pride ourselves on pleasing tourists and locals alike, and at Invisa Hotels we're committed to giving you the best information to enjoy your stay in Ibiza.
See you this summer?!
Back
Book in the official website Invisa Hotels
And enjoy exclusive advantages as a My Invisa Client
Upgrade
room*
Free Wifi
in the room
Sea View
room *
Exclusive
Offers
* According to availability