Our favorite 7 cultural attractions in Ibiza: enjoy them all!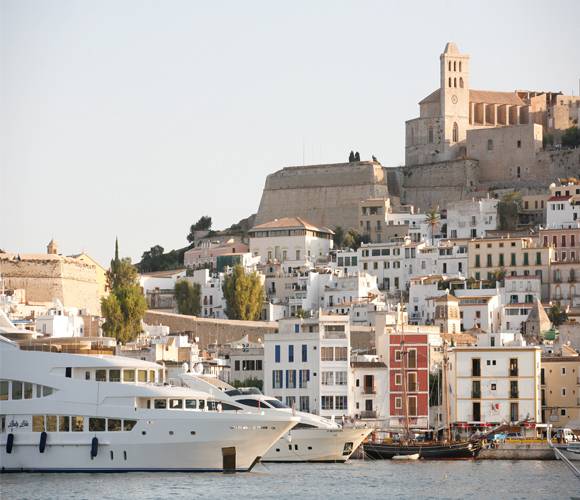 With the arrival of spring and, with it, Ibiza's characteristically good weather, going out into nature to enjoy everything that this island has to offer is extremely tempting. This is especially relevant now because we know that nature is great for our mood and we've all been through a tough couple of years. There is an array of activities to do in Ibiza, from hikes and bike rides in the blossom-covered hills to city strolls with an ocean breeze and cultural visits.
If you're debating a trip away or already booked your escape but are wondering what to do in Ibiza, we can guarantee that you'll enjoy your Ibiza culture trip all the more if you soak in the amazing landscapes of the island.
To help you plan, we've gathered the 7 best options for people with an interest in Ibiza history and culture, physical activities, the beach and even sunbathing. In this article, we'll help you get the most from your stay on the island and your dream vacation.
1. Ibiza cultural attractions: tour the centre of Dalt Vila on foot
Walking is one of the most beneficial exercises for people of all ages, so we recommend a long walk through the old quarter of the island. Dalt Vila is surrounded by a 16th century wall and located toward the upper part of the capital city. From here, visitors enjoy beautiful views of the Mediterranean. Moreover, this area has great importance for Ibizan history and culture, so you simply can't miss it.
2. What to do in Ibiza by the water: stroll along the seafront
An essential activity for any visit to Ibiza is to walk along its beaches and take a dip in the turquoise waters. Walking on the sand has many health benefits, such as muscle stimulation before relaxation, and can help us feel calm thanks to the sea breeze.
The island's coast has such diverse landscapes that you'll find everything, from sandy beaches to coves and cliffs — there's a seaside walk for everyone. The island actually has more than 200 kilometers of coastline and up to 100 beaches and coves. One of the best known coves, which we advise you visit early in the day to make the most of the sea and sand, is Cala D'Hort. This cove's fame comes from being located right in front of the enigmatic and imposing islet of Es Vedra. There's no more impressive place to admire the sunset as it falls behind the islet — it's a magical phenomenon.
3. An Ibiza culture trip: the best routes
The island has a lot of history, and enshrines stories of ancient civilizations, such as the Phoenician, Roman, and Arab conquests. If you enjoy broad cultural wealth on a holiday, the many occupations that Ibiza underwent resulted in some of the most fascinating historical monuments. These are still preserved to this day, including the Phoenician Village of Sa Caleta, the Madina Yabisa Interpretation Center, the Punic Sanctuary Es Culleram and the Baluartes from Sant Pere and Sant Jaume.
A tour of these historic locations is one of the most interesting activities in Ibiza, since, in addition to learning about Ibizan culture, it involves quiet walks through fully accessible places. While you learn something along the way, you'll be moving and exercising, which is so important for our brain to function properly and heal, which is why many of us travel! Here's the route we recommend you take.
Starting point: Phoenician Settlement of Sa Caleta
This tour is known as one of the best things to do in Ibiza. It begins at a decisive point in the history of the island, contributing to it being declared a World Heritage Site by UNESCO. The Settlement of Sa Caleta is a Phoenician settlement from the 8th century BC, on a small peninsula between Es Codolar beach and Mount Punta Es Jondal on the south coast of Ibiza.
According to historians, Sa Caleta was a base that Phoenicians established in order to inspect the island's geographically, and later it became an economic centre and trade hub for exchanges of goods from the south of the peninsula with the eastern and northwestern coasts.
Now you see why, if you decide to embark on this cultural route through Ibiza, it's so important to start in this Phoenician Village and the beginning of Ibiza's human history. We also suggest visitors do so accompanied by a tourist guide to truly discover the hidden secrets of the island's past and our Invisa staff can make recommendations when you arrive.
Madina Yabisa Interpretation Centre: second discovery
The Madina Yabisa Interpretation Centre is housed in what was the old Casa de la Cúria. This next stop on the tour is also perfect for you to get to know Ibizan culture, but this time through the acropolis of Dalt Vila. As you enter the Cúria building, dating back to the 15th century, you'll see how the centre paints a picture thanks to audiovisual technology, which is an excellent way to absorb knowledge of the city's history.
It is currently possible to access all of the centre and, through lights and images, immerse yourself in the past of Ibiza, particularly, the Islamic period and the Arab fortification.
The star of Ibizan culture: the Punic Sanctuary of Es Culleram
On this cultural tour through Ibiza you must include the Punic Sanctuary of Es Culleram. This natural cave was discovered in 1907 and various excavations were carried out, during which numerous painted terracotta figures were discovered. Some of them even had a covering of gold leaf or plated gold on their delicate faces.
The cave served as a place to hole up in safety during prehistoric times, until the Punics arrived and made it their most important place of worship on the island. This happened between the 5th and 2nd centuries BC. As a result, it is thought that devout believers from all over the island came to make ritual offerings and sacrifices. The temple was perfectly organized and had a body of priests who attended to it during the times of celebration and rituals.
The Es Culleram cave is 150 meters above sea level, hidden between mountains and forests. It is recommended that you only access it with a professional guide, so as not to miss out on a detailed explanation of this enigmatic place and to ensure you visit it without damaging any of the surrounding environment.
Last stop: Sant Pere and Sant Jaume Bastions Museum
The best way to end this cultural tour through Ibiza is at the Bastions Museum of Sant Pere and Sant Jaume, where you can learn how the walls that surround the city were built. In addition, you will discover which weapons were used in the Renaissance, since the objective of this centre is to show its visitors how different discoveries affected the structures and construction methods of the walled fortresses. After this last stop, you'll be at the heart of the old town and ready for a glass of something refreshing in the numerous surrounding bars and cafés.
4. An unusual plan: the Ethnography Museum
Located in a country house that is at least 300 years old, the Ibiza Ethnography Museum is a great option for those looking for what to do in Ibiza that's a little out of the ordinary. Located in Es Puig de Missa, in Santa Eulalia, this museum houses real treasures, from collections of jewels and typical costumes, to a multitude of old domestic objects. The building that houses these relics is also very unusual and has a few peculiarities, such as a wine cave. This is the perfect plan to soak in some culture followed by views of the coast of Santa Eulària des Riu.
5. The fortress church of San Antonio: One of the crucial Ibiza cultural attractions
The church of San Antonio de Portmany, built in the 14th century, is a must-see. It guards a fascinating secret, in that it is a fortress-style temple, as well as a church. The construction was created to ward off pirates who frequented the coast at the time and is one of the oldest buildings on the island, such that it has a minimalist traditional Ibizan essence with a white facade.
What is curious about this church is that, to make it easier to defend, it was built without windows, so it has solid walls and iron doors to prevent them from being burned. The visit is worthwhile not only because of the significance the fortress church holds for the Balearic Islands, but also because valuable artistic assets are displayed inside.
6. Ibiza culture trip: gastronomy tour
The cuisine of Ibiza is varied and the locals will not let you leave the island without trying some delicious local meals. We recommend asking your resort staff about some of the most prominent bars and restaurants where you can try the most popular Ibizan delicatessen, such as flaó and sofrit pagés.
In the case of flaó, this is a tasty round cake made with cheese, eggs, mint and anise. It is common to have this dessert during celebrations and especially at Easter. Its origin is so old that, even in manuscripts of the fourteenth century, there are mentions of its elaboration, but its popularity holds to this day.
Another popular classic on the island is the sofrit pagés, a dish from inland Ibiza that mixes lamb, chicken or pork with a sauce of garlic and potatoes, seasoned with paprika.
7. Discover the almond blossom
The Ibizan route of almond blossoms is yet another of the most beautiful options in Ibiza. To discover and savour this beautiful sight, we recommend heading to a small town called Santa Inés. In this valley, between the end of January and the beginning of March, the hill is covered with a blanket of white and pink tones, a visual delight that constitutes one of the most impressive things to see on the island.
In short, the activities you can do in Ibiza are diverse, ranging from cultural to gastronomic, and physical to leisure alternatives. Those of us in the know will tell you that Ibiza is perfect for people who want to travel to a destination with enormous cultural and heritage wealth, in the heart of the sunny Mediterranean.
Back
Book in the official website Invisa Hotels
And enjoy exclusive advantages as a My Invisa Client
Upgrade
room*
Free Wifi
in the room
Sea View
room *
Exclusive
Offers
* According to availability