Restaurant of the Invisa Hotel Club Cala Blanca in Invisa Figueral Resort
3 Star Hotel on Playa Es Figueral
At Invisa Hotel Club Cala Blanca, you can indulge on a wealth of culinary proposals, thanks to the mixture of Mediterranean and international cuisine that we offer both on an all-inclusive basis as well as half-board or full-board plus. All these types of packages include drinks at lunch and dinner (water, wine, beer and soft drinks).

At our panoramic and buffet restaurant, you can enjoy a wide range of hot and cold dishes, with themed dinners, show-cooking and a children's buffet, amongst other offers.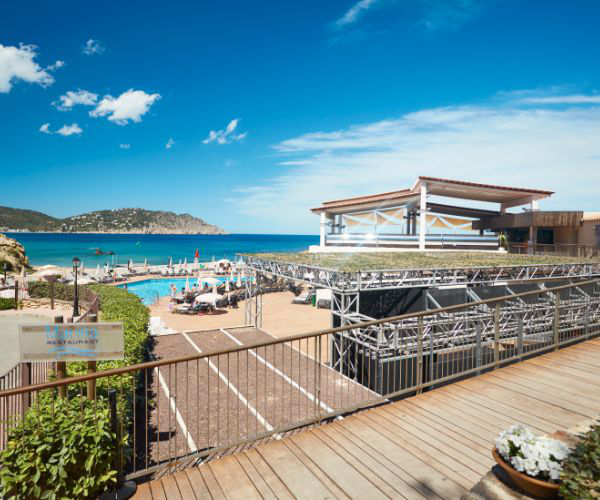 If you would like to discover the gastronomy of Ibiza first-hand by opting for the bed and breakfast regime, at our 3-star hotel in Playa d'Es Figuera,l we have the Late Breakfast service, which is offered from 08:00 a.m. to 12:00 p.m. in the hotel restaurant. Here you can enjoy a full breakfast and a variety of snacks throughout the morning. Guests will have free access to the restaurant within these predetermined hours.

And if we have not convinced you yet, then there's more: the Marina Restaurant at the Invisa Figueral Resort Cala Blanca boasts spectacular views of the sea, which will make your meals that even more enjoyable. We offer buffet service and dinner upon reservation at this restaurant.
At Invisa Hotels, we also think about your peace and quiet, that's why we offer an exclusive area for adults only. This is the fabulous "Budha Chill Out", a relaxing space where you can have cocktails with pleasant background music or take a bubble bath in the Jacuzzi. Here you will also find a pool with Balinese style hammocks perfect for sunbathing.

The hotel has 2 bars near the pool where you can have a drink while enjoying the sun and the atmosphere. All of this just a few metres from the beach and surrounded by an unbeatable landscape.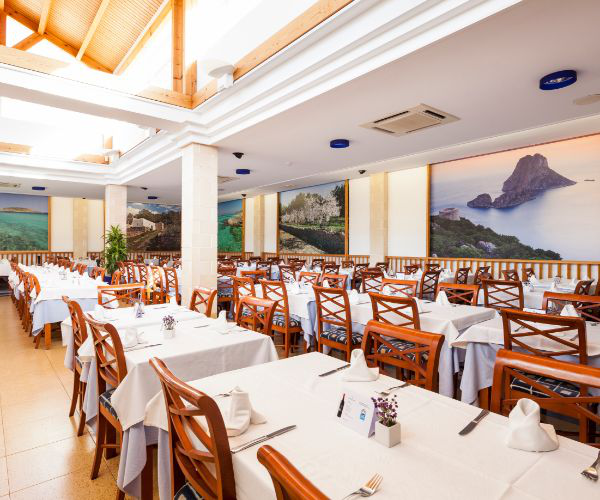 The all-inclusive services at our hotel allow you to enjoy:

- Breakfast, lunch and dinner with drinks included
- Buffet restaurant
- Snacks and bars near the pool
- Extensive range of national and international drinks ( Premium brands), as well as cocktails.
- Snacks, sandwiches, pastries and ice-creams from 10:00 until 24:00.
The full-board plus package includes:
- Breakfast, lunch and themed dinners served at the buffet.
- Show-cooking at the La Marina restaurant.
-Drinks during meals
- (self-service: water, wine, beer and refreshments)
Book in the official website Invisa Hotels
And enjoy exclusive advantages as a My Invisa Client
Upgrade
room*
Free Wifi
in the room
Sea View
room *
Exclusive
Offers
* According to availability