37 Best Spanish Tapas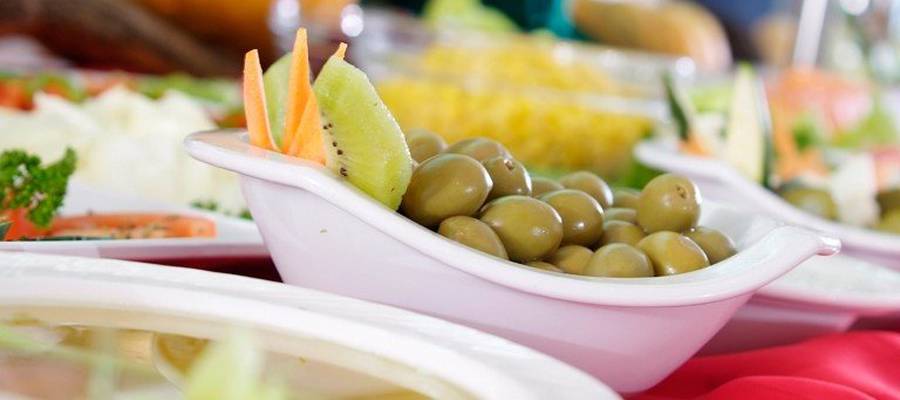 If you're lucky enough to be heading to the Spanish shores soon, to catch some sun, relax by the sea and let all the cares of home drift away, then you should definitely be looking forward to one aspect in particular - the food!
Spanish food is amongst the best in the world, with hugely rich flavours, variety and comfort factor. If you're heading on holiday to Ibiza soon and asking yourself just what to eat in Ibiza, then look no further... We've got you covered!

Here are the 37 most delicious, mouth-watering tapas dishes you'll be able to sample in Ibiza as part of the beautiful Spanish cuisine. Enjoy!

1. Spanish tortilla
The ultimate dish that's at home on any family table, in any restaurant and every Spanish tapas menu for that matter - the tortilla. Every chef has a slightly different take on this Spanish food classic, but whatever the style, this pan-fried dish of potatoes and onions is a delicious classic.

2. Seafood paella
Paella is where Spain made a name for itself in the culinary world, and seafood paella is their Spanish speciality! The perfect dish to tuck into as a family or on your own, the variety of fish is outstanding - fresh monkfish, king prawns and mussels, all caught just metres away from the shores of Ibiza.

3. Ham & cheese croquetas
Simple yet stunning, these deep-fried croquetas come with a variety of fillings, perfect for nibbling as a snack or as a Spanish appetizer.

4. Andalusian chicken
A beautiful dish at any meal, this sweet and spicy fragrant chicken originates from the region of Andalusia, one of Spain's most breathtaking regions (after the Balearics, of course!), and is filled with delicious Spanish food ingredients.

5. Calamari
One of Spain's most iconic dishes and rightly so, this crispy squid is a staple in any diet on Ibiza.

6. Goats cheese tart
These tarts are filled with caramelised vegetables and paprika cream on top to give a heart-warming, rich tapas addition.

7. Chorizo
The favourite, the cherished, the best... chorizo is a firm favourite among chef, patrons and visitors in restaurants in Ibiza, and across the whole of Spain! It's their meat of choice in many ways and comes in all shapes and sizes on the dinner table. Don't miss out.

8. Patatas bravas
Another quintessentially classic dish, small cubes of potato are served up fresh in a spicy tomato sauce, a delicious treat for any snack or mealtime.

9. Garlic mushrooms
Mushrooms are a vitally important part of the Mediterranean diet, but served up in some oil or butter alongside a hefty hint of garlic and they're everyone's favourite tapas dish, too!

10. Mussels
A seafood classic and a real treat on the island of Ibiza, mussels are fresh, refreshing and flavourful. They're often one of the main ingredients in Spanish food.

11. Prawns
Another treat from deep under the sea, prawns are a great example of why Ibiza's fishing industry is so special. They're served up fresh from the sea everyday and the resulting flavour is something you just can't find anywhere else in Spain.

12. Spanish ham
Often topped with tomatoes and served with a good handful of crusty bread, Spanish ham is quick to prepare and present but the deep and smoky flavours locked into the delicately reared ham are anything but simple... definitely worth sampling this Spanish food ingredient!

13. Manchego cheese
Aged between sixty days and a whole two years, Manchego cheese originates from the la Mancha region of Spain, made from unpasteurised sheep's milk. The flavour is intense and looks great on any restaurant table!

14. Spinach omelette
A different take on the classic Spanish omelette (or tortilla), this is a healthier Spanish recipe full or iron and vitamins. See, you can eat well and enjoy your food on holiday...

15.Stuffed peppers
A simple yet elegant vegetable tapas dish, stuffed peppers are a treat for the senses and come with a huge variety of filling options.

16. Grilled shrimp with garlic
Two of the favourite ingredients of any Spanish cuisine chef, especially in Ibiza - seafood and garlic... I'll say no more.

17. Escalivada
Smoky grilled vegetables is a simple Catalan dish that goes with everything.

18. Olives
A staple on any dinner table, Ibiza's rich and succulent olives are a beautiful addition to any meal or as a lovely Spanish appetizer.

19. Clams with chorizo
A great combination, Spain's favourite chorizo with one of their favourite seafood wonders, clams and chorizo is a hearty, filling dish.

20. Smoked salmon
Slightly more modern for Ibiza yet equally as delicious, try the locally sourced salmon for a real treat of Spanish cuisine.

21. Serrano ham
Seen in every butcher's, café or top-class restaurant, Serrano ham is sacred across Spain and especially in the Balearics. Have a taste and you won't need to ask why!

22. Scallops and chorizo
Scallops are a delicious part of Spain's seafood repertoire and incredibly tasty in Ibiza. This Spanish recipe is a huge hit.

23. Halloumi skewers
This unripened mixture of goat's and sheep's cheese comes from Cypress and is providing a huge hit right across Ibiza, Spain and Europe. It can be grilled, fried or barbequed and is simply delicious to taste!

24. Seared beef tostada
The tostada staple with a twist, seared beef can be an excellent choice when you're out for tapas in Ibiza.

25. Chicken quesadilla
Scrumptious pockets of roast chicken with vegetables, cheese and tomato sauce, who could refuse these little packages of joy?

26. Tempura vegetables
Traditionally a more Eastern dish, this is a great way to add a little greenery to your tapas diet.

27. Black bean chilli enchiladas
And now a more Mexican dish, enchiladas have made their way over to their Spanish friends and are proving a big hit in small doses on any Spanish cuisine menu.

28. Potato skins
They just scream comfort food, don't they?!

29. Marinated olives
Simple yet satisfying, a jar of olives, deliciously ripe and full of flavour, there's no reason to say no to this classic Spanish food highlight. The perfect Spanish appetizer.

30. Garlic bread
Simple but necessary!

31. Pan Catalán with garlic & tomato
This dish is full of flavour, history and spice. A great choice and a great Spanish recipe!

32. Deep-fried calamari
The Mediterranean comes to life in this classic yet stylish seafood dish.

33. Pan de ajo
Beautiful rich oils and lovingly baked bread create a truly special Spanish tapas dish here.

34. Brie and grapes
A different take on the French menu, here the Spanish show off their love for fruit and cheese and answer the what to eat in Ibiza question in just three words...!
35. Pollo Marbella
Favourite amongst tourists and locals alike, the pollo Marbella is a famous chicken dish that needs to be tried to be believed!

36. Grilled aubergine
One of the Balearic island's favourite vegetables, grilled aubergine looks great and tastes even better!

37. Conejo al Salmorejo
Originally from the Canary Islands but now a firm favourite in Ibiza and beyond, this dish of rabbit is very popular and rich in flavour.
Still asking what to eat in Ibiza? I didn't think so...
Back
Book in the official website Invisa Hotels
And enjoy exclusive advantages as a My Invisa Client
Upgrade
room*
Free Wifi
in the room
Sea View
room *
Exclusive
Offers
* According to availability