Open air cinema in Ibiza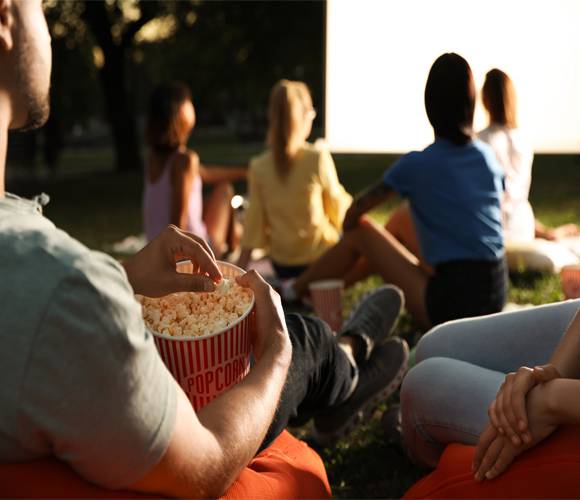 Throughout the summer in Ibiza, visitors will be wondering what changes have been made to normal life as well as updates on tourism. Thanks to our new reality, along with protection and extra sanitization, a raft of wonderful activities now await you in Ibiza that many former visitors won't have had the pleasure of experiencing!
Here, we're going to tell you all about the open-air film screenings in Ibiza that were kicked off in July 2020, and are taking place across the island. With these outdoor cinema offerings, even those who've already spent some time in Ibiza will be itching to visit again.
Ibiza is home to some stunning locations that put on outdoor screenings of films that add even more to the holiday atmosphere. You'll be able to see brand new films and even a few original language classics on the beach, in the old town, and even from the comfort of your rental car. We're not letting quarantine stop our fun!
Open air cinema in Formentera

Cinema a la fresca holds showings in three gorgeous locations on neighbouring island Formentera at 10 pm. Sant Francesc is a small town on the island of Formentera and its church garden, usually home to a quaint market, is the first of three outdoor cinemas, this one takes place every Thursday. The second spot is warm and inland, Casa de Poble de la Mola, and its late night showings are held on Fridays. Lastly, Cinema a la fresca organises showings on Tuesdays at the church square of Sant Francesc.
Just a ferry trip away, this natural beauty of an island is perfectly scenic and largely untouched by humans, save a few chic bars and yachts dotting the horizon. Plus, the island of Formentera is now joining the trend of open air cinema in Ibiza so you can stay all night if you like!
Open air cinema in Ibiza

Back on the main island of Ibiza, Cinema Paradiso is a curator of alfresco screenings. For example, Paradiso regularly projects onto Dalt Vila castle's walls for an absolutely unique night-time experience. This particular event happens at the ramparts of Baluarte de Sant Pere, near the main square, and includes a swish bean bag seat in the price as well as a drink and popcorn.
This same outdoor screening company holds showings on the beach in summer, and was inspired by social distancing to put on a series of drive-in-cinemas for 2020 (and maybe beyond!), so there's no need to worry what to do in Ibiza following the world's emergence from quarantine. Do book in advance however; tickets for these events are highly contested and you don't want to miss out on a spectacular evening.
A beach restaurant called Amante, which sits in a romantic cove overlooking the Sol Den Serra, also transforms into an outdoor cinema. Movie nights were kicked off again in July 2020 with films like Little Miss Sunshine and Blow. Throughout August you'll be able to watch Top Gun, Carlitos Way and Boogie nights among others with the sea breeze rustling the greenery around you.
With a luxurious style, this restaurant is an idyllic alfresco cinema. Amante, much like Cinema Paradiso's showings in the town centre, provides guests with a quality full-length bean bag for viewing, a glass of cava and bottomless popcorn boxes. The Amante team also stocks blankets but recommend guests come with a wrap or jacket because it is in an exposed location. But carrying a jacket is a small price to pay for the view of the stars and floodlit rockeries around the showing!
Ibiza's town council collaborates with Cinema Paradiso to ensure there are also free showings in summer at several public locations, you just need to keep an eye out for advertisements to get your spot.
General tourism for fans of cinema
If you're a historic cinema buff, you'll want to check out the Broner House while in Ibiza. Erwin Broner was an architect and painter who built this house in 1960 as his residence and studio. Broner left a legacy in Ibiza, not only as a painter and architect; he also contributed to the creation of the Ibiza film club. The residence is open for visitors from Tuesday to Sunday, with free admission.

Another place to absorb the culture is Centro cultural Puig d'en Valls in Santa Eularia. Theatre is where many actors start out and at this cultural centre, there's a theatre school and live showings.

The Teatro España opened its doors in July with a discounted ticket price and extra precautions to ensure safe cinema visits for all. Best of all, there are showings from Thursday to Sunday so this activity is exceptionally flexible for locals and visitors to Ibiza alike.

Do remember, access to museums, theatres and enclosed spaces require a little more PPE than open air cinemas in Ibiza, but you should always take precautions and assume you'll need to carry face masks and antibacterial gel just in case.
Back
Book in the official website Invisa Hotels
And enjoy exclusive advantages as a My Invisa Client
Upgrade
room*
Free Wifi
in the room
Sea View
room *
Exclusive
Offers
* According to availability