What to expect when travelling to Ibiza this summer 2022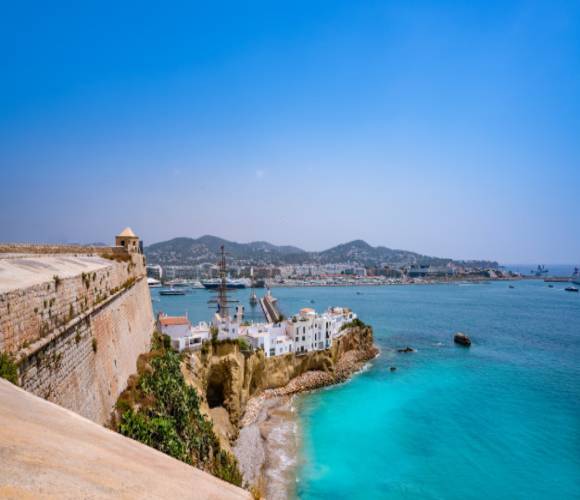 If there were a summer we've been waiting for, it's summer 2022. After several months of isolation for many, and tight purse strings for most, we can all enjoy a little normality during trips abroad, especially those to travel to Ibiza in summer 2022.
Now, if you're Googling where to travel this summer, look no further! Here's all the information you need to travel to Ibiza, especially to travel safely, and to make the most of your trip to this beautiful island. We can guarantee your experience will be unique and shake off the cobwebs after quarantine!
Covid requirements for any travel to Ibiza
The conditions of entry to Ibiza are becoming more flexible, thanks to the fact that case numbers have dropped, as vaccinations rise. At the time of publishing, national travellers from Spain and residents of neighbouring islands do not need to present a Covid vaccination certificate, nor will they have to fill out any forms. With regards to foreign tourism, Spain is expected to stop requiring a Covid vaccine certificate from non-national passengers very soon.
Once on the island, note that masks must be used in health centres, social centres, and on public transport. Ibiza's Ministry of Health recommends being vaccinated, washing your hands frequently, and frequenting ventilated spaces above all, as is standard in most countries. You'll find plenty of open-air restaurants and cafés here, to enjoy the sun and fresh air!
Ibiza summer 2022! Just like pre-pandemic life
The busy season of 2022 set expectations sky-high. After several years spent adapting to necessary limitations, businesses are keen to see visitors again. As you evaluate costs for where to travel this summer, consider that prices may drop for airline tickets wherever companies are making more seats available. This is exactly the case in Ibiza, where 11% more seats are expected to be on sale, totalling 9.3 million passenger tickets.

The president of Ibiza, Vicent Marí, pointed to forecasts that suggest pre-pandemic levels of tourism will be recovered. This means that the Balearic Islands' airports are tied for first place with the Canary Islands for the highest growth forecast in terms of connections in coming months. It's wonderful to see the summer jumpstarting the economy but, as a holiday-maker looking to travel to Ibiza, don't leave it too late to book a flight to Ibiza for summer 2022!
When it comes to hotel occupancy, Ibiza saw only 10% availability in all hotels in April, with occupancies ranging from 80% right up to 100% during Easter. This means that you will want to choose your hotel for a trip to Ibiza wisely, as overcrowded spots can make it harder to enjoy the sun, sea, and sand.
At Invisa, our hotels are designed to feel spacious at all times. For the best experience, an all-inclusive resort is always recommended.
Plans for a freeing, Ibizan summer
As you make your Ibiza summer 2022 plans, here are fresh recommendations for those visiting the island as a couple, family, or with friends:
The wonders born of a pandemic
The Biotechnological Botanical of Ibiza is another fun, family plan, and it implemented one new attraction during the pandemic (which means that few people have visited!). Here, you can learn about the diversity of the natural habitats of Ibiza and Formentera, see the latest biotechnological innovations in nature conservation and play the Vegetable Piano. This, the first plant instrument of its kind in the world, produces light and sound from the interaction between humans and the plant world. Ibiza's Vegetable Piano uses living plants as biological antennas capable of perceiving changes in frequency when coming into contact with our bodies.
Parties are back on!
The nightlife in Ibiza is the economic backbone of the island, so clubs are going all out to make this summer of 2022 unforgettable. Nightclubs decided to open two weeks earlier than usual, at the end of April, and plan to be open well into October, if not November if weather permits. Honestly, we wouldn't mind a warm rain shower in the middle of a party! It could be refreshing, as temperatures stay warm into Autumn here.
Beyond the nightlife, Ibiza is full of activities that mix culture and nature so that you can spend plenty of time in the fresh air.

Markets are in full swing
One of the most popular plans in Ibiza is to visit the markets. They are set up in most of the island's larger towns and even on some of our beaches, so you can shop with the sand between your toes.
One market that stands out is Benirrás. It's famous for being the only craft market where the Festival of the Drums is celebrated. Held in the Benirrás cove from May to September, this market runs from midday to midnight and is a hive of percussion, handicrafts sellers, and decorations. Visit one of the island's markets and bring back souvenirs of your magical trip to Ibiza in summer 2022.
Towns are happy to see you
Another of Ibiza's tourist assets is the beauty of its towns and the welcoming nature of the locals. One of the most charming towns is Santa Agnés de Corona. The church of Santa Inés sits in a beautiful valley with almond plantations around it. Enjoy stunning views of the Ibizan coastline to relax for an afternoon, either here or when visiting the attractive coastal town of Es Cubells.
Water sports are back in fashion
The family leisure offering in Ibiza is the most outstanding of many travel destinations. A fun idea is to book a short cruise out to calm waters, where you can go snorkelling or paddle surfing along beaches and coves.
There are so many boat adventures around the island of Ibiza that will last well beyond Covid's grip, when most people started looking for outdoor fun. The place to go on holiday in summer is Ibiza's coastline, along which you can visit historical places, dive down to mystical reefs, gaze at nature reserves, explore secret caves, and relax on the beach.

Festivals open their doors this summer
Another of the cultural attractions of summer 2022 in Ibiza will be Sueños de Libertad, Dreams of Freedom. This annual music and art festival unites national and international musicians, bands, art exhibitions, street artists, an eclectic gastronomic offering, and several markets. Doors open at 9:00 pm in the port of Ibiza, running from June 28 to July 2 this year.
Ibiza's summer offering promises to be unmissable. As always, travel safely and stay at Invisa Hotels to enjoy Ibiza summer 2022 like none before it!
Back
Book in the official website Invisa Hotels
And enjoy exclusive advantages as a My Invisa Client
Upgrade
room*
Free Wifi
in the room
Sea View
room *
Exclusive
Offers
* According to availability