10 reasons you'll adore Es Figueral in Ibiza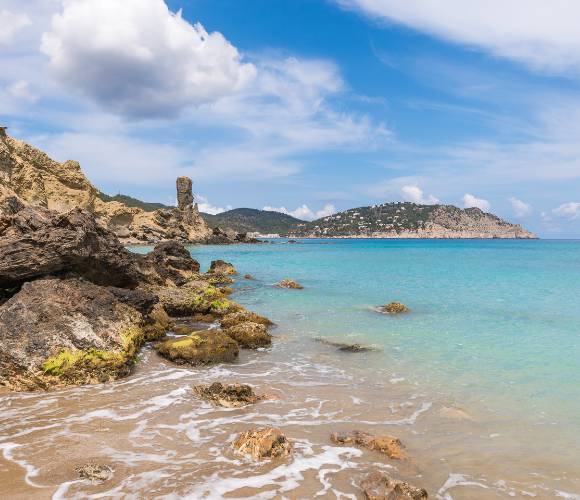 Es Figueral is one of those treasures that Ibiza keeps on its easternmost coast. This corner of the island has a special charm because it's home to some of the most outstanding landscapes in Ibiza, heavenly coves and paradisiacal beaches. This is where you'll find the best atmosphere of relaxation and tranquillity.
Furthermore, in Es Figueral you can carry out a multitude of activities and plan days out for people of all tastes and abilities, so much so that you'll adore Es Figueral and want to come back every year!
A decalogue of love for Es Figueral
Here are 10 reasons this part of Ibiza is going to be your favourite holiday destination.
1. Es Figueral Beach
This, one of the most outstanding sands in Ibiza, is located just four kilometres from Sant Carles. Es Figueral beach is a cove of fine sand that's 400 metres long and 70 metres wide, making for a quiet beach with a very familiar atmosphere, surrounded by fig trees. Taking a dip in the waters at Es Figueral beach is the best way to start a holiday, as the sea will immediately relax you.
2. Water sports
Es Figueral beach is an excellent place to practise water sports ranging from intermediate paddle surfing, snorkelling to kayaking. Savouring its crystalline waters while moving your body in some of the most fun sports should be top on your list for an adventure in Ibiza at any time of year.
3. Tagomago
This famous islet stands in the sea of northern Ibiza and can be seen from Es Figueral, as it is only a few kilometres away. The land is privately owned and has a spectacular residence where you can spend the night if you want to venture off the mainland to a unique place to stay.
4. Punta Grossa Lighthouse
Just a few kilometres from Es Figueral, if you head north, you'll find a lighthouse 55 metres above sea level Follow signs for Punta Grossa or Cap des Llamp, to the end of a path that you can only cover on foot. The walk is one of the most beautiful routes on the Ibizan coast, whose construction dates to 1870. Exploring this area near Es Figueral is invigorating, for the sea breeze as well as the views.
5. Torre d'en Valls
Also in the northeast of Ibiza, you'll find one of the most characteristic elements of the island's defence system, thanks to the Spanish Crown of the 18th century. Historical documentation attests that its construction was completed in 1763, though in 1864 it was partially destroyed after an explosion and was not restored until 1982. Enrich and learn about the colonial history of Ibiza here.
6. Hippie markets
A stone's throw from Es Figueral, are several of the most outstanding hippie markets in Ibiza such as Las Dalias and Punta Arabí. In them you will be able to spend a few hours of fun enjoying the crafts, the clothes, and all the artistic expressions that are offered at hundreds of striking stalls. Whether you have pocket money or big bucks to spend, the hippie markets in Ibiza are unmissable.
7. The Barrau Museum
In the heart of Puig de Missa there's a museum dedicated to the great painter whose works show his admiration for the island. Laureà Barrau i Buñol from Barcelona, after standing out in the world of painting with a prolific career, moved to Ibiza at the age of 48, where he lived out his life.
Painting was his way of capturing the landscape and customs of the time, and today we are lucky enough to gaze on realistic depictions of life years ago.
8. Hiking trails
Ibiza is covered in hiking routes, for all levels of fitness. One well-known circular route leaves from Es Figueral, passes through Cala Boix and goes to Sant Carles de Peralta. The full circuit is 12 kilometres long and can be done well in just over three hours. Did you pack your walking shoes?
9. Yoga
Es Figueral has a multitude of places to roll out your mat and go on a wonderful relaxation trip in an incomparable landscape. The practice of yoga as a pastime and exercise is widespread throughout the island, but the north of Ibiza is seemingly designed just for yoga, to relax and recharge in the quieter part of the island.
Whether you join a school, a yoga class in an Invisa resort, or simply a flat corner of nature, we highly recommend considering Es Figueral, Ibiza for this activity.
10. Ferry over to Formentera
Another of the advantages of the area is that you can take a ferry to Formentera from Es Figueral beach. Taking a trip to this smaller, quieter neighbouring island is almost an obligation on a trip to Ibiza. You'll feel a completely different atmosphere once you dock in Formentera, and some of the best photography enthusiasts adore exploring this island.
There are plenty of reasons to enjoy a few days off in Es Figueral. We await you with open arms at our resort right on Es Figueral beach!
Back
Book in the official website Invisa Hotels
And enjoy exclusive advantages as a My Invisa Client
Upgrade
room*
Free Wifi
in the room
Sea View
room *
Exclusive
Offers
* According to availability