Thinking of practicing yoga in Ibiza? Here are some tips!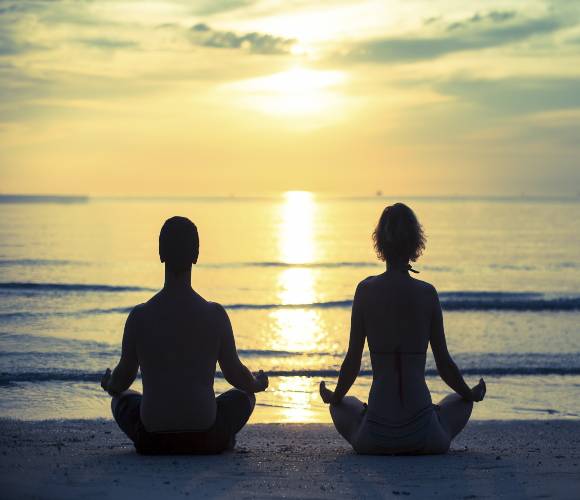 Have you heard about the magic that yoga enthusiasts feel when practicing in Ibiza? If you're thinking about going on a yoga holiday, Ibiza is a location where you can feel present, recharged, healthy, and peaceful. The island is so well suited to the practice because of the stunning natural environment which inspires enthusiasts, and the fertile sea and land which lend themselves to locally sourced produce to refuel on after exercising.
Over the decades, Ibiza's beauty has attracted plenty of travelling free spirits looking for what us westerners would call a bohemian experience. Many even stayed to become artists, local musicians, and (the topic of today) yoga instructors! Try out yoga in Ibiza if you want to take a trip full of relaxation and connection with your surroundings. We want to give you some tips to make the most of any yoga holiday in Ibiza.
Here are the best spots to do yoga in Ibiza:
Ibiza is full of charming corners, so deciding on the best location to do yoga can be difficult - there's so many to choose from. To make sure you can try out and pick your favourite of the best places to take a class or a solo journey, we've gathered 4 most highly-recommended places for either a yoga retreat Ibiza or western-style Ibiza yoga classes.
1. Ses Portes: Point your mat toward the island of Formentera
If you're happy to combine your yoga with a little hiking, head to the Ses Portes watchtower, effectively a lighthouse before these were commonplace. The tower is right at the point that separates the beaches of Ses Salines and Es Cavallet. Here, you will find splendid views of Formentera and the Ses Freus islets, so we suggest placing your mat down in this direction so you can glance up from your daily exercise to appreciate the view. Afterwards, cool off with a dip in one of the hidden coves along the coastline.
2. The fine sand of Es Figueral Beach
Located in Santa Eulalia del Río, Es Figueral has a cove of soft sand that measures 400 meters in length. This is the perfect location to do anything related to yoga, including SUP yoga, which is the exercise practiced on a paddleboard in open water. Hold your poses while you gaze over turquoise blue water, surrounded by the fruit fields. At this time in Autumn, this beach is also more tranquil because the number of tourists decrease following the high season.
If you are keen on this beach for sunbathing, strolling, swimming, and stretching, there are hotels that cater to your passion. Invisa resorts offer Ibiza yoga classes of an excellent standard so you can keep up your group classes while away.This is the case for the Invisa Es Figueral resort too, made up of the Invisa Hotel Club Cala Blanca and the Invisa Hotel Club Cala Verde. Here, you can do yoga in expansive gardens a few meters from the beach within the tranquil adult-only areas.
3. Stroll to the Moscarter lighthouse
Here is another excellent option that combines a walk, yoga and views of the sea. There is no better place on the island to breathe in pure and fresh Mediterranean air, than this elevated location. As it is a lesser-known tourist spot, particularly if you're an early riser, yoga at the Moscarter lighthouse will be idyllic. This is also the highest lighthouse in the Balearic Islands, so come and enjoy a magical experience from your mat, listening to the sea breeze and other early birds chirping from the cliffs.
4. The highest point of Cala d'Hort
Speaking of cliffs, those above a certain cove, called Cala d'Hort, are popular among yoga enthusiasts. If you want to bump into like-minded souls, head over to Cala d'Hort with its view of the magical islet of Es Vedrá. This cove and islet are best known for the view at sunset, so the early mornings are less busy. Depending where you want to practice and how you are transported to the location, you can choose to walk to the cliffs from the Torre des Savinar path or take the route that starts next to the Cala d'Hort car park.
What's the best time of year to practice yoga in Ibiza?
Ibiza is undeniably enjoyable if you spend time in nature, soaking in a relaxed atmosphere and making the most of the local climate - and this is true at any time of year.
However, in the period between October and December, visitors enjoy a completely different experience compared to the rest of the year because the island enters into low season. Most of the tourists visit in summer so Autumn is much calmer and suited to relaxing, meditating and practicing yoga outdoors. You'll also see a little more gold on the horizon as the seasons change though the sun is still warm and air temperatures are very pleasant during low season.
Similarly, the beaches are the quietest in Autumn so you can enjoy coves that would normally be full of visitors at midday in the summer period. Why not take advantage of the Mediterranean's year-round mild weather and particularly the sun and fresh air on this beautiful island? If you miss Autumn, Spring has its own charm and you can visit at a time when white almond flowers are blooming and green is permeating the island.
Ibiza yoga classes and centres
This physical and mental discipline is present across the island and many people practice it as a hobby or lifestyle. Luckily, many practice yoga in Ibiza professionally too such that you'll find several centers open year-round. If you're coming to the white island to practice your favourite exercise for mind and body, touch base with these wonderful locations, all of which offer yoga classes in Ibiza.
Chandra, the yoga retreat Ibiza offers to everyone
We'll start with perhaps the most popular centre: Chandra, which offers regular yoga sessions of different styles so that you can choose whichever best suits your tastes and needs. This allows you to even try out styles you might not at home, or that just suit your feeling on the day. At Chandra, you can also participate in meditation, concerts or spiritual retreats. It is located centrally, in Carrer de Balears 5, so it is easy to reach, well connected with transport links and well known by local taxi drivers.
Hot Yoga Ibiza
Another favorite of visitors to the island is Hot Yoga Ibiza, since it also offers all kinds of Ibiza yoga classes. This said, Hot Yoga Ibiza specializes in the variants of Bikram Yoga and Hatha Vinyasa Flow, and these are two of the most popular forms of yoga practice in the western world. You will find this yoga centre on Carrer de l'Arquebisbe Cardona Riera 17, also in central Ibiza.
Can Shiva Yoga
If you chose to stay close to San Antonio in Ibiza for its buzz and activity availability, one of the most fashionable places to practice modern yoga is a place called Can Shiva Yoga. Here, on Carrer Francisco de Goya 15, you'll find private classes as well as a wellness spa that offers massages and Ayurvedic treatments for the body and soul.
Ashtanga Yoga Ibiza
As its name suggests, at Ashtanga Yoga Ibiza the team specialises in a very specific type of yoga: ashtang. This dynamic practice combines what many consider "stronger movements'' and Ashtanga Yoga Ibiza offers private classes wherever you like! Its headquarters are in Santa Gertrudis, at Carrer Venda de Cas Serres 40, but you can take classes through this centre flexibly, perhaps at your hotel or on one of the beautiful natural locations we described in this article.
It perhaps goes without saying at this point: Ibiza is a unique location to do yoga and hobbyists, newbies, as well as veteran followers of the lifestyle are all well catered to here. Choose whether you want to practice alone or in the hands of a professional, in a multitude of spaces often with the most surprising landscapes in the background. If you do engage in any of the yoga centres, we do recommend speaking to your hotel staff to see how it compares to the on site facilities and classes, to get a local's perspective on the modality best suited to your tastes, needs, level and equipment.
Don't wait any longer, book your yoga holiday in Ibiza today!
Back
Book in the official website Invisa Hotels
And enjoy exclusive advantages as a My Invisa Client
Upgrade
room*
Free Wifi
in the room
Sea View
room *
Exclusive
Offers
* According to availability