7 Things to Do in Ibiza: Playa es Figueral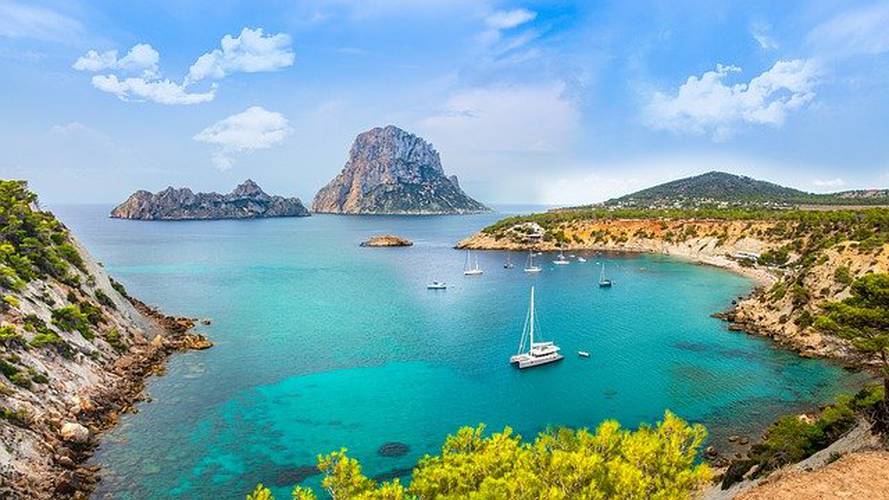 The wonderful Invisa Hotel Cala Blanca in Es Figueral Ibiza is a 3-star family-friendly hotel with everything you could ever need for the ultimate holiday in paradise. Just 10 kilometres from the bustling Santa Eulalia and a short drive from Ibiza Town and the island's well-connected airport, you could be on Playa Es Figueral or lounging by the amazing pool bar in less than an hour of landing on the White Isle.

But aside from the fantastic dining options available to suit every taste, the great location just seconds from the golden sands of Playa Es Figueral – one of the most beautiful beaches on the island, if we do say so ourselves – and all the delights of this quiet and charming little resort on Ibiza's peaceful east coast, what else is there to see and do in Es Figueral Ibiza?

If you're asking yourself the same question before your next trip to the island, whether it's your first time here or you're a seasoned expert on all things Balearic, take a look at our top 7 tips for things to see and do in Es Figueral and let us know some of your favourites below. There's one for every day of your next week in the sun!

Things to do in Es Figueral

1. Hit the beach

No trip to the region would be complete without experiencing the pure pleasure of a day at Playa Es Figueral. Whether you're up for trying all the water sports on offer, diving into the clear blue seas to see what sea life lurks beneath or you simply want to make the most of the Spanish sun with a good book in hand, there's nowhere better to relax on the sands than at Playa Es Figueral.

2. Yoga and pilates

Let the magical spirit of Ibiza take over your mind, body and soul as you enjoy unwinding on the beach or on top of the cliffs with a little yoga or perhaps even a pilates session. Dedicated and qualified instructors will take you on a spiritual journey to total rest and relaxation.

3. Day trips

Whether it's a boat trip over to our beautiful sister island of Formentera or simply a few hours exploring the wild caves and rocky shorelines of Ibiza's historic north eastern coast up close and personal, you won't regret stepping off dry land and taking the plunge with a local boat tour.

4. Fine dining

With some of the island's best restaurants all located conveniently nearby, as well as a range of options both in and out of your hotel for all tastes, urges and cravings, serving up everything from traditional local Spanish tapas to the most international, modern and exciting cuisine, you certainly won't go hungry in Playa Es Figueral, that's for sure!

5. Dance the night away

With plenty of entertainment on offer in both our hotels in the resort, as well as a great range of local bars, clubs and nightlife located very close by, you'll be able to sample the very best of Ibiza's famous after-dark world if you stay up late enough! Similarly, with plenty of affordable transport options to whisk you from Es Figueral to Ibiza Town, you could be at some of the world's leading super clubs within the hour!

6. Coastal walks

This part of Ibiza offers some of the most breathtaking views on the island, even in Europe, so be sure to lace up your walking shoes, breathe in that fresh coastal air and enjoy soaking in these magnificent landscapes. From rolling green hills inland to rocky outposts and dramatic cliff faces as you look out to sea, Es Figueral Ibiza is somewhere you definitely need to bring your camera phone!

7. Shop 'til you drop

Aside from some charming local boutiques and independent stores, Ibiza's world-famous hippie markets are just moments away, so make sure to bring your shopping bags and your wallet and you could be taking home some real treasures at bargain prices.
The Invisa Hotel Cala Verde is another fantastic 3-star hotel in Es Figueral Ibiza, offering an unrivalled location, awesome views and fabulous hotel accommodation for all our guests. Whether travelling as a couple, a group of friends or with the entire family, our charming hotels in Es Figueral are the perfect destination for the ultimate getaway. With the Es Figueral to Ibiza Town journey time just over half an hour, the island will be your oyster when you take advantage of our great deals for plenty of fun in the sunshine.
Back
Book in the official website Invisa Hotels
And enjoy exclusive advantages as a My Invisa Client
Upgrade
room*
Free Wifi
in the room
Sea View
room *
Exclusive
Offers
* According to availability