10 Things You HAVE To Pack For Your Trip To Ibiza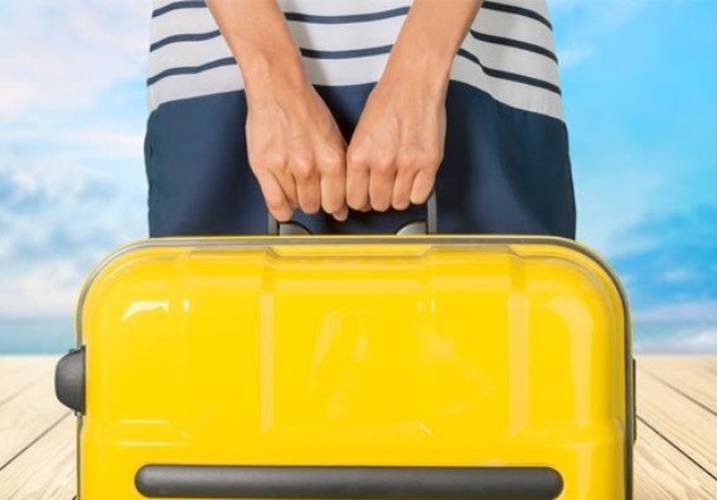 Even if summer is far away from being around the corner, it's never too early to think of where to spend your next summer holidays. And if Ibiza seems a good idea, then you have to check out this list of 10 things you absolutely HAVE to pack for your trip to Ibiza.

Whether you're heading out for a summer of partying with friends and dancing 'til dawn, or a more relaxed holiday on the beach with your family, you need to make sure you have all the essentials to make your holiday to Ibiza as great as it should be...

1. We all need to start with a handy pocket map. Forget smartphone apps or hefty guidebooks, all you need is a one-page folding map that won't break your back or fail spectacularly when there's no wifi signal. Having a pocket map in your back pocket will allow you to get lost in Ibiza, go off the beaten track and explore the wondrous beauty of this stunning island - but still find your way back to your hotel in time for evening cocktails! And they don't take up any room in your suitcase either.

2. Next you need a sturdy beach blanket or towel. Line the bottom of your travel suitcase with this to save space and you'll be ready to hit the beach as soon as you land – and you won't fall into the trap of having to fork out your hard earned euros on beach towels by taking your own! Handy tip: open-air cinemas are popping up all over Ibiza lately, so grab your towel or beach blanket and enjoy an evening sipping on a few cocktails whilst watching a classic under the stars.

3. Now you need some beachwear that's on point. Ibiza is the island of eternal sunshine, so you'll want to spend as much time around the hotel pool or on one of Ibiza's best beaches as humanly possible. And you need to look good when you're doing it! This year, beach fashion is all about floral patterns or white basics, but be sure to throw in some vibrant colours and patterns to mix things up a bit.

4. Sunglasses. The key to looking suave and stylish in any setting is a great pair of sunglasses. In Ibiza, they're practically mandatory! There's no way to look cooler or fit in Spanish-style than a great pair of shades.

5. Now we need to think about the rest of your clothes, specifically your most stylish, party-island outfits for dining out or hitting up Ibiza's clubs: your stylish wardrobe. I'm not suggesting you should pack every garment you own (we're dealing with a luggage weight limit here, remember!) but you should ensure you have a couple of special outfits to look good on your evenings out. Whether you're relaxing in your hotel bar, exploring some of Ibiza town tapas restaurants or broadening your horizons in one of Ibiza's best restaurants, then you need to look your best! Take a few pairs of everything (trousers, skirts, tops, blazers, shoes, etc.) so that you can mix and match each night to look like you've made an effort but won't go anywhere near exceeding that baggage limit!

6. Trainers or some other comfortable footwear should be next in your case (i.e. not flip-flops) for cave walking, hiking up into the Ibiza hills or exploring the cultural hub and shopping destination that is Ibiza Town. You can be stylish and comfortable at the same time in Ibiza.

7. Now we need to think about the essentials, and I'm talking about sun cream. Don't be fooled by buying it last minute, or being duped into paying extortionate prices at the airport, make sure you buy sun cream well in advance to save money on your holiday to Ibiza. Sun protection for on the beach is a must, but also if you choose to explore Ibiza's coast on a boat trip, if you're dining al fresco on your hotel terrace as the sun melts into the horizon, or any other time you spend in the sun – make sure you're protected.

8. Another item often overlooked is a stylish beach bag for carrying all your essentials to a hidden cove on the northern coast, or perhaps to spend the day partying at a beachfront club on Playa d'en Bossa. Whatever you're getting up to on the island, make sure you have something to carry your things in. Drawstring bags, backpacks, satchels, we don't care! Anything goes in Ibiza.

9. Disposable cameras are a great idea for anyone's suitcase. They allow you to snap away to your heart's content, capturing the beauty of Ibiza, without worrying about having to carry around your treasured (and expensive) smartphone. And the Instagram filter is already applied when you get them developed! No need for expensive apps with a disposable!

10. The final things you should pack into your (by now, pretty full) suitcase are your toiletries. Save money and only take what you need in small, travel-size containers.

So there you have it, a handy list of everything you need for your trip to Ibiza.Enjoy it!
Back
Book in the official website Invisa Hotels
And enjoy exclusive advantages as a My Invisa Client
Upgrade
room*
Free Wifi
in the room
Sea View
room *
Exclusive
Offers
* According to availability