10 tips for an unforgettable summer in Ibiza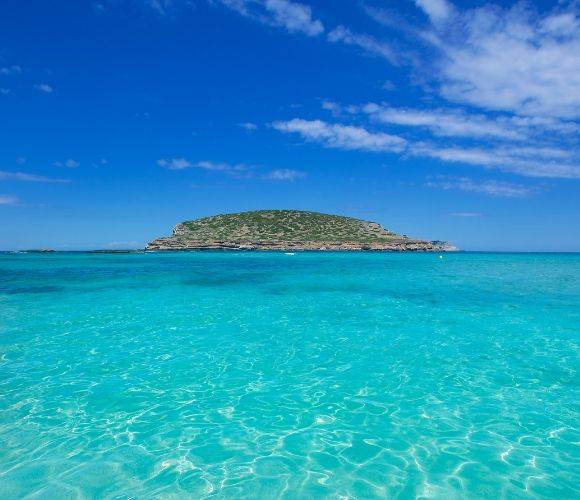 Summer holidays are coming! If you are planning a summer in Ibiza, to discover the wildlife, spectacular views, nights out and the incredible Ibiza beaches, you might want some advice to get the most out of your stay. To help you get ready, we've made a list of 10 Ibiza activities and key recommendations for anyone to enjoy their time in Ibiza this summer.
1. It wouldn't be summer in Ibiza without some days at the beach
Ibiza's beaches are world famous, but not everyone is aware that there are very discreet coves in Ibiza with crystal clear water. If you want to spend your summer holiday surrounded by peace and tranquility, you will love Cala Bassa, a small beach of 300 meters of golden sand that you can access from San Antonio. The main charm of this beautiful cove is that it is away from the hustle and bustle of tourists and the busiest part of Ibiza, and has spectacular waters and fine white sand. Any beach named "cala" indicates a smaller, more private stretch of sand.
You might prefer the easily accessible beaches, because they're often well catered and suitable for families, with very shallow waters for example. Among all these family-friendly options, we recommend Las Salinas beach. It's one of the best known parts of the coast, and is perfect for relaxing if you like easy parking, access, and plenty of food options nearby.
Those who love spending summer on a large beach with plenty of leisure options, on the other hand, will love Playa d'en Bossa. Spend your summer holidays on an unspoiled beach that seems to be naturally perfect for families and young people, such that boutique and casual bars and restaurants sprung up around it.
2. See something special, discover the artisans of Saint Joan
The island's markets are popular among tourists and locals alike, but few people actually visit Saint Joan's market, one of the most authentic and traditional. Here, only Ibizan artists and farmers can participate with their own artisanal products. The Saint Joan market is held every Sunday morning in the town of Saint Joan de Labritja. In addition to their agro-ecological and creative products to shop and admire, there is also live music in this Sunday market.
3. Catch the unmissable sunsets in Cala d'Hort
If there is something that will be the top memory of your summer in Ibiza, it will be watching the incredible sunsets over the coast, hills, and hopefully your beautiful resort's pool and balcony.
We think that one of the best sunset viewing spots in Ibiza, which brings out the most vivid colours due to the contrast of the sea and sand with the sky, is Cala d'Hort. Dusk is magical in this cove. Located to the southeast of the island, Cala d'Hort is special because it enjoys views of the islet Es Vedrá. To get the best view, walk down to the cliffs that are located just next to Cala d'Hort, and get the best view. Try it yourself, and compare the sunset in this cove to all the dusks you experience here!
4. Enjoy local delicacies and fresh dishes in the beach bars
The experience of eating a fresh fish or rice dish in a small cove with your feet resting on the sand is one of the reasons why Ibiza beaches are so perfect for summer holidays. Plenty of exquisite restaurants exist so that visitors can enjoy this emblematic experience, made even better with views of the sea and sunny skies.
Some of the most popular beach bars are those found in Cala Carbó, Es Torrent, Cala de Sant Vicent, Canal d'en Martí, and Cala Xuclar. The Chiringuito Cala Mastella deserves an honorable mention: it is located on the Cala Mastella beach shoreline, and has been going strong for 40 years — for a reason! It's fun and delicious, and welcomes everyone.
5. Ibiza activities: tour the island's historical heritage
Walking around Dalt Vila and its narrow streets is one of the days out that cannot be missed. The island hides a surprising historical heritage behind its clubbing fame. In fact, it was named a World Heritage Site in 1999 by UNESCO, since the island was home to so many different settlements over the centuries that each left their mark, traces of which can still be seen today through many walking tours.
The city centre, Dalt Vila, was the commercial and cultural urban nucleus of the island for many of the peoples that lived here, such as the Phoenicians, the Carthaginians, the Romans and the Muslims. Make sure the Cathedral of Ibiza and the Puget Museum are on your list of things to do and dedicate a full day at least to the old town of Ibiza. Topping the day off with a candle-lit meal with a view of the town walls would be the cherry on top of your trip.
6. Explore the wildlife wonders of Ses Salines
The natural environments on the island are multiple and each is unique. During summer in Ibiza, Ses Salines is the main park you must visit.
The reserve covers almost 3,000 land and 13,000 marine hectares, housing a large part of the oceanic posidonia meadows that surround the Balearic Islands. These underwater meadows are precisely the root of the island's rich marine biodiversity as well as the purity of its waters.


In the Ses Salines natural park, you can visit some of the most paradisiacal sands in Ibiza, such as Es Cavallet beach. While here, you can get in touch with the history of the island, you should go to the Ses Portes tower and learn about the secrets of a collection of carved sandstone rocks found there, used for the construction of the tower's walls.
7. Reserve the best accommodation for your stay in Ibiza
The island is divided into different areas, so it is important that, depending on how you travel and the type of location you are looking for, you select accommodation according to your needs. Knowing that everyone has different preferences and needs, Invisa Hotels curated a wide range of hotels where you can enjoy resorts suited to your group.
Starting with Es Canar Beach, a 300 meter long cove that is especially quiet and very close to Es Figueral, the cove is home to the Hotel Invisa Ereso. We think this is a wonderful place to spend holidays as a family, with tons of things to do. You can get out on a boat trip, a fishing expedition, and practice all sorts of water sports.
Closer to Es Figueral, we also have the Invisa Figueral Resort, made up of two hotels: The Invisa Hotel Club Cala Blanca and the Invisa Cala Verde Hotel. The Cala Blanca Hotel is a 3-star accommodation located on the beachfront and ideal for families because it has facilities for kiddie fun, safety, as well as beautiful spots for parents. The Hotel Cala Verde, on the other hand, has direct access to the beach and a quieter environment, with adults-only spaces, but guests of this resort can move freely between the two hotels to get the best of both worlds.
If what you are looking for is some beach fun, the ideal hotel for you is Invisa Hotel Es Pla, a 3-star accommodation with an enormous swimming pool, located in the San Antonio area, known for its party atmosphere. For this reason, it is the best option to enjoy as a couple or with friends, since entrance of minors is prohibited.
Finally, if you are looking for a well connected location but not party-central, the most suitable hotel is our Invisa Hotel La Cala, a four-star accommodation located in Santa Eulalia. This spot is known for being calmer, but not far from the tourist center or the marina.
8. Live it up this summer in Ibiza with live music
The white island has, needless to say, a great offering of live music. Although many identify Ibiza with electronic music, the truth is that there are thousands of places that play different genres of live music from all over the world. To experience live music, the Can Jordi bar is a classic that welcomes local groups every Saturday. Midweek, the Racó Verd in Sant Josep has performances on Thursdays as well as Saturdays. We also love popping into Boulevard in San Antonio and the Can Rock in Cala de Bou for live music.
9. Stroll through Sant Carles and along the coast
During summer the turquoise waters along the Ibiza beaches truly sparkle, so you want to stay as close to them at all times as possible. Feel the fresh sea breeze and warm embrace of the dun while walking along the coast of Sant Carles, located just 6 kilometers from the center of Santa Eulalia. Here, beaches like Cala Nova, a wild and unexploited cove, as well as Pou des Lleó, Cala Mastella and Cala Boix are perfect to stop for a picnic.
10. Get carried away by the hippie spirit of Ibiza
The history of hippies in Ibiza dates back to the 60s, when the first hippies came to the island in their hundreds, in search of freedoms that they could not enjoy in their countries of origin. Many of these people, artists and writers, fell in love with the island thanks to its climate, its tranquility, and the local's freedom of thought.
The most hippie parts of Ibiza are the markets. Among the best known is Las Dalias, but you can also enjoy the Es Canar or Sant Jordi markets on different days. Without a doubt, this is where you'll want to buy tons of original souvenirs and gifts, while soaking in the bohemian atmosphere of these markets.
All those of you currently planning a safe and fun summer in Ibiza, follow these tips to discover the charms of the island and take advantage of your holidays on the island. Just make sure you plan to come for a good stretch of time because there's so much to do and see in Ibiza!
Back
Book in the official website Invisa Hotels
And enjoy exclusive advantages as a My Invisa Client
Upgrade
room*
Free Wifi
in the room
Sea View
room *
Exclusive
Offers
* According to availability