10 Traditional Ibiza Dishes You Have To Try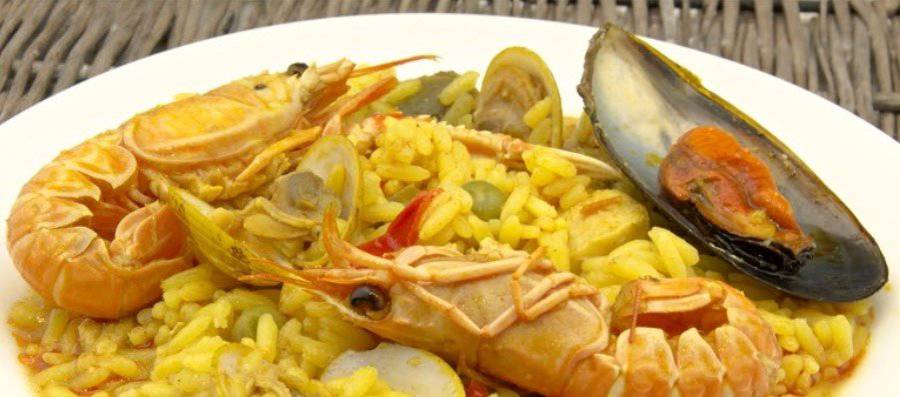 Whenever we book a holiday, there are a few certain things we come to expect. Whether it's the stunning architecture we look forward to seeing on a city break, or perhaps the amazing sea views from an island getaway? Maybe we've heard stories about the super friendly locals, or perhaps it's just the endless uninterrupted hours of sunshine you're looking out for? Well, thankfully in Ibiza, you get all of that and more. But there's something else extra special on the Ibiza menu this year…
Yes, Ibiza has a treasure-trove of amazing traditional Spanish food and dishes that every visitor should try out when they're here. From the typical Spanish seafood paella and delicious tapas treats to locally sourced produce and amazing local drinks, you'd be crazy if you don't let your inner adventurous side slip out when deciding what to eat in Spain. Take a look at our top 10 dishes in Ibiza we think you should give a whirl when you're next visiting us. Our mouths are watering already!

Foodie's guide to Ibiza

1. Paella de Marisco
We've decided to start with a classic here, a simple seafood paella that is out of this world and full of flavour. As a working fishing island, Ibiza is one of the best places in the world to try out an authentic seafood dish and is definitely one of the most popular traditional Spanish food varieties.

2. Flaó
If you're wondering what to eat in Spain, these delicious filled pastries are a great place to start. Usually a circle of pastry filled with local goat's cheese and ground almonds and honey, they're the perfect treat for an afternoon snack or a lovely dessert. Traditionally an Easter treat, they're now served all year round all across the island.

3. Greixonera
Speaking of desserts, the third of our top 10 dishes in Ibiza is a very traditional dessert made from leftover pastries and bread with a delicious golden topping. Rich and often served with cream, it's the best way to top off any evening meal.

4. Sofrit Pagés
For something more substantial, this authentic Balearic stew is a deliciously filling mixture of various meats, including chicken, lamb and, of course, Ibizan sausages. The dish is usually served with seasonal vegetables like potatoes, peppers and artichokes, and is one of the most popular dish on any foodie's guide to Ibiza.

5. Bullit de peix
Another traditional Spanish food you may want to try out while you're on the island is the wonderful Bullit de peix, another stew but this time served with a combination of various fish, always fresh from the Mediterranean that morning. Served up alongside potatoes and various local spices, it's a classic for a reason and simply must be part of any traditional Ibiza menu.

6. Tortilla
Tortilla is a potato and onion based omelette-type dish and you'll find varieties of it in every tapas bar and restaurant across Spain - from Bilbao to Malaga and everywhere in between. So what makes it so special in Ibiza? Well, the reason it makes our foodie's guide to Ibiza is down to the local produce, the herbs and spices added to it and the very slight different twist every restaurant in Ibiza adds to make it their own. You simply can't enjoy tapas without a little tortilla, after all!

7. Ensaimadas
Small Balearic croissants usually filled with chocolate, cream or even sweet pumpkin, these sugar-dusted delicacies are the perfect snack for an afternoon on the island. What to eat in Spain doesn't always have to be about seafood and tapas you know, our sugary treats are second to none!

8. Traditional breads and alioli
Though you might not think of bread and oil as one of the top 10 dishes in Ibiza, there's certainly an argument for it. Ibiza's restaurateurs are masters at baking amazingly tasty breads and serving them up alongside a seriously delicious garlic mayonnaise sauce. If you want to get your mouth watering before a scrumptious meal in Ibiza, some bread and locally sourced oils and dips are the way to do it!

9. Sangría
Though less about what to eat in Spain and more about what to drink while you're here, we couldn't complete our foodie's guide to Ibiza without a brief mention of some of the magnificent tipples you can sample over here. A jug of spirited sangria in the late afternoon sun, fuelled with refreshing vino and locally sourced fresh fruits are what life in the sun is all about, right…? A great drink for a great holiday.

10. Orelletes
Finally on our list of the top 10 dishes in Ibiza, we can't leave you without suggesting orelletes, a biscuit type treat (named because they resemble little ears…) made with just flour, lemon zest and aniseed, all fried up in oil and coated in plenty of sugar. After a long hard day by the pool or chilling out on the beach, this traditional Spanish food is exactly what the doctor ordered! Just make sure to pack a few in your suitcase to keep the holiday memories alive when you're back home.
Back
Book in the official website Invisa Hotels
And enjoy exclusive advantages as a My Invisa Client
Upgrade
room*
Free Wifi
in the room
Sea View
room *
Exclusive
Offers
* According to availability