5 essential plans to enjoy Ibiza with kids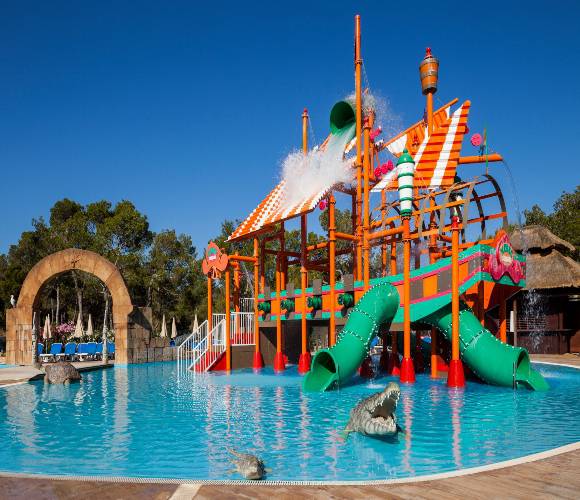 Travelling to Ibiza with kids is a popular plan among parents who want to enjoy the sun and beach while being somewhere their children can also have fun. The island has tons of places especially for children and they will have a great time exploring the "battlements" of the old town! Adults will enjoy the sunsets and cocktails, plus the culture and history that there is to soak up in the outdoors is ideal for families.
Looking for things to do in Ibiza with kids? So that you can get ready for your family holiday in Ibiza, here are five essential plans to do with children. Don't miss any of these activities that will delight them (and you)!
1. Water parks in Ibiza
Ibiza is one of the most popular destinations for outdoor holidays, thanks to its coves and the exotic turquoise blue color of the sea — this is the perfect environment for practicing water sports. On almost all the island's beaches, you can rent a kayak, windsurfing board, paddle board or contract a diving tour guide, just to name a few. There is, however, one top option that children will love: water parks.
If you don't know what to do one day in Ibiza but know the little ones need to enjoy themselves, make friends and burn off some energy, we highly recommend visiting a water park. The weather is perfect for water park tours. One of the most popular parks is Aguamar, located on Playa d'En Bossa. With its multiple slides and exciting water attractions, Aguamar offers guaranteed fun for the whole family.
On the days you're looking for less of an excursion and more of an entertainment option that's easy and not too stressful, the ideal alternative is to enjoy water and sports activities without leaving your hotel at Invilandia, located at the Invisa Club Cala Blanca Hotel, one of the best hotels for Ibiza holidays with kids. The resort is all-inclusive and covers an area of more than 5,000 square meters, so your little ones have plenty of safe space to run around in.
There is entertainment adapted to different age groups, for example there is a playground with a miniclub, a pirate island, an adventure area and a swimming pool with a little water park, among others. It is the perfect area for some clean fun during your holidays.
2. Horseback riding through Ibiza with the family
One of the favourite things to do in Ibiza with kids is horse riding. Contact with animals and time spent in nature are always winners with children. In addition to riding the horses, they will be able to comb, wash, feed and enjoy some recreation with them. Parents can choose whether to ride with their children or let them trot off with the guide, while they have a drink and enjoy some quiet time inside the establishment.
There are multiple excursions available and routes adapted to all levels. You can go horseback riding accompanied by a guide, along the beaches or woodland paths surrounded by trees and rural landscapes. One of the most popular roads in Ibiza for horse rides is through Santa Gertrudis, so even a walk or bike ride along this road might allow your kids to see this noble sport taking place.

3. Explore Ses Salines Natural Park
The Ses Salines Natural Park is a collection of unique and stunning landscapes. While we recommend everyone who travels to Ibiza to visit Ses Salines, as a family this is an extremely exciting outing. It's also worth contracting a tour guide to tell you all the history, point out our fauna and flora and help you spot the dolphins or flamingos you can see here, depending on what time of year you visit. Your Invisa Hotels staff will be happy to put you in contact with a guide.
Ses Salines is one of the "must-see" locations in Ibiza. It covers almost 3,000 hectares of land and 13,000 of marine space, extending from the south of Ibiza to the north of Formentera. The park was declared a World Heritage Site in 1999, because it can be thanked for the island's rich marine biodiversity, as well as the beautiful horizon of the southern coast. Without a doubt, your kids will be stunned by the birds and open space in Ses Salines.
4. The Aquarium Cap Blanc
On the coast of San Antonio and very close to the beach of Cala Gració, there is a very special corner known as 'Sa Cova de Ses Llagostes'. It is a natural cave that was once a lobster nursery. Today, it is the Cap Blanc aquarium, home to samples of the main species that live in the Ibizan Mediterranean sea. What small child doesn't enjoy discovering marine life and fish that they could never see back home?
Something that makes this place even more wonderful for a visit with children is that, just next door, there's a beach bar where you can have a snack, a soft drink and have a sit down while enjoying the views of the bay of Sant Antoni. If you visit the aquarium in the afternoon you can stay until sunset in the summertime, and enjoy this view together with a traditional sardine dish.
5. Ibiza with children: They'll love shopping at hippy markets
The island is known above all for its magnificent beaches, its pleasant climate and its lively atmosphere in the streets. But it is worth highlighting the magical experience that can be found in the hippy markets. Another of the top things to do in Ibiza with kids is discover completely new environments and your little ones will fall in love with exploring the hippy stalls, while the whole family will feel the positive vibes.
The Punta Arabi hippy market
In this corner of the island you will find beautiful hippy decorations, such as flower garlands and peace badges. This traditional hippy vibe is rooted in Punta Arabi being the oldest and largest market in Ibiza, first ideated in 1973. It is so popular that it has more than 500 stalls, all of which vary from offering live music, art exhibits, souvenirs, all kinds of typical food and even massage spaces.
Within this wide selection there is an area especially designed for children: Hippy Kids. This area is for those who travel to Ibiza as a family, and helps children to feel part of the hippy community. There are fun and interactive activities organised, such as creating their own flower crown or getting fantasy face paint done.
Access to the Punta Arabi hippy market is on Wednesdays, from April through October, from 10am to 7pm. It takes place at Es Canar beach, in the area of Santa Eulalia del Rio, which is close to Invisa Hotel Ereso, a perfect resort for a family stay near this beach and hippy market.
Las Dalias hippy market
With more than 200 stalls, Las Dalias is a space full of colors, light, music and peace. This oasis is located in the north of Ibiza, in Sant Carles, and you can access it on Sundays every week of the year. Opening times between April and October are 10am to 8pm and from November to March the market closes a little earlier, at 6pm.
This market's popularity is largely down to its history. The stall owners, and therefore the market's main stakeholders, are some of the most traditional hippies on the island. Many of Las Dalias' participants have resided in Ibiza since the sixties, living off the work of their own hands. This personal connection with their craft makes this hippy market one of the favorite plans of tourists who travel to Ibiza with children; kids love the toys and decorative figures made by these talented business hippies.
In short, Ibiza is a great destination for families who want to enjoy their holidays by having fun together. There's something for everyone, adults, teens, children and even toddlers.
If you go on Ibiza holidays with kids, we recommend staying in a hotel that includes a wide range of activities on site without overruling people looking for a quiet stay. This is only achievable when resorts are carefully designed and activities are planned considerately, something we value highly at Invisa Hotels. This means that you can entertain the kids in a safe environment on the days you simply want to relax at the hotel.
Our all-inclusive hotels in Ibiza for families, with hotel discounts for kids, are the perfect accommodation for an unforgettable family vacation.
Back
Book in the official website Invisa Hotels
And enjoy exclusive advantages as a My Invisa Client
Upgrade
room*
Free Wifi
in the room
Sea View
room *
Exclusive
Offers
* According to availability