5 ideas for a wonderful day in Ibiza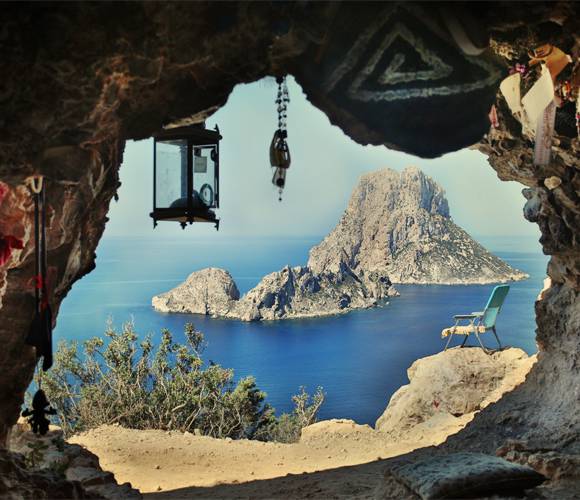 Prefer to hit the beaten track or travel to Ibiza to discover hidden gems? If you're wondering what to see and do in Ibiza, don't stick to the basic beaches and club scene. Step away from the ordinary with these 5 unusual Ibiza travel tips on where to go.

1. Island of Es Vedrà

When you want to escape the party island, hop over to another island! There's actually an uninhabited piece of paradise just off the southwest coast of Ibiza. The reason it's not inhabited is that it's a protected space, registered as a natural park. The perfect day trip away from the crowds, otherworldly and rugged, one of the best things to do in Ibiza is to spend some time on Es Vedrà.

Peace and nature is just a boat ride away from San Antonio, or Ibiza Town if you prefer. Look beyond the coast-side tours on the busy shoreline to find the companies organizing excursions to the second island, many of which offer snorkelling or jet-skiing as part of the trip.

On Es Vedrà, you'll be taken to the 413 metre-high monolithic limestone slab that truly represents the isolation and drama of the local landscape. If you step gently and especially if you catch the first boat offshore, you'll also be able to spot wildlife of all sorts, such as goats, lizards and falcons.

2. Punta d'es Moscarter lighthouse

One of the easiest things about giving Ibiza travel tips is that everything is close by. Since it's a small landmass, you don't even have to go many miles to feel at the end of the world. The lighthouse on Punta d'es Moscarter is an example of this and can be found on the remote northern tip of the island.

If you go hiking around the lighthouse you'll find shade provided by pine forests and farm animals on agricultural land all the way up to the coastline. A handful of holiday homes are clustered in the coves if you take the cliff path from Portinatx to the lighthouse.

Built in the 1970s, the lighthouse is the tallest building in Ibiza. High above the natural beauty, the view from Punta d'es Moscarter is just made for taking photos.

3. Cala Comte coast

Not everyone has found Cala Comte. Those in the know sunbathe on this, the west coast of Ibiza, a beach that's in fact not far from the popular San Antonio. In high season you can get to Cala Comte by bus or ferry.

Almost a kilometre of pale clean sand awaits you, nestled into the coastline and the best bit is that you'll find small lagoons, shimmering pools of bright blue water here to take a dip in.

You can watch the renowned sunsets (or sunrises if you're an early riser) relaxing in one of these lagoons. Or if you prefer, get dressed up and head to the bars on the rocks of an evening. These fill up on summer nights so you might even make some new friends in Cala Comte as you watch the sun go down.

4.Talamanca beach

If you're staying near Ibiza's town centre, you're actually not far from a quieter beach, you just have to know where to find the right spot. A few minutes away from the marina you'll find Talamanca beach.

There are small expat and holiday residentials nearby, low-density developments, surrounded by pine trees. This stretch of golden sand tucked between two headlands is half a kilometre long, so you can walk to the corners of the beach to grab a patch of tranquillity. However, you're not far from the lively Ibiza town, and there are restaurants and beach bars that remain open throughout the year, just as the water is calm and suitable for kids all year round.

When you feel like a bit of fun, Talamanca is the spot for petanque or paddleboarding, low impact sports like badminton, as well as zen retreat activities like yoga and pilates on the beach.

5. A spa day

Ibiza's spa scene is almost as well-known as the clubbing scene. There are so many spas to visit when you travel to Ibiza and most of them are attached to hotels, so you might find a spa right where you're staying. One good example is our La Cala Hotel spa, a full spa with Turkish bath, sauna, jacuzzi and gym, the perfect place to relax and enjoy the calmer side of Ibiza.

Another option is to book in a treatment amid Ibiza's citrus and olive groves, whether you prefer the focus on supporting agribusiness, natural care, high-class cosmetics or simple relaxation.


Will you have time to squeeze all these unique experiences into your trip? If you need help or advice on finding agencies that will reserve these activities in advance, give your Invisa hotel a call beforehand. We'll be happy to help you plan and tick off all the things you want to do while holidaying in this beautiful part of the world.
Back
Book in the official website Invisa Hotels
And enjoy exclusive advantages as a My Invisa Client
Upgrade
room*
Free Wifi
in the room
Sea View
room *
Exclusive
Offers
* According to availability