5 incredible places to hold a wedding in Ibiza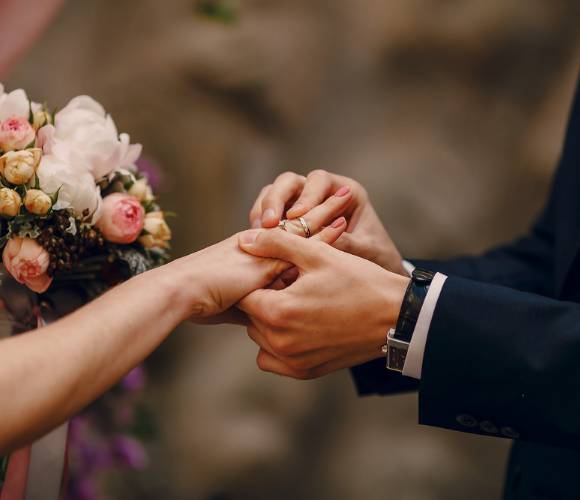 A day to remember needs a handful of key ingredients: great company, food and fun, plus the perfect location. Getting married in Ibiza makes all of this easy!
First of all, it is not as expensive as many destination weddings, so your guests will easily be able to accompany you. The sun, sea breeze, and warm evenings are also the ideal additions to an Ibizan wedding.
Wondering where to specifically hold a wedding in Ibiza? Here are 5 places where we think your couple can kick off your life together on a high note.
1. Say "I do" on Es Figueral beach
An Ibizan wedding in the north of the island needs to consider at least a trip to Es Figueral beach for the photos, if not the whole ceremony. Here, you'll discover balcony-like views of the Mediterranean, a magical atmosphere and all the charms that this island can offer you.
Whether you're looking for a church or civil celebration, there are options for both. The Church of San Carlos is just a few kilometres from the beach and is considered one of the most elegant temples in Ibiza.
On the other hand, a special place to celebrate your banquet or your civil ceremony is Invisa Figueral Resort. Sat right on the seafront, this resort is unmatched for celebrating a wedding in the purest Mediterranean style.
You can choose the Buddha Chill Out bar for the cocktail or the ceremony, the La Marina restaurant for lunch or dinner and there's even a room for the party afterwards. The same facilities are available at the Cala Verde resort too, simply exchanging the La Marina restaurant for La Brasserie.
2. Romanticism in La Escollera
La Escollera restaurant, located on Es Cavallet beach, is the second of our top places to celebrate a wedding in Ibiza. Here you can hold a spectacular ceremony full of flowers, scenery and romance, as well as a high-flying banquet and the backdrop being views that you will never forget.
This restaurant in the south of Ibiza has a spacious interior room with large windows in case you choose the winter for your wedding. It also has tents and a bar catering to every last detail, so that every guest enjoys a cocktail surrounded by an unparalleled landscape.
If you want to get married in front of the sea, you can even do so on the beach itself. In addition, a few kilometres away, there are endless beautiful churches to choose from for your religious ceremony. Your guests will be able to enjoy a Mediterranean menu in which specialties are paellas, fideos, baked San Pedro chicken and even field snails if they're to your taste. It will be an unforgettable day!
3. Nassau Beach Club, a refined reception spot
Getting married in Ibiza is made magical by holding a ceremony at Nassau Beach Club, in Playa d'En Bossa. This is a refined beach club that houses a prize-winning nautical-themed restaurant and a very special bar to celebrate together with your loved ones.
The cuisine in this establishment is innovative and current; Mediterranean and Asian influences combine to create delicious meals with a variety of fresh seafood and premium meat options. To ensure maximum freshness, you can choose your own lobsters from the restaurant's ponds or enjoy freshly made sashimi and unique rolls from the sushi bar.
As is true for the previously mentioned options for your reception or party afterwards, you'll also find a multitude of nearby churches in Ibiza if you wish to say "I do" in a religious ceremony.
4. Cala Sol d'en Serra, a dreamy corner
Imagine: all your guests dressed in white, a secluded cove and the sea lapping at the beach as your witness. In Cala Sol d'en Serra, you can hold your dream ceremony, or the whole event.
To the east of the island, this beautiful cove of round stones is 800 metres long and 10 metres wide, making it small enough to separate your party and cordon off a section. This idyllic corner of the island is also home to one of the most outstanding restaurants in Ibiza, El Amante, a perfect name for two lovers joining hands. This establishment is available for intimate weddings and can accommodate up to 120 guests.
Come to Ibiza's stunning coves to enjoy one of the happiest days of your life with unique views over Formentera.
5. Private estates in Ibiza, for an exclusive wedding in Ibiza
The last stunning secret we'll reveal about options to get married in Ibiza is to get married in rent out a private estate. This is, of course, the most expensive of the 5 options but there is plenty of variety and a large offering of stunning buildings, gardens and private locations if intimacy is top of your wishlist.
If you choose to tie the knot with only your loved ones, you can browse multiple sites to hold your ceremony, reception, or both.
If you'd like some more information on this topic, write to us at Invisa and we'd love to put you in contact with estates close to our beautiful Ibiza resorts. Options exist for whatever your preferences or budget, and you can guarantee that our Invisa hotel staff will be available for any questions you have.
Don't miss out on the opportunity to say your vows with the beautiful views of Ibiza and its turquoise sea.
Back
Book in the official website Invisa Hotels
And enjoy exclusive advantages as a My Invisa Client
Upgrade
room*
Free Wifi
in the room
Sea View
room *
Exclusive
Offers
* According to availability