5 reasons to choose a hotel in Santa Eulalia Ibiza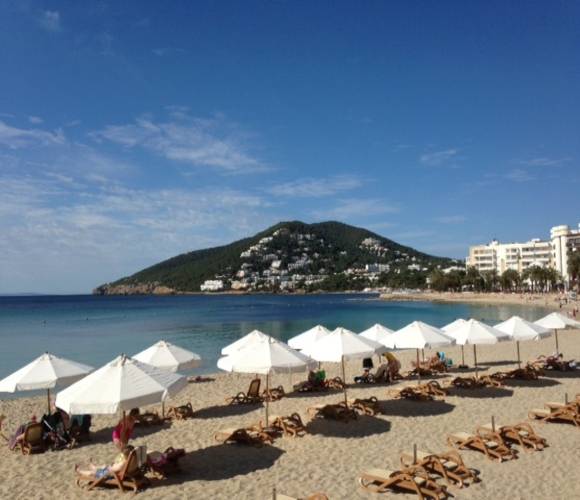 Santa Eulalia is on the gorgeous island of Ibiza, but removed from the crowds and nightclubs. Santa Eulalia Ibiza hotels are the ideal place to spend a holiday getting "away from it all".
While it's not party-central, you certainly won't be bored in the area. There are artesanal markets, small businesses and eateries, archaeological sites and hotels all around Santa Eulalia, Ibiza. The area has a wide variety of activities for all ages so Ibiza family holidays are easy to organise, as are relaxing and rejuvenating spa or sunbathing days.
The river bank, the promenade, its church and the seaside are all beautiful things to see on Ibiza family holidays. There are also plenty of all inclusive hotels in Santa Eulalia Ibiza, which are some of the best hotels in Santa Eulalia in fact.
Moreover, the community is a strength of this area, the warmth of the people in Santa Eulalia is well known - you might not want to leave this wonderful town! These same friendly people are to thank for an excellent gastronomic and cultural offering. Let's dive into all these reasons and more, as to why so many visitors to the island choose Santa Eulalia, Ibiza hotels:
1. Visitors love to walk along the Santa Eulalia Ibiza promenade.
The promenade here is one of the top spots to
watch sunsets in Ibiza
The Paseo de s'Alamera is along the coast where, in the evening, you'll see the sky tinted with warm colours over the calm sea, surrounded by palm trees.
The Paseo Marítimo de s'Alamera is bordered with beautiful gardens, quality restaurants and bars, multiple shops and local crafts too, so you can find both peace of mind during your stroll and light entertainment.
At an average speed, the promenada journey takes about an hour to complete and starts from the yacht club where the river joins the ocean. If you stay in some of the best hotels in Santa Eulalia, you'll be very close to the most charming promenade in the Balearic Islands, so you can walk along it at any time of day.
2. People thoroughly enjoy exploring the hippy markets of Santa Eulalia
Since the seventies, hippies have settled in Santa Eulalia, Ibiza to enjoy a more simple life. The warmth of its people, beaches, and many magical corners have made plenty of bohemian souls turn this town into their home. As a result, they offer both locals and tourists their handicraft at the
hippie markets
of Las Dalias and Punta Arabí.
Having become symbols of the island, with more than 500 stalls of authentic works of art, crafts, clothing and gifts, Santa Eulalia's markets are not only aimed at shoppers. The hippie markets hold different activities most days, including live music, storytelling and children's corners to entertain all ages on Ibiza family holidays.
3. Tourist and locals alike tuck into the best gastronomy in Santa Eulalia.
Thanks to the fertile land of Ibiza and a host of talented chefs, Santa Eulalia in particular offers a complete Ibizan cuisine. Restaurants' tables serve flavoursome products from the countryside, quality meats, seafood, as well as seasonal fruits and vegetables.
The community of Santa Eulalia has more than 250 restaurants so you'll find places to eat for all tastes: Peruvian, Japanese, Indian, Italian, Mexican, vegetarian, fusion food and experiential restaurants, just to name a few. Many of the restaurants in the municipality serve specialties from
traditional Ibizan cookbooks
to delight any traveller, especially delicious desserts from the island, as well as the modern Mediterranean dishes that everyone loves.
If you're hoping to find a resort that can match this culinary proposal on site, your best choice will be one of Invisa's
hotels in Santa Eulalia
, Ibiza. Each resort caters to a wide variety of tastes and many people tell us we're the best restaurant in town. Invisa hotels even have theme nights with show cooking from the chefs, because we want our guests to be smiling for their entire time in Ibiza.
4. History lovers are thrilled to learn about the legends of Ibiza
One day trip that no one should miss when visiting the island, whether you choose to stay in one of the Santa Eulalia Ibiza hotels or not, is the fortress and church of Puig de Missa. Come and enlighten, enrich and strengthen your experience of the island.
The spot is brilliant for photographing the best view of the island, and for learning about the exciting history and different cultures that have passed through Santa Eulalia in recent decades.
From here, you might extend the trip to a walk along coastal paths and green areas that surround the river, connecting with nature — something that all families and holidaymakers need.
If you take a guided tour along these paths, you can hear about the legends of Santa Eulalia, such as the funny stories of the elves called
Fameliars
, tiny Ibizan creatures that famously live in wetlands. Hoping to spot one? Take a look under the Roman bridge!
This same Roman bridge within the municipality also hides a story about who built it, that you'll have to hear in full to believe. If you're curious about the history of unbelievable architects, magical sprites and other mysteries of the Mediterranean, ask our staff at Invisa Hotels for pointers to the best tours.
5. Holidaymakers can stay right on the beach in Santa Eulalia Ibiza hotels
Choosing a hotel in Santa Eulalia in Ibiza will get you closest to the best beaches in Ibiza. Fine white sand and family-friendly waters characterise 22 beaches and coves in the area, all of which have shallow, turquoise waters where you can swim in peace, whether you're a simply a novice swimmer or travelling with children.
Many hotels in Santa Eulalia, Ibiza offer water sports access or tutelage. But if you prefer to hunt down your own instructor, you're very close to the beaches where many independent businesses offer stellar kayak rental, sailboat rides, surfing courses, water skis and even diving excursions if you're into the sport.
Not only are you close to the sea and the sound of the waves lapping the sand by choosing one of the best hotels in Santa Eulalia, you'll be close to the land-bound side of nature. There is so much native fauna and flora along the River of Santa Eulalia, the only in Ibiza, that you can reconnect with refreshing green views and fresh air, whichever direction you head towards.
Hopefully, you're now well prepared for a trip to Santa Eulalia, to take in the sights, nature and local menus. We also hope you'll choose Invisa for your stay, be it half or full board, we'd love to have you at our
hotels
in Santa Eulalia, Ibiza.
Back
Book in the official website Invisa Hotels
And enjoy exclusive advantages as a My Invisa Client
Upgrade
room*
Free Wifi
in the room
Sea View
room *
Exclusive
Offers
* According to availability