5 reasons TODAY is the day to book your summer holidays in Ibiza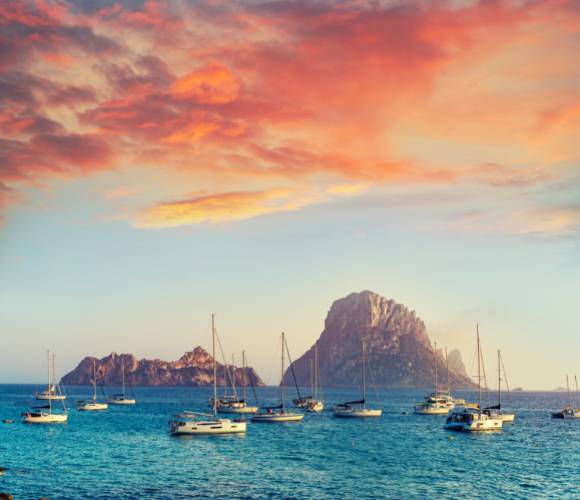 The sun and the beach may be concepts that, at the beginning of the year, feel far away and barely figure in our plans for the year. The reality is that time flies! When you least expect it you'll be in short sleeves and lamenting that, for the umpteenth consecutive year, you were caught out and are struggling to book your hotel, flights, and days out during your summer holidays in 2023.
Moreover, if you like highly sought-after destinations like Ibiza, waiting too long could mean you're not only stung for hotel and flights, you may even run into availability problems and be stuck reserving a room that doesn't wholly convince you.
Still need convincing that the time is now to take advantage of summer holiday offers? Here are 5 advantages of being proactive and booking your summer 2023 holidays as soon as possible.
1. Flight prices favour forward planners
The two main expenses on any holiday are your flights and accommodation. By booking in advance you will find both much cheaper and at more favourable times of day. While offers on flights are not limited to advanced planning of holidays in Ibiza, we do find it's a popular last-minute destination so prices skyrocket nearer the date.
In the case of Ibiza, discounts on flights range between 10% and 25% when booking more than three weeks in advance of the scheduled date of travel. Surely that's worth planning the summer 2023 holidays a little in advance!
Other tricks to get cheaper flights are to:


Book the round trip separately


Fly in the afternoon, avoiding weekends


Activate price alerts for the flight profile you are looking for.


Start flight searching now and you might save a bundle!
3. Availability during the summer holidays is always limited!
Another advantage of booking your summer holidays in advance is that you will have access to more availability, AKA more choice. By booking early, you can ensure access to the best hotels during the high season. Don't miss out on our hotel deals right on the seafront!
In this sense, those who look to the future, planner in hand, can also choose the unique characteristics of their accommodation when planning a summer holiday. This might include the location, the type of hotel or resort, and the activities you'd like to do during those days of rest.
Have a look at our blog if you're short of inspiration for days out and activities for all ages. You might even choose to run a marathon or join Ibiza's famous mountain bike sporting events if you plan far enough in advance!
4. Say "so long" to stress and disappointments
Stress is greatly reduced if you plan summer holidays in advance. By doing so, you avoid the stress of having to make last-minute arrangements and the extra searches required to find accommodation that fits your needs. Not to mention, you're more likely to find a flight at a comfortable time that doesn't involve you trekking to the airport in rush hour traffic — the most stress-inducing experience, summer holidays or not.
Moreover, much pleasure is garnered from the expectation of a holiday as much as the actual trip. Cognitive psychology says that looking forward to experiences is enjoyable, and good for us. So booking your trip and taking advantage of early bird offers could not only lead to an enjoyable summer holiday but an enjoyable springtime!
5. Guaranteed benefits for your group
Firming up the reservation of a resort or hotel for the summer months during spring will give you access to specific choices and preferences while availability is still extensive. You can choose all the benefits you need such as extra beds, full suites, rooms with wonderful views and a terrace, as well as set up special options for meals and breakfasts.
If you know exactly which days you'll want to have a special meal out, your resort staff can even make reservations for you at local restaurants. You might want to book activities like windsurfing or paddle boarding, and make sure you have your spot during the busy months of June-August. Your resort staff can help with that too.
Those who leave everything to the last minute may find a room in the desired hotel, but the possibility of selecting the type of room that best suits their profile will be narrower, especially during the summer holidays which is high season in Ibiza.
If, even after reading these tips, you still haven't run to book your vacation… What are you waiting for?
Contact us directly via our Invisa Hotels website and find out everything you need to know about resorts in Ibiza. Your summer holidays are nearly here!
Back
Book in the official website Invisa Hotels
And enjoy exclusive advantages as a My Invisa Client
Upgrade
room*
Free Wifi
in the room
Sea View
room *
Exclusive
Offers
* According to availability